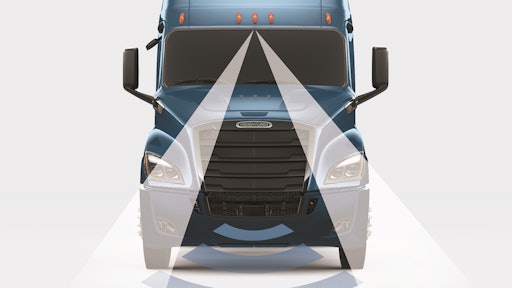 Attendees at the North American Commercial Vehicle (NACV) show can experience what it's like to drive the new Freightliner Cascadia equipped with the Detroit Assurance 4.0 suite of safety systems through a dynamic virtual reality demonstration in the Daimler Trucks North America booth #1612. 
Visitors can participate in the virtual reality experience through Oculus Rift goggles equipped with audio that will feature a variety of sights and sounds that a driver might encounter, providing a real-life sense of what it's like being in the cockpit of a Cascadia.
The capabilities of the new, technologically advanced Detroit Assurance 4.0 that will be highlighted include the Detroit Assurance Radar System, which senses when the truck gets too close to a vehicle or stationary object and activates the Active Brake Assist (ABA) function to help mitigate potential collisions. As part of the virtual reality demonstration, participants will experience the inertial locking feature in the seat belt retractor that will lock the webbing when it senses a sudden braking event. The Radar System also features Adaptive Cruise Control to help maintain a safe, continuous following distance. The optional Detroit Assurance camera system to track the truck's position within its lane markings will also be demonstrated.
"In addition to its engaging visual aspects, the narrated Detroit Assurance safety demonstration explains what drivers are experiencing and how the system works," says Johannes Buchholz, Product Manager, Detroit Assurance. "The dynamic demonstration is the next best thing to driving the new Cascadia on the road for experiencing the full range of features and benefits that are included in Detroit Assurance 4.0."