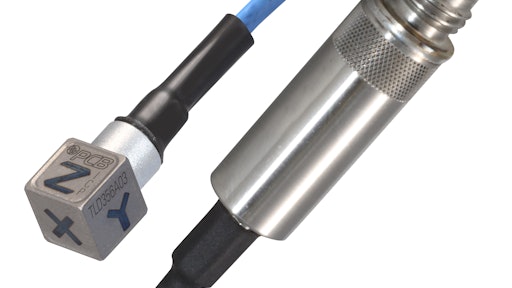 PCB Piezotronics

PCB Piezotronics (PCB) has introduced its new TLD356A01 and TLD356A03 Miniature ICP Triaxial Accelerometer with TEDS. These new models are upgrades to the company's current 356A01 and 356A03 models with the addition of TEDS functionality.
Models TLD356A01 & TLD356A03 feature:
The addition of TEDS to minimize errors from manual sensitivity entries, reducing setup time
Miniature, lightweight, durable ICP triaxial accelerometer
Wide frequency range: 2 to 8,000 Hz (x axis), 2 to 5,000 Hz (y & z axis)
High resonant frequency: ≥ 50,000 Hz
The TLD356A01 and TLD356A03 are primarily used to measure vibration inside devices where space is restricted. Applications include: electronic device design validation, automotive systems development, modal and structural analysis, ESS and HALT/HASS testing, space restricted installations, device and small component qualification testing, vibration testing on small objects, and general purpose vibration testing.
Request More Information
Fill out the form below to request more information about
PCB Upgrades Miniature ICP Triaxial Accelerometer