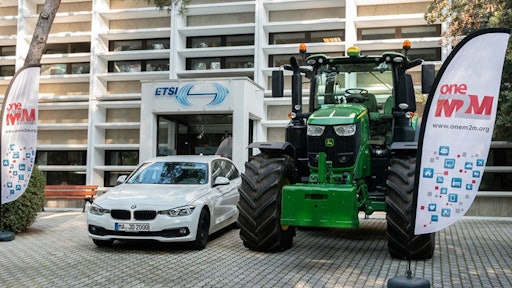 A control unit connected to the ISOBUS analyzes and detects the safety situation through the oneM2M platform. When agricultural equipment is leaving a field in order to enter road traffic, a warning notification is sent to neighboring vehicles using radio communications and ETSI's cooperative Intelligent Transport Systems (C-ITS). 
The Intelligent Transport Systems and the oneM2M environment combined with ISOBUS systems constituted the proper environment to broadcast the warning message from agricultural equipment to the on-road vehicles via Cooperative-ITS G5. The Agricultural Industry Electronics Foundation (AEF) Project Team Wireless In-Field Communication developed the framework to transport messages between ISOBUS and oneM2M. Visibility was given via the platform developed by Sensinov together with the AEF team. ETSI Technical Report TR 103 545 publishes technical details concerning the presented demonstrator.
The pilot was demonstrated successfully between a John Deere tractor, a passenger car and the oneM2M platform from Sensinov during the ETSI IoT workshop from October 22–26, 2018 in Sophia Antipolis, South of France.