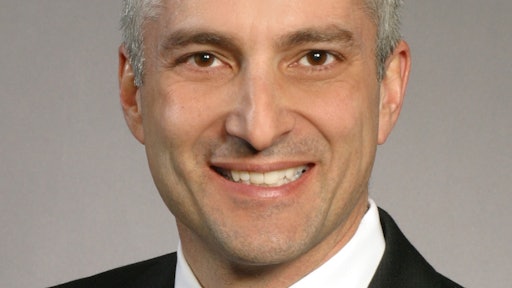 Responses from Eric Hansotia, Senior Vice President, Global Harvesting, Crop Care, Advanced Technology Solutions and Dealer Technical Support, AGCO Corp.
TECHNOLOGY OF THE FUTURE
Where are overall vehicle electrification and hybridization efforts taking us as an industry? Where are the technology lags that still need to be developed in order to reach the end goal?
More functions on machines are moving to electrification. This allows for more precise controls which can optimize machine handling. For example, on a planter row unit, rate control is better than with mechanical or hydraulic drives; in this area it's becoming more about increasing the precision of operations than about fuel economy.
What technologies on the horizon will affect your existing and future product development?
Sensors are becoming more and more sophisticated, and manufacturers will employ them in new ways to create more knowledge and further inform growers' decision making on the farm. At AGCO we're really excited about what sensors will enable our customers to do particularly in the areas of planting and harvesting.
Drones can also offer another layer of information about growing crops, for instance, that growers can use to enhance their crop care treatments plans. Manufacturers like AGCO will help farmers succeed by integrating this additional data stream into farm data management systems.
Lastly, mobile devices aren't new, but their utility to farmers will continue to grow. For this reason, centralizing user interfaces and mobility are central to AGCO's technology strategy.
What are the key customer requests that are most driving technology and vehicle development? How?
Customers are asking for precision ag tools to best address specific spots in the field. This is driving our Fuse offering including guidance, telemetry and increasingly sophisticated controls.
They are also looking optimize their farm based on data-driven decisions in order to reduce input costs, maximize uptime, prevent downtime and simplify their operations. We aim to help them do that by increasing the availability of wireless data, and helping them put it to use.
These requests are driving development of precision technologies to augment machinery, as well as technology-enabled services, which is what is driving AGCO's roll out of Fuse Connected Services. It is how AGCO dealers will help our customers optimize their operations to achieve these productivity needs.
MATERIALS
What material advancements are influencing your product lines?
In terms of materials, we're replacing steel in some areas with lighter weight materials like aluminum, carbon composite and plastic.
INFORMATION TECHNOLOGY
Where is Big Data in your company's equation?
We hear a lot from our customers about data – what it is, how it's stored, who owns it and how to use it. This is why the importance of the creation, transfer and use of data to AGCO's Fuse strategy cannot be understated. It drives products and now services, and is a key way in which AGCO's approach is different from others in the industry. We have structured our data flow into two separate pipelines – one for machine data (such as engine hours, RPM and fuel efficiency) and one is for sensitive agronomic data (work orders and work records). This allows our customers the choice of whether to share their data with AGCO and AGCO dealers, or not. Another choice AGCO's approach enables for customers, is the ability to work with their preferred service providers such as farm management software and agronomic advisors. This partnering model and unique handling of data is how AGCO is pioneering the open approach to precision agriculture.
How important is automation to your future outlook and design considerations?
It is critical to automate and remotely monitor more and more complex tasks. We're taking the most complex aspects of farming and automating them for increased simplicity and efficiency. A good example of this is in guidance and steering. Headland management and combine velocity control are others. Once we automate one process, we move to another –improving accuracy and efficiency.
CHALLENGES & HURDLES
What new challenges have arisen that effect the way you design or manufacture your product? How you do business? How you go to market?
To help our customers meet food production goals, we must rapidly help them take advantage of technology and harness the power of data, wirelessly. We have to help enhance our dealers' technology offering and support them as they enter the services business.