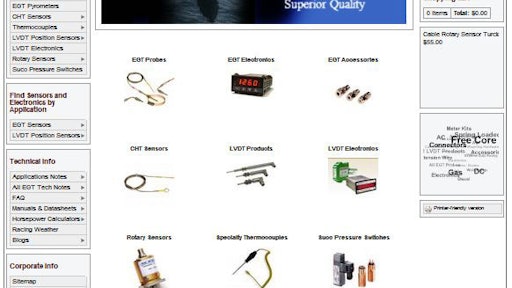 The Sensor Connection (www.thesensorconnection.net), a division of Harold G. Schaevitz LLC, recently relaunched its E-commerce Site, simplifying the selection and purchase of a wide range of Exhaust Gas Temperature and Position sensors. Accessible on a 24/7 basis, The Sensor Connection E-commerce Site quickly delivers quality sensors, even with different options and electronics, to expedite the ordering process for customers with immediate needs.
By providing more product content, the E-commerce Site ensures that users are well informed before making a final decision. A new FAQ page enables users to submit their own questions. Blogs on EGT Thermocouples and LVDT position sensors as well as links to Twitter and Facebook provide customers with online advice and tips on choosing the right products.
"While we understands customers may already know what sensors or accessories they require, some buyers may have questions that can be now easily answered through the information on the site or via the social networks communicating directly with a sales engineer," notes Howard Schaevitz, Global Business Manager, The Sensor Connection.
In addition to increasing interaction with customers, The Sensor Connection E-commerce Site simplifies ordering with quick and easy reference of product information. Products are now organized into distinct categories including EGT probes, LVDT Linear Position Sensors, digital meters and support accessories so users can find what they need faster and easier. Technical information for products and applications is also easier to navigate as well as the ordering process.