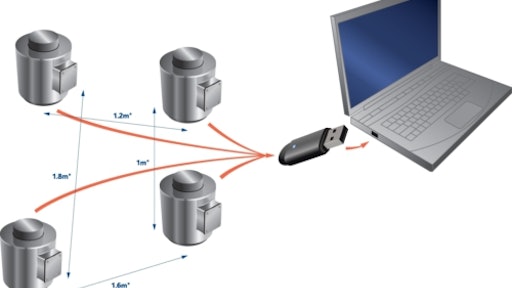 Straightpoint Ltd, the world leaders in the design and manufacture of force measurement, load monitoring and suspended weighing load cells, have just launched what is believed to be the FIRST off-the-shelf wireless center of gravity system of its type in the world.
The system is ideal for helping to work out the weight and center of gravity of large structures or items with an uneven weight distribution.
The system produces a 'center of gravity' report through readings taken via the wireless dongle and PC software, which is connected to up to eight wireless compressive load cells.
As the system is wireless, it's quicker and safer than a cable-led system and it can be used on items up to 4,000 tonnes in weight.
The system is imperative to ensure the safe lifting and unloading of items that don't have an evenly distributed weight, making it ideal for use in the offshore market.
One of Straightpoint's distributors, Pieter van Duijn from Van Gool in the Netherlands, is already using the system and comments, "The system has a real industrial, solid look. The center of gravity feature is excellent for loading and unloading, especially offshore from the dock to the ship and from the ship to the rig. 
"There's nothing else like it in the market that I know of," continues van Duijn. "Also, as the system's wireless, it's really accurate as there are no wires that can be pulled out of the socket or can malfunction."
Director of Straightpoint Ltd, David Ayling adds, "This new product came about from visiting some of our clients around the world last year, who requested such a product. I believe ours is the first off-the-shelf system to be available worldwide, which means that we can fulfill orders really quickly without a high, 'bespoke' price tag."
The wireless centre of gravity system is one of a few new products Straightpoint has launched this year within its new catalogue, including the T24-AR product for use in extending or bending the range of wireless signals, as well as additional capacities in its popular 'link' loadcell range (Radiolink, Loadlink, Wirelink and Compound). In addition, Straightpoint has created a new logo and website, increased the number of global distributors to 26 and taken on additional staff within larger UK head office premises.