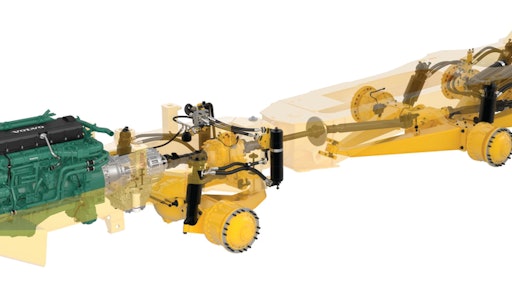 Engineers work every day to take the human element of error out of the equation to create the most efficient machine possible. Optimal productivity means the least amount of cost and time, and wear and tear on the equipment with the most work possible accomplished every second of every minute of machine uptime.
However, the human element of machine operation remains, and Volvo has combined the importance of operator knowledge with a fully automatic advanced weighing system to maximize productivity on a job site. The Volvo on-board weighing (OBW) system combines an active hydraulic suspension system equipped with pressure sensors on the cylinders, with a dedicated electronic system to manage the suspension in real time. The load weighing software is fully integrated into the vehicle's existing electronic system.
Volvo's CareTrack telematics system allows an operation manager or fleet owner to monitor the equipment's load data remotely and gives insight into the machine's productivity.
"We can take the data off of the equipment in real time through Volvo's CareTrack telematic system to the site manager so he can monitor a machine's hours and cycles together with the transport load during a period of time," explains Assar Martinsson, Product Manager of Volvo's Articulated Hauler Platform. "We're talking about productivity and we're talking about cost per ton. It's not always the best choice to overload the equipment and run with too much load, because you add stress and component wear, especially on the tires. And, you're using more fuel, so you can use the data to train operators to get the most out of the equipment."
The system logs all transported loads and allows complete payload management, giving access to data such as total transported load in tons, tons transported per liter of fuel and total number of vehicle cycles. The OBW system also offers the ability to monitor previously unattainable information like the weight of the carry-back load after the haul truck unloads.
The information gathered is displayed both on the operator's display, as well as to the operator of the loader vehicle via an externally mounted indicator light. A green, yellow and red light system is used to show the load information: the yellow light is lit when at part load and changes to green when the nominal load has been reached. The red light comes on if the truck has been overloaded.
The operator monitor displays both the load indicator light and actual payload. The graphical depiction of load changes during loading to symbolize the increase in the actual load on the machine. Cycle information can also be displayed, such as number of cycles and total transported load.
"The more we learn about how our customers are using our machines, the better we can build the next generation of equipment," says Anita Sköldberg, Director of Volvo's Articulated Hauler Platform. "We saw the on-board weighing system as a big benefit for the customer to be able to follow and monitor the productivity of their Volvo vehicles."