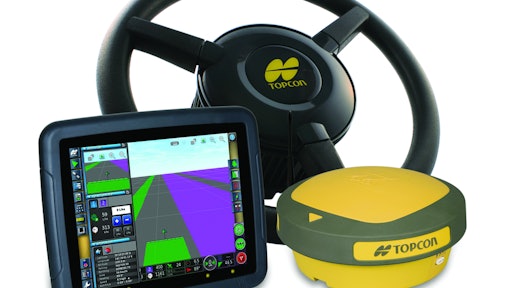 Topcon Precision Agriculture (TPA), a business unit of Topcon Positioning Systems, announces the new System 350 for global precision agriculture featuring the new all-in-one X30 control console.
12.1 in. multi-touch screen, readable even in bright sunlight
Powerful 1.6 GHz central processor
IP67 rated, withstands the harshest of environmental conditions
New Topcon interface with extensive features, including up to three mini-view windows, user definable dashboard view, interactive keyboard, and detailed information displays
High accuracy autosteering, up to 2 cm when used with Topcon AGI-3 receiver/steering controller
32-section auto-control
Multiple guideline settings, including straight, adaptive curve and center pivot
Detailed job summary reports for data tracking and multi-year analysis
Simple icon-based management of multiple simultaneous precision farming tasks: autosteering settings, variable rate application for single and multi products, autosection control, data logging, mapping, and implement setup.
In the areas of guidance, rate control and information, the X30 provides an array of options from variable rate control to a configurable alarm system, from job reports to auto field recognition, and from creation of multiple boundaries to job reports.
The system's ISO virtual terminal interface provides direct configuration capabilities for a majority of the industry's standard plug-and-play controllers, including AGCO, Case International Harvester, John Deere, DICKEY-john, Great Plains, and TeeJet, among others.
Companies in this article
Request More Information
Fill out the form below to request more information about
System 350 with X30 Control Console