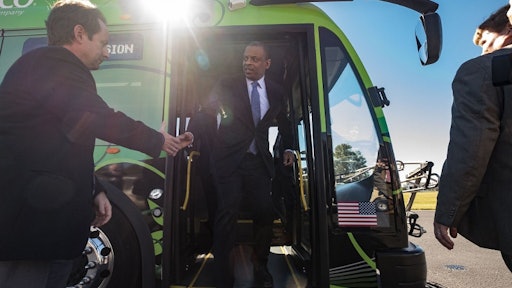 U.S. Department of Transportation (USDOT) Secretary Anthony R. Foxx visited the International Transportation Innovation Center (ITIC) in Greenville, SC, on September 30 to observe examples of the latest road safety and road charging technology in development for automated, sustainable and connected vehicles. Headquartered in Greenville, SC, ITIC operates as a neutral, non-profit provider of innovation, testing and testbed development services for automotive technology R&D. 
Speaking before a crowd of more than 100 business and industry leaders, Foxx focused his remarks on the four major points of the Federal Automated Vehicle Policy his department issued last week.
"We are on the cusp of one of the most dramatic transformations in the history of transportation," he said. "When it comes to the future of technology, our policy leaves plenty of room for leadership to come in and help us continue to raise the bar on safety. It's exhilarating to see what's happening here at ITIC and in other places like Detroit and Silicon Valley."
Demonstrations Sec. Foxx observed focused on sensor-based roadside safety systems; camera-based vehicle side collision avoidance systems; and in-motion wireless power transfer supported by a cybersecure DSRC (Dedicated Short Range Communication)-based infrastructure. The technology demonstrations were orchestrated by ITIC Chief Technology Officer Dr. Joachim Taiber and supported by BMW, Cisco, Duke Energy, Mobileye, Oakridge National Laboratory, Proterra and Toyota. Other event partners included SK Telecom and SmartTruck as well as event sponsor Club Car.
"The innovations we're developing for multi-modal, on-demand automated and sustainable transportation systems are in current demand for smart city environments all over the world," said ITIC's Dr. Taiber. "The recently published Federal Automotive Vehicle Policy developed under the leadership of USDOT provides an important framework for a new approach to test automated vehicles and related infrastructure."