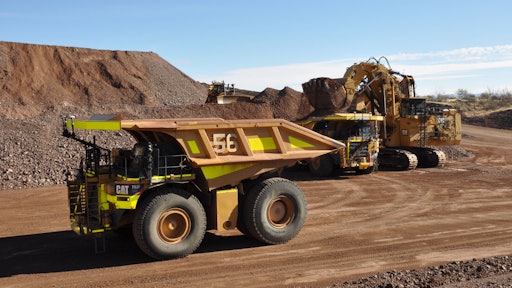 Caterpillar Inc. provided additional details about its expanded autonomous technology capabilities for the Komatsu 930E mining truck—developed in part with Torc Robotics— at a recent event at its Tinaja Hills Demonstration and Learning Center near Tucson, AZ, USA.
Announced in January, the 930E retrofit program is part of Caterpillar's ongoing effort to meet mining customers' needs for autonomous haulage solutions. The product is scheduled to go to market in the first quarter of 2019.
"We want to do all we can to help our customers get the most out of their existing equipment assets," says Sean McGinnis, Product Manager, Caterpillar Mining Technology. "Modernizing machines with new technology is a proven way to do that."
"We know that most mining operations are made up of equipment from multiple manufacturers," McGinnis continues. "By working with Torc to develop a solution that works on Komatsu trucks, we're making it possible for our customers with mixed fleets to get the benefits of our proven autonomy solution. They can boost their equipment availability and overall productivity in the field. And, most importantly, they'll reap the safety benefits that come from autonomy."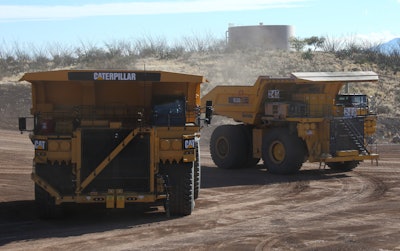 The autonomous solution leverages Cat Command, a proven autonomy solution that is part of the company's MineStar suite of technology offerings. In addition to autonomous trucks, Command delivers remote control, semi-autonomous or fully autonomous solutions for drills, dozers and underground mining equipment.
The expanded capabilities for the 930E integrate the rest of the Cat MineStar suite — Fleet, Terrain, Health and Detect — for a complete system of technology offerings that help mines manage everything from material tracking to real-time fleet management, machine health systems, safety and more.
"We are committed to increasing safety across all industries through the application of our autonomous technologies," says Torc CEO Michael Fleming. "The work we've done with Caterpillar in mining is a testament to that promise."
The two companies have been working together for more than a decade, and Caterpillar was an early adopter of Torc's autonomous vehicle technology. After sponsoring Torc's winning team in the 2007 DARPA Urban Challenge, Caterpillar implemented Torc technology for some mining applications.
In 2015, the companies worked together on a remote control system for skid steer and compact track loaders. Called RemoteTask, the system enables operators to precisely control machines from outside the cab—as far away as 1,000 ft. (300 m) and at a safe distance from potentially hazardous tasks and environments.
Today, Torc's autonomous vehicle technology has successfully been applied to other commercial ground vehicles including military vehicles and most recently, consumer cars.
Companies in this article