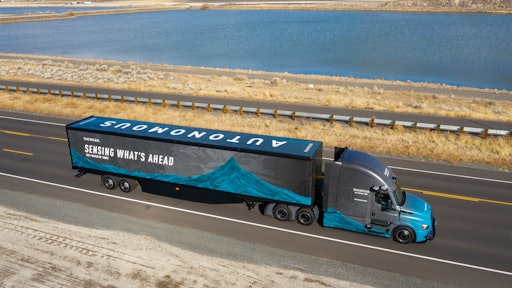 Daimler AG
Torc Robotics—a subsidiary of Daimler Truck AG—announces it has selected Amazon Web Services (AWS) as its preferred cloud provider. Per Daimler's press release, the growth in test fleet size, number of routes, and sensor capability has increased data ingestion and analysis needs of the company's engineering teams in the U.S. and in Germany.
AWS was selected as the cloud provider because of its ability to handle the scale and speed of data transfer, storage and compute capacity that will be required as Torc deploys its next-generation of self-driving trucks.
According to Daimler, AWS provides capabilities designed to provide rapid, secure data transfer, intelligent tiered storage, managed orchestration and analytics tools, and high-performance multi-core CPU and GPU computations. This will help Torc rapidly scale its development platform, as well as accelerate testing and commercialization.
The right cloud solution can aid testing and development
The test fleet in New Mexico currently generates petabytes of data (1 petabyte is 1 million gigabytes) during testing on public roads. And this number will likely increase as testing expands further and more sensors are added to the autonomous vehicles.
Torc's software collects and processes data from various sensors including lidar, radar and cameras. Daimler says more sensors will be integrated which work at higher resolutions to help enhance object detection at longer ranges. It says this will further increase the magnitude of data for analysis, simulation, and machine learning, necessitating a cloud solution which can handle the vast amount of information.
"The race to develop self-driving vehicles generates massive volumes of data from many types of sensors. With AWS, Torc engineers have the speed, flexibility, and insights they need to design tests, run simulations at scale, and refine their experiments using a broad range of highly specialized compute instance types," said Wendy Bauer, Director of Automotive Sales, AWS, in Daimler's press release announcing the selection of AWS as Torc's cloud provider.
"Our next generation fleet of test trucks will help us rapidly grow our capabilities and accelerate the commercialization of Level 4 self-driving trucks," said Michael Fleming, Torc's CEO. "Our ability to handle the data involved must be able to keep up – whether it's for transfer, storage, or scaling our simulation capability. With AWS, we have a trusted solution that provides the computing scale, transfer speed, and security when we need it."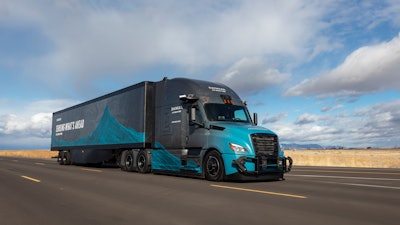 Torc's self-driving trucks meet SAE Level 4 autonomy specifications in which a vehicle can perform all driving function without a driver under specific operating conditions. They are able to do so through the use of on-board computers that process sensor data in real time. Software handles the dynamic driving tasks during autonomous operation.
Torc plans to use AWS for low- and high-demand tasks, as well as data sharing across remote development teams. Several AWS managed services will be used to aid with simulations and manage test data. The cloud technology will make it possible for Torc to transfer large amounts of data to analyze real-world tests while also providing computational power for simulation and deep learning, says Daimler.
"Our software is tested in simulation using a combination of synthetic scenarios and replayed sensor data," said Ben Hastings, Torc's CTO. "These tests often stack up in ways that create significant peak demands for compute resources. With AWS, we get a solution that can dynamically scale to meet the needs of the engineering and virtual testing teams without having to acquire and maintain our own datacenters."