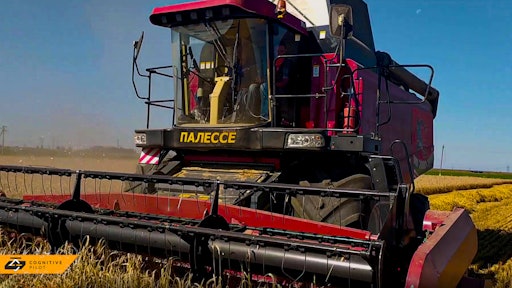 Cognitive Pilot
Cognitive Pilot—an autonomous driving technology joint venture of Sberbank and Cognitive Technologies group—announces its autonomous driving technology for agricultural equipment will be equipped on combines from Russian OEM Bryanskselmash.
Bryanskselmash's PALESSE GS12 combine harvesters will be equipped as standard from the factory with the technology starting in April 2021. Per Cognitive Pilot's press release, this is the world's first production-line OEM contract for autonomous combines.
Cognitive Agro Pilot is an artificial intelligence (AI) based system which enables autonomous operation of various agricultural equipment including combines, tractors and sprayers. The system consists of an autonomous control unit, camera, display, connecting cables and other control elements. Users interact with the system via an Android mobile app for smartphones or ruggedized tablets, the company says.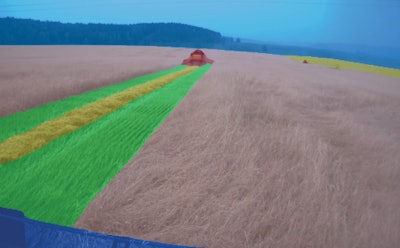 According to Cognitive Pilot, the system analyzes images from the video camera and uses a deep learning convolutional neural network fine-tuned for agronomic purposes to understand objects in the environment around a machine. It can determine what the objects are and where they are positioned to maneuver agricultural equipment accordingly. The system ensures machines will not collide with objects so it can safely complete its work. Cognitive Agro Pilot is able to "see" its environment and work without satellite signals and RTK corrections.
"We have already conducted large-scale field tests of the Cognitive Agro Pilot system installed on our PALESSE combines. These works were carried out both in Russia and Belarus. Following the results, we have decided to equip KZS-1218 'DESNA-POLESSE GS12' combine harvesters with Cognitive Agro Pilot system as a standard. We expect that the availability of artificial intelligence in our combines will improve their competitiveness, will increase sales and will provide farmers with a good tool to significantly improve the efficiency of harvesting," said Andrey Shilin, Chief Engineer at Bryanskselmash, in Cognitive Pilot's press release announcing the partnership.
"Bryanskselmash is a real trendsetter, one of Russia's leading enterprises actively introducing innovative solutions into its products. From now on, the world's first mass-produced agri robots, equipped [with] Cognitive Pilot AI, will roll off the factory's production line. This is a significant bid to expand company's market share not only in Russia, but also abroad," added Olga Uskova, CEO of Cognitive Pilot.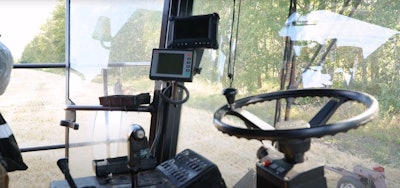 Testing shows productivity increases
In 2020, Cognitive Agro Pilot was installed in over 350 pieces of equipment from agricultural equipment manufacturers including New Holland, John Deere and CLAAS. Per Cognitive Pilot's press release, these autonomous machines farmed over 160,000 hectares and harvested more than 720,000 tons of crops.
The company says its system helped these pieces of equipment harvest 590,000 metric tons of grain crops—such as wheat, soybeans, barley, oats, sorghum and buckwheat—from 130,000 hectares while 130,000 metric tons of row and roll crops (such as corn and sunflower) were harvested from over 30,000 hectares in regions across Russia.
Cognitive Pilot says in its press release the system can reduce harvesting time by an average of 25% and reduce direct crop losses from 8-13%. The daily output of the machine operator increases by up to 25%.
Cognitive Pilot says it and its partners plan to expand joint marketing and other activities that will increase the attractiveness of the Cognitive Agro Pilot solution and expand its geographical reach.