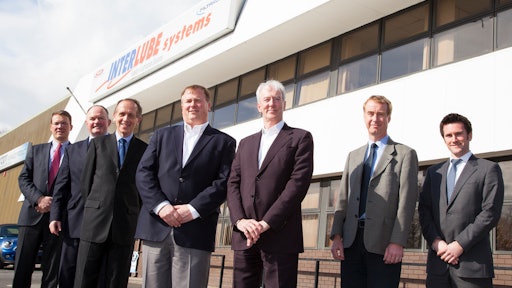 Plymouth-based Interlube Systems Ltd. has been acquired by American company Timken for an undisclosed sum.
From its headquarters in St. Modwen Road on the Parkway Industrial Estate, Interlube employs 90 people and turned over around £8.7 million in 2012.
The company, which makes and markets automated lubrication delivery systems and related components for use in commercial vehicles, construction, mining, and heavy and general industries, is a world leader in its field with an operation in Dayton, OH and a joint venture in Zhuhai, China.
The purchase also includes MSP Distributors Ltd. based in Cheltenham and acquired by Interlube in 2007.
Interlube Managing Director Mike Cusack says, "Interlube [is] delighted to be joining The Timken group. Their global reach will allow Interlube to continue expanding its markets, and should provide enhanced investment in the Plymouth facility."
The Timken Company, a global industrial technology leader based in Ohio, engineers, manufactures and markets mechanical components and high-performance steel. It had sales of $5 billion last year and around 20,000 people operating from 30 countries.
Making the announcement, Michael J. Connors, Vice President of Distribution for Timken, says, "We're pleased to have Interlube join the Timken team. The management team brings a wealth of experience and established customer relationships, and their automated lubrication delivery systems certainly complement the Timken portfolio of power transmission products."
As part of its growth strategy, Timken has been steadily adding to its product portfolio and sees Interlube as highly compatible to its core product lines and recent acquisitions.
"Their expertise and quality product line, coupled with our global reach and market access, will allow us to grow market share for Interlube products," Connors adds, "as well as expose new market space for existing Timken applications."
Interlube was advised by Gary Partridge, of PwC, and Richard Cobb, of Michelmores in Exeter.
Gary Partridge says, "We're delighted with the outcome, Timken is the perfect strategic buyer for Interlube."
Michelmores partner Richard Cobb says, "It is always rewarding to help an MBO team achieve the exit they have worked towards for many years. As a leading well-known manufacturer in the Southwest, Interlube has now got even greater global aspirations as part of the Timken group, and this must bode well for the UK operation and its staff."
Companies in this article