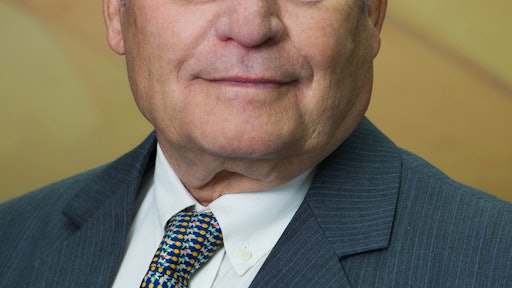 Paul G. Harms, MOBA Founder and Managing Director for many years, passed away on February 24 at the age of 82. For more than 30 years, Harms lead and shaped MOBA. From the foundation in 1972 until today, the MOBA Group has developed into one of the leading international companies in mobile automation. Today MOBA has 453 employees, 285 of those in Germany.
Harms was born in 1931 in Osnabrück, Germany. After his school education he completed an apprenticeship as an instrument mechanic followed by working as a thermal technician for Georgsmarienhütte AG. In parallel Harms attended technical evening school and then studied mechanical engineering in the United States. On his return to Germany he was with the Honeywell Corporation for 17 years, finishing his time as the Product Marketing Manager for industrial products in its European headquarters in Brussels. In 1972 Harms founded MOBA, based in the garage of his house in Steinbach near Limburg. The initial product range comprised of level and slope sensors for construction machines and included full sales and service.
"Innovation provides competitive edge"
This is the guiding principle that lead Harms' development of MOBA and initiated all new research into multiple application solutions. By 1979 MOBA had already developed its own range of level and slope sensors for construction and agricultural equipment. Soon after other innovative solutions in the fields of measuring and control technologies followed culminating in a major milestone in MOBA's product history – the MOBA-matic system, which remains the world's leading levelling solution for asphalt pavers today. With swift market success the company grew rapidly and by 1985 MOBA already had 50 employees and was fully established in its new development and HQ facility in the nearby town of Elz.
Development of new and international markets
Since 1985 MOBA, under Harms' leadership, founded eight international subsidiaries and built up cooperation with dealers all around the globe. The initial focus of development and manufacturing was on the automation of construction machines and agricultural equipment, then MOBA expanded into the waste disposal technology business in the 1990s through founding branch offices in Dresden and Langenlonsheim. In this market MOBA has provided weighing systems plus logistics and telematics software for local authority and commercial waste management contractors for more than 20 years. In 2002 all the individual business divisions were merged creating MOBA Mobile Automation AG. MOBA now develops, manufactures, supports, markets and sells a wide portfolio of solutions and systems for the full spectrum of construction machines, special machines and refuse collection vehicles.
Linked to the region
In 2004 MOBA moved to today's headquarters in Limburg-Offheim. In the same year, Harms handed over the management of the company to his son Volker, at the same time joining the supervisory board of MOBA Mobile Automation AG, and was Honorary Chairman of this until his death. Harms remained closely connected to MOBA and in September 2012 celebrated the 40th company anniversary together with MOBA and the employees. Harms lived with his wife in Steinbach near Limburg until his death.
For Harms it was important to offer young people a well-founded apprenticeship to provide a solid start to their working lives. He brought this to reality within MOBA (today MOBA has 22 apprentices and students) and also in other private areas of influence, for example via the Don Bosco Foundation, where he was particularly active in the establishment of apprenticeships for young people in the Philippines and in Tanzania.
Within MOBA and beyond he will be sorely missed and is remembered with affection and respect.