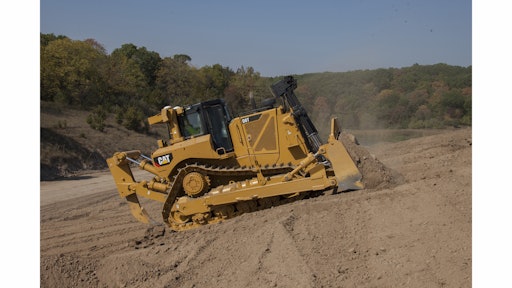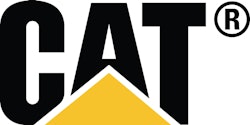 The Cat D8T Dozer has a long history of high productivity and outstanding versatility. With maximum net power of 312 hp (233 kW) produced by the Cat C15 ACERT engine, and a weight of 86,900 lbs. (39,420 kg), the new D8T excels across a wide range of tasks—production dozing, ripping, scraper work and land clearing to finish grading. The latest Cat D8T dozer maintains its renowned power and performance, while adding new features and technology to help operators work with greater efficiency and comfort.
The latest D8T offers a number of systems to help the operator work efficiently and comfortably. The new color touchscreen display is easy to use and enables the operator to select control features to suit preferences and optimize the machine for the application. Selectable electro-hydraulic maps set implement response and speed. Enhanced Auto Shift allows the operator to select the optimum ground speed for the job, and then the system automatically chooses the most efficient gear based on load. The system saves fuel and can boost productivity.
The new D8T also offers a quieter cab, adjustable armrests and a heated/ventilated seat option. Smoother shifting based on load and operating conditions, as well as benefits from Enhanced Auto Shift, also help fight operator fatigue.
The D8T uses Selective Catalytic Reduction (SCR) combined with proven emissions technology to meet U.S. EPA Tier 4 Final emission standards. The emissions technology is transparent, requiring no action from the operator and no stopping for system regeneration. The system utilizes Diesel Exhaust Fluid (DEF), which can be conveniently refilled at refueling time. Efficient use of DEF contributes to excellent overall fluid efficiency.
Advanced Technologies with Cat Connect
The D8T is available with Cat Grade Control 3D, a factory-integrated Cat Connect GRADE technology that enables operators to improve grading efficiency, accuracy and productivity in production dozing to fine grading applications. The system automates blade movements, reducing manual operator inputs by as much as 80%. Experienced operators can produce consistent, quality grades while maintaining peak efficiency levels throughout more of the work day, while less experienced operators can be more productive faster. The integrated design moves the antennas to the top of the cab, eliminating masts and cables traditionally on the blade. Integration into the machine's standard monitor and joystick controls helps simplify operation. Productivity boosting features integrated with Cat Grade Control—AutoCarry, Auto Blade Assist, and Automatic Ripper Control—turn the D8T into a high production dozing system with the additional benefits of reduced fuel consumption and increased component life.
If additional grade control capability is required, customers can easily upgrade to the Cat AccuGrade system for laser, GNSS or UTS control to extend machine versatility. The machine comes pre-wired from the factory for easy upgrades.
Cat Connect LINK technologies are deeply integrated into the machine, giving operations and maintenance managers valuable insight into how their equipment is performing. Product Link provides wireless access to machine data such as location, hours, fuel consumption, idle time, and event codes via the online VisionLink interface. The system enables managers to make timely, fact-based decisions that can boost job site efficiency and productivity and lower operating costs.