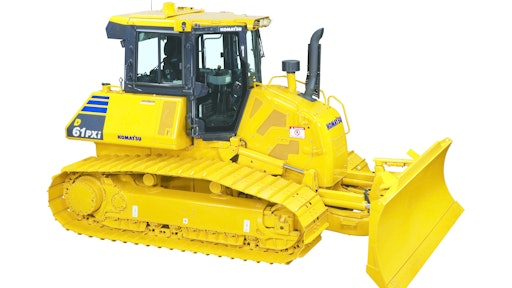 Komatsu Europe presents the new D61EXi/PXi-24 dozer, Komatsu's latest in a growing range of machines equipped with intelligent Machine Control technology. Featuring all the advantages of the new D61-24 dozer, and enhanced with the customer benefits offered only by Komatsu's integrated intelligent system, the D61EXi/PXi-24 brings improved efficiency and reduced costs to customers.
"These Komatsu dozers are very effective on construction sites, where owners and operators are under pressure to meet strict deadlines," says William Groven Product Manager at Komatsu Europe. "Every pass counts, and Komatsu intelligent Machine Control optimizes the entire dozing process to generate important time savings."
The innovative machine control system on the D61EXi/PXi-24 allows automated operation from heavy dozing to fine grading. It senses and controls the blade load to optimize the start of the cut and minimize track slip. Equipped dozers can greatly enhance work efficiency in any application, especially when a specific finished level must be guaranteed.
The system is fully integrated, there's no need for operators to climb on the blade to install/remove GNSS antennas, no coiled cables to snag and no electrical connections to worry about at the start and end of every shift.
Powered by a 125 kW (168 hp), SAA4D107E-3, EU Stage IV emissions-certified engine with a "heavy-duty" aftertreatment system, the D61EXi/PXi-24 emits up to 80% less nitrogen oxides (NOx) than a D61-23. This 6.8 liter diesel engine features a Komatsu Diesel Particulate Filter (KDPF) and a Selective Catalytic Reduction (SCR) system. The KVGT creates excellent engine response and helps to maintain a high level of passive regeneration, with no fuel wasted on cleaning the exhaust filter.
Komatsu's target of high quality and lower costs for customers is met also by the increase of wear life for machine components. On the D61EX/PX-24, the final drive is now further protected from dirt and damage by a new triple labyrinth seal, for superior durability.
The new high-comfort cab has an air suspension high back seat, adjustable and heated. Possibilities for fleet management are expanded thanks to an upgraded high-resolution TFT-LCD machine monitor, with ECO/POWER mode selection and operator identification. For the operator's convenience, a shovel holder was added to the back of the machine.
The latest KOMTRAX telematics, and the Komatsu Care complimentary maintenance program, offer top fleet management and support, protect the machine against misuse and guarantee maximum efficiency and uptime.