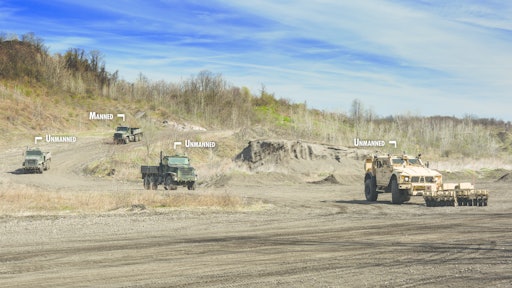 Oshkosh Defense LLC, an Oshkosh Corporation company, will be exhibiting at the Dubai Airshow, November 8 to 12, 2015, in Dubai, United Arab Emirates. Oshkosh will feature its full range of tactical vehicles and advanced technologies including its unmanned ground vehicle (UGV) technology, TerraMax.
The Oshkosh TerraMax UGV technology can convert a traditional tactical vehicle into a fully integrated autonomous vehicle system that can serve as a force multiplier by enabling a single operator to supervise up to five unmanned tactical wheeled vehicles during convoy and route clearance operations.

"On today's battlefields, personnel carrying out logistics missions are exposed to dangers [not] previously seen in active battle zones," says Bill Mooney, Vice President for the Middle East and North Africa region for Oshkosh Defense. "By reducing the manpower needed to conduct a convoy operation, commanders can minimize the number of personnel exposed to various threats including IEDs. In route clearance missions, where the lead vehicle is a great risk, TerraMax can remove the operator from the lead vehicle altogether, while providing others in the operation with a safer standoff distance from the threat."

TerraMax UGV technology is delivered as a scalable kit that can be tightly integrated onto any tactical vehicle – from any manufacturer – without compromising the vehicle's original payload or performance capabilities. TerraMax UGVs are built to operate for extended periods of time, day or night, through dust and adverse weather without the fatigue or loss of awareness that can commonly afflict human operators.

The Oshkosh TerraMax UGV technology has proven capable of being seamlessly integrated into convoy operations during live-force military evaluations and has been tested in virtually every manner of tactical environment. Unlike remote-controlled or tele-operated systems, TerraMax UGVs leverage the latest robotics technology that enables them to perceive and navigate complex, off-road environments entirely unmanned, with minimal operator supervision. Oshkosh has the production and support capability to enable the military to quickly transition UGV technology from concept to combat zone.

Oshkosh Defense leadership will be available to discuss the company's full portfolio including TerraMax UGV, in the U.S Pavilion at the Dubai Airshow in booth #1860.