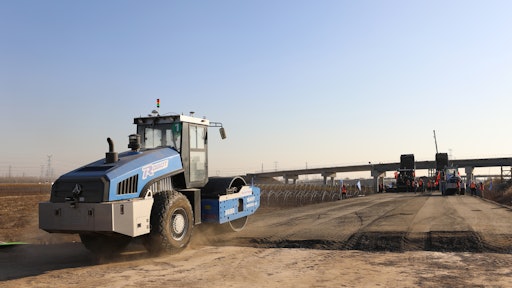 SANY
SANY recently demonstrated the capabilities of a driverless fleet of pavers and rollers in China. The fleet consisted of two pavers, two single drum rollers, two tire rollers and one double-drum roller.
The unmanned machines were used for compacting as well as cement-treated paving on the main road leading to Xiong'an New Area which is a part of the newly named China (Hebei) Pilot Free Trade Zone where construction work is in high demand.
According to SANY, a mobile base station and control room located within a short distance of the work site enabled remote control of all seven machines. The company says all vehicle operations were automated. Working parameters such as route, paving speed, rolling speed, rolling times and lap width were set in advance to provide guidance on how to complete the work at hand.
The pavers were equipped with a 3D leveler and infrared temperature monitor to ensure accurate paving thickness and temperature. A new automated leveling system eliminates the need for manual work that might otherwise have been done to guarantee accuracy.
SANY says the autonomous vehicles completed the job in a manner which met the required standards for smoothness and compactness. In addition, they performed the work in a more productive and efficient manner than traditional methods.
Data gathered from this demonstration will help guide the company further advance its autonomous equipment development.