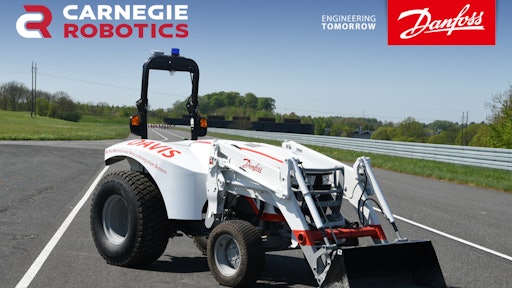 Danfoss Power Solutions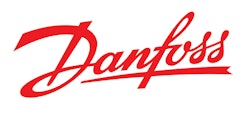 Danfoss Power Solutions has partnered with Carnegie Robotics to strengthen its portfolio of autonomous products and solutions. The company's first autonomous vehicle controller, the XM100 and its PLUS+1 software platform will help machine manufacturers increase precision and autonomous performance through integrated technology and support from Carnegie Robotics as part of the partnership.
Danfoss Power Solutions is investing heavily in autonomy to ensure its technological solutions and products are ready to help machine manufacturers add autonomy solutions to their machines using the PLUS+1 Autonomous Control Library. To further enhance its offering, the company has partnered with Carnegie Robotics, a leading provider of advanced robotics sensors and systems for agriculture, mining, infrastructure, mobile and energy industry applications.
Carnegie Robotics will provide a state-of-the-art inertial navigation and pose estimation system that will be embedded into Danfoss Power Solutions' XM100 autonomous controller. This high-processing power hardware platform will allow machine manufacturers to take the first step into autonomy. Carnegie Robotics has over a decade of commercial experience developing cutting edge position, perception and navigation systems. The system will also be included in the Danfoss PLUS+1 software platform, which allows programmers to build autonomous machine functionality by using and finetuning pre-programmed function blocks, saving valuable development time. The system addition and partnership with Carnegie Robotics will elevate the entire solution through increased precision and the ability to automate machines with the PLUS+1 Autonomy Control Library.
By partnering, the two companies intend to answer the need for autonomous solutions to improve operator situational awareness, precision and productivity across multiple industries, from specialty agriculture in California to mining in Australia.
Commenting on the new partnership, Peter Bleday, Danfoss Power Solutions' Head of Autonomous Vehicles, said, "Autonomy is part of the solution to global megatrends such as urbanization, digitalization, electrification, climate change, limited food supply, population growth and a younger workforce. We're extremely excited to partner with a respected world leader in autonomous technologies like Carnegie Robotics. We anticipate a strong, long-lasting relationship as we move into the future of autonomous vehicles."
John Bares, President and CEO of Carnegie Robotics, added, "Carnegie Robotics is proud to partner with Danfoss, and we are excited to collaborate on the design and delivery of cutting-edge autonomous building blocks which will enable a wide variety of machine capabilities in various industries. It is an exciting time where we are witnessing rapid improvements in both operator awareness and automation capabilities. We are enthusiastic about the opportunities and challenges that Danfoss brings to the table. Danfoss will push our company to a new level."