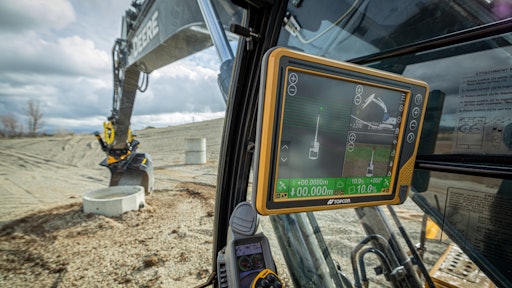 Topcon
The pace of innovation continues at an exponential rate. "In the past couple of years, we have seen tremendous growth in the adoption of machine grade control solutions," says Sean Mairet, Product Marketing Manager, John Deere Construction & Forestry. "This adoption has led to improvements in grade control solutions such as removing external grade control components like mast towers and coil cables. Additionally, automation features are being integrated to help further enhance grade control solutions."
As the cost of the technology has come down, it has rapidly spread to new machine types. "You are seeing nontraditional grade control machines adopting grade control technology," says Mairet. "Take for instance our new 333G SmartGrade compact track loader and SmartGrade excavators. These types of machines are newer to grade control but now enjoy the tremendous value grade control technology brings to a jobsite."
Trimble offers Earthworks GO!, a product tailored specifically to expand grade control technology to the small machine space. "It's portable and very cost effective," says Cameron Clark, Earthmoving Industry Director for the Civil Construction Division, Trimble. "It magnetically mounts to the grading attachment. You can use your own display. It could be your phone."
"Everybody has been focusing on the big equipment — dozers, graders and excavators. But we never really looked at the smaller excavators, the compact tools like the skid steers," notes Kris Maas, Machine Control Director of Product Management for Leica Geosystems, part of Hexagon. "We are definitely looking to those solutions. The cost was too high compared to the cost of the machine. It is getting less expensive and more accessible to a different fleet of machines."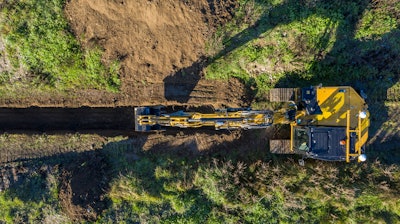 Accuracy and processing power improve
Murray Lodge, Senior Vice President and General Manager of Construction, Topcon Positioning Group, believes the most significant improvements have been the processing power of the components and the rapid advancements in Inertial Measurement Unit (IMU) technology. And while the performance has increased, the price has seen a significant decline. "It's really dropped because of commoditization. You are also now able to build IMUs that are more accurate," he says.
These advancements allow machines to operate at faster speeds. "As you start to add load-sensing capability so that you know you are getting too much resistance on the blade — you have too much material — then the blade will automatically come up a little bit," says Lodge. "You don't have to slow down; you can maintain a constant speed."
Such advancements also make it possible to adapt the technology to more machine forms, such as skid steers or track loaders that rapidly change directions. "On older machine control technology, where you used gravity flow sensors, slow processors and received your signal from a GPS, the latency was so great that you couldn't keep up," recalls Lodge. "You either had to slow way down to get the accuracy you needed or you couldn't use it."
Scott Hagemann, Senior Market Professional, Caterpillar Inc., agrees that advancements in the sensors and IMUs are the most important achievements. "They are very fast and measure many different angles with the same sensor. They are also very compact in size so they can be mounted out of harm's way."
"When you couple [sensor and IMU advancements] with the extra processing power we have with the ECM (engine control module), we've seen a real big performance improvement," says Clark. You have more data and the ability to do more with that data.
IMU technology has also allowed the development of mastless systems. Traditionally, contractors remove the grade control components off the masts at night to prevent theft. Mastless systems mean you don't have to worry about daily removal and the risk of falling off a ladder every day, says Clark.
READ MORE: In-Cylinder Sensors Solve Old Problems with New Thinking
System displays have been another area of improvement. "The size is larger, but the touchscreen gives it the feel of your smartphone," says Hagemann. "They are actually tablets that run apps. The app we use for grade control is called Cat GRADE. The operator can press and hold, swipe, zoom and rotate just like your phone. This feel changes the attitude of the operator; they feel more at ease with the technology."
"There's been a lot of focus and effort within the industry to make the systems more intuitive," says Clark. Trimble employs a team focused on user experience to ensure products are more intuitive, which decreases the learning curve and training requirements.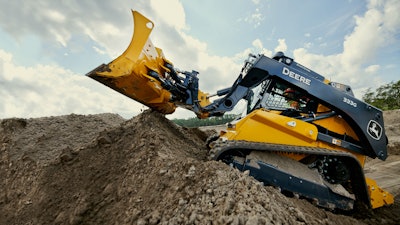 From machine solutions to ecosystems
There is also a movement from standalone solutions to ecosystem solutions, where machines are connected.
"We've seen big improvements with workflows, of getting data to and from the office, being able to manage and understand what's happening on the site remotely," says Clark. The importance of this has been emphasized during the pandemic. Connected machines also allow plan updates to be remotely sent to all machines in the field.
But connectivity requires input from a fleet of machines. "If you only have one machine on the jobsite that is connected back to the office, it doesn't really help you out a whole lot," says Michael Salyers, Senior Product Manager, Komatsu. The more machines become connected and supply data, the more viable it will be to make decisions in real time.
The information provided by grade control systems will become even more useful as it is integrated with onboard telematics systems. "SmartGrade solutions are already integrated into JDLink from the factory," says Mairet. "Recently announced, SmartGrade remote support is being added to SmartGrade machines this year. This support suite includes remote display access (RDA) and wireless data transfer (WDT), enabling the dealer and customer to remotely log into the display to help with troubleshooting or wirelessly transfer files to the machine." This helps prevent trips to the machine in the field.
Machine data can be sent directly to the cloud. "No matter where you are, you can get this information by phone, tablet or computer," says Hagemann. This will drive new processes and efficiencies. "We can tie dirt moved to fuel burned, hours worked and trucks loaded. The data allows our customers to make decisions sooner and faster."
Real-time information is a game changer. "You can now make better decisions and adjust project schedules, project plans, material ordering, deliveries," says Salyers. "You can start adjusting those schedules much more effectively because you're able to see what is happening on the jobsite in a more real-time scenario."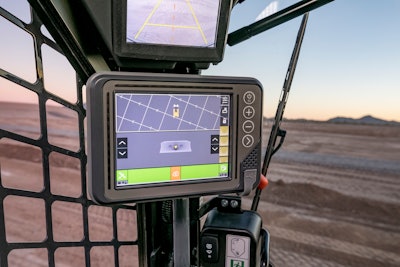 The goal is to use real-time information to optimize the workflow. "Monitoring the whole workflow is really where the big-dollar impacts can happen," says Lodge. "If you want to get real-time accurate information of what's happening on a jobsite, you have to be able to take different types of data collection, bring them together and then have a cloud-based system that can process all that instantly. That information needs to immediately go out to every machine, every grade checker, every foreman in a truck."
This requires machines talking to each other, plus other forms of data collection such as drones. Topcon uses Sitelink connectivity to tie this data together.
Accessing data has been one of the challenges faced by many contractors who run mixed fleets. "When somebody buys a machine, they need to stick to a brand to get the whole ecosystem," says Maas. "That's one of the constraints that you have today. If a contractor wants to get full information on productivity, they need to have one brand of machine because they live in their ecosystem. That's still a problem in the construction industry, and they're working on an ISO norm of data formats, which may become available by end of this year or beginning of next year."
Looking toward the future
Increasing machine connectivity will allow further advancements. "We look at it not so much as individual point solutions, but what can we do [at] an ecosystem level," says Clark. "More intelligence is being added to the systems to really help the skilled operators to be more efficient and productive, and assistance features aid in optimizing workflows."
The systems will move away from being simply grade control toward systems that instruct the operator how to complete the task. This may include heads-up displays or augmented reality.
For these advancements to occur, jobsite machines need to be connected. "That's where it has to go to automate the site," says Lodge. "If I have 10 pieces of equipment on a site and only two of them have control systems, I can only do so much." When the whole fleet is connected, the machines can work together at a higher productivity level.
"As we look out over the next 5 years, integration, adoption and automation are the three areas that seem to be gaining attention," says Mairet. "Integration at the factory allows for better installation consistency, and customers are seeing the value that brings to grade control technology solutions. As technology adoption and integration increase, the opportunity for automation to further enhance productivity is even larger. Grade control technology is certainly a very important building block for additional automation in the future."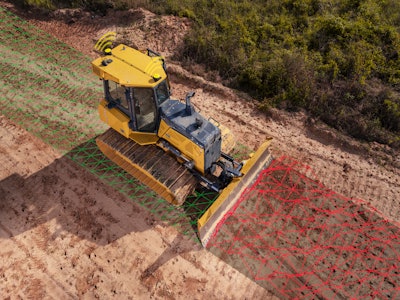 Clark says that the path toward autonomy is a journey. "It makes sense to add value along the way — to provide assistance with semi-automated functions to really help lift the skilled workforce," he comments.
Most manufacturers have stated the end goal is autonomy. "But until that is developed, I see more features that help manage the job being offered in the cabs," says Hagemann. "For example, the grade control systems know the final design desired, the design plan loaded in the display. The machine's blade or bucket knows the current state of the project, the elevation. They can use this to compare and give live updates of the project.
"Grade control has become very beneficial due to us knowing the location of the machine and its major parts — blades, buckets, tracks, rippers, cabs, booms, sticks, etc.," Hagemann continues. "We can leverage the locations we know to control where the machine goes, not just where the blade or bucket is. By doing this we can control the machine moving left or right, forward or reverse, and moving parts up or down. The big step in between will be remote control of our machines, then automation."
Safety will be an important topic on the road to autonomy. "To get more to autonomy or automation, you need to have safety involved," says Maas. "If you're relying less on the operator, you need to have that aspect covered. If something goes wrong, the machine stops working.
"We already have that standard in our semi-automatic excavator today," he notes. "The problem with a construction site is it's so dynamic. It changes continuously. You need to be able to react to the ever-changing environment on a construction site to avoid certain objects."
Automation will require new safety measures. "You will see safety elements being added to the grade control systems," says Clark. "You have to make sure it is safe and you have to automate a workflow just like a seasoned machine operator would for that task."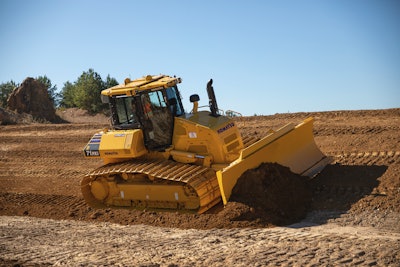 Machine integration raises the bar
Topcon helped bring an OEM-integrated grade control system to market almost a decade ago. These systems can do things not possible with an aftermarket system since they are tightly integrated with the vehicle's CAN system and hydraulics. "But the solution also needs to be something that enhances a customer's mixed fleet," says Lodge. A contractor needs the most effective solution that fits the whole fleet and the whole operation. The integrated systems and aftermarket systems can all communicate with the Topcon ecosystem.
"In the last few years, the systems actually started to become part of the machine instead of just an add-on," says Komatsu's Salyers. "Now, we've really started to see the increase in the usability and the functionality of the system as it relates to the overall jobsite. The machines understand what is happening within their own environment." They can sense when they have too much or too little load.
Prior to the development of integrated technologies, grade control was primarily a blade-mounted system. "All it knew was exactly what the target was and how far it needed to go to get to target," says Salyers. This limited the application to primarily finish grading. "Contractors and operators would only use that blade control system anywhere between 10-15% of the time."
For most earthmoving projects, mass haul of material is the largest amount of work that occurs. "That's the highest cost for the contractor or the developer," says Lodge. "The technology is now being utilized for general movement of any material on a jobsite. If I automate the workflow in the beginning when I do the design, I'm going to do it as efficiently as possible."
Being able to use a grade control system from the start of the project reduces mistakes. "It has a big benefit because you don't want to dig too deep or over cut at the beginning. We all know that 80% of the costs for earthmoving [are] at the beginning when they start stripping and preparing the field," says Maas.
The early grade control systems were primarily used in manual mode until you were within a half foot of target grade. "Now, we're able to sense what the existing ground is underneath the tracks of the machine and load the blade accordingly, thus making the machine more efficient and productive," says Salyers. "The machine is recording in real time what it is doing, comparing it to where it needs to be and then moving the material in the best way that a machine of its size can move it, whether it is a big machine or a small machine. The operator can now turn on the automation in one of our integrated machines and never turn it off all day.
"Bringing the grade control system into the machine and using the speed sensors, advanced IMUs and pressure sensors is allowing the machine to do a lot more for the operator," he points out. "Now, the operator doesn't have to worry about basic material movement; he is thinking about where the material placement needs to go. It is giving experienced operators the ability to do more jobsite management than it is actual machine operation."
Machine grade control pricing has dropped substantially over the years, which makes it easier to justify an upgrade to integrated grade control technologies. "Contractors will start to see as they replace machines, it's much more cost effective to go with an integrated machine than it is to continually try to utilize an older system that doesn't have some of the functionality, that doesn't have some of the performance capabilities that the newer systems have," says Salyers.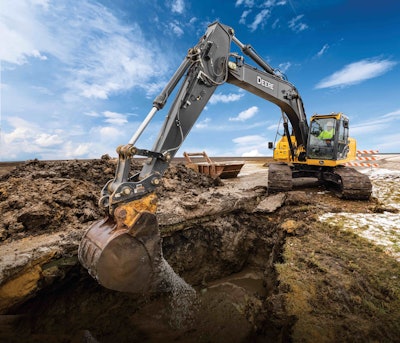 "Being able to combine onboard machine data and sensors with grade control technology creates an opportunity for features that wouldn't be available in a standalone add-on kit," says Mairet. "An example of this is the newly released machine damage avoidance feature on [John Deere] SmartGrade motor graders. This feature leverages the same sensors SmartGrade integrated grade control uses to sense if the machine is at risk of damaging itself, and actively prevents it."
The information available from the integrated machines will just continue to increase over time. For example, sensors are being added to track what is going on around the machine for safety. "When you look at some of the sensors that you might have on a machine for safety, how else could you use those?" Clark poses, then notes that they might also be used to scan and create surface models around the machine, providing additional value.
As machines gain data gathering capability, you may be able to rely less on drone mapping. "There will be cameras on the machine where you can start tracking data. Excavators can have a camera on the front and they can collect [data] points while they dig," notes Maas.
Reality capture technology is also emerging. "You can capture reality around the machine and you can map the terrain while driving," says Maas. While this capability is not yet available, the technology exists.
Companies in this article