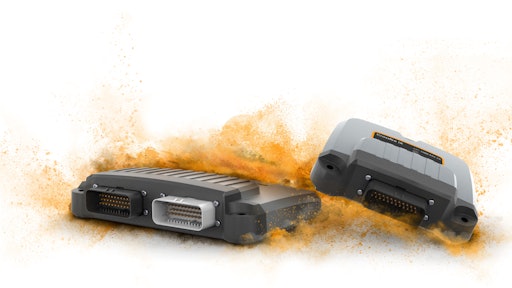 CrossControl is launching a new platform of controller products, featuring highly configurable I/O interfaces, flexibility in Master/Slave role assignment and variation in I/O count per device.
All configuration is software based and the platform uses CODESYS for configuration and application programming. The platform enables OEMs and system designers to design modular control systems where it is easy to handle optional features and variations across a wide equipment product range. The modular approach takes down system cost and software re-use means engineering time and cost can be reduced significantly.
CrossFire SX is a versatile I/O controller that is freely configurable as Master, Slave or Smart Slave. With the Smart Slave configuration a slave can be programmed to perform closed loop control tasks. It has 40 I/O channels that can be set up for virtually any sensor or actuation device, meaning it can be applied for different controller jobs in a system.
CrossFire IX is a compact slave I/O device with 14 I/O channels, offering a very affordable addition of I/O channels when the task does not require the larger CrossFire SX. It also features optional data storage capabilities and a WiFi interface that can be used for e.g. connecting a Smartphone to the system, for presentation of system information locally and for transferring production data to the cloud.
The new I/O control platform will be showcased at CONEXPO 2017 in Las Vegas.