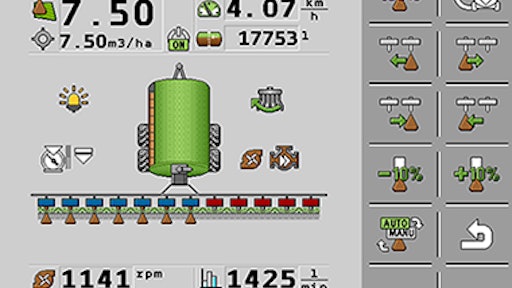 At the international farming show AGRITECHNICA 2017, Müller-Elektronik, a Trimble Company, will be showcasing its latest control and regulation system for slurry tankers ISOBUS SLURRY-Controller.  
Through its high flexibility, this application can be used both on very simple implements that only require a few inputs/outputs and on very complex implements with high-end functionalities. Up to eight ECUs can be linked to optimally fulfill the manufacturer's needs.
In addition, the latest developments to the SLURRY-Controller now allow automatic or manual control of up to 18 sections and four dividers which can be mounted on the newest boom models like the Comfort Flow Control (CFC) from VOGELSANG. The flexibility of this solution is further improved with the AUX-N certification which enables the control of proportional implements, such as the filling arms.  
With the integration of the NIR-Sensor solution patented by m-u-t GmbH, the slurry tanker application now offers the option to calculate and automatically store at the end of the filling process the average concentration of nitrogen, phosphorus, potassium and ammonium ion of the product in the tank. To achieve this, the NIR-Sensor automatically starts at the beginning of each filling sequence, whatever the machine used.
Visit the company's booth, J21 in hall 15 at AGRITECHNICA 2017 in Hanover, Germany.