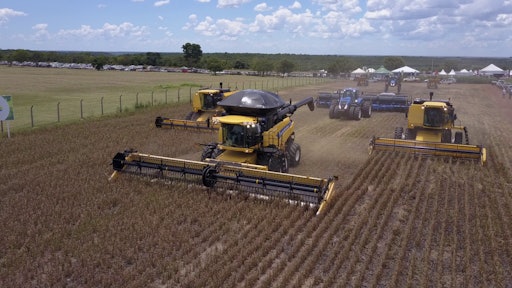 CNH Industrial
A new common interface called DataConnect will enable farmers and contractors operating fleets of machinery from different brands to securely exchange and view machine data in the near future. They will also be able to control and monitor their entire machinery fleet using their preferred telematics platform, without having to switch portals or manually transfer data from one system to another.
DataConnect is a direct, manufacturer-independent solution that enables the seamless, automatic and real-time exchange of important machine data between the various machine brand platforms. 
John Deere, CLAAS, CNH Industrial and 356FarmNet are among the first manufacturers to take part in the initiative. Customers operating Deere, CLAAS, New Holland, Case IH or Steyr brand farm equipment can easily access and view basic machine data elements including current and historical machine location, current fuel tank level, working status and forward speed from these connected machines via the portal of their choice. These include the John Deere Operations Center, AFS Connect, MyPLM Connect, CLAAS TELEMATICS or 365FarmNet portals.
DataConnect allows multiple machines or fleets from different brands to be viewed from a single portal. No additional hardware or software components are required.
All four companies are members and supporters of the Agricultural Industry Electronics Foundation (AEF). They will share their experiences with AEF in an effort to support a standardized data interface architecture, similar to ISOBUS, across the entire ag equipment industry.
Interested equipment manufacturers, software providers, associations and standardizations committees are welcome to help develop and participate in the interface. DataConnect will be rolled out by the four companies later in 2020.
CNH Industrial has also joined DKE Agrirouter, a universal data transfer hub that currently includes 17 OEM brands and more than 30 digital service providers, to enable customers to exchange task data between brands.
Though the initiatives are focused on different elements of mixed-fleet access, both are aimed at removing obstructions for customers. Both agreements required unique cooperation with industry competitors to bring the customers of Case IH, STEYR and New Holland connected Fleet and Farm services the freedom they need to manage their mixed-brand fleets with the highest possible efficiency.
"These agreements empower our customers to share and access data where and when they want," says Derek Neilson, President Agriculture, CNH Industrial. "This is further evidence of our stated aim of developing a comprehensive suite of digital and connectivity services to help our customers run their farming operations with increased production efficiency."
"Our customers' needs are diverse, but rapidly expanding digital features and simplifying data movement benefits them all equally," says Morten Schmidt, the global leader of Digital and Precision Solutions & Telematics for Agriculture at CNH Industrial. "DataConnect brings a logistics benefit with machine data and Agrirouter enables customers more avenues to exchange agronomic task information, but it is really all about removing data hurdles. With fewer hurdles, there will be more demand from customers for expanded, even better digital solutions."
Companies in this article