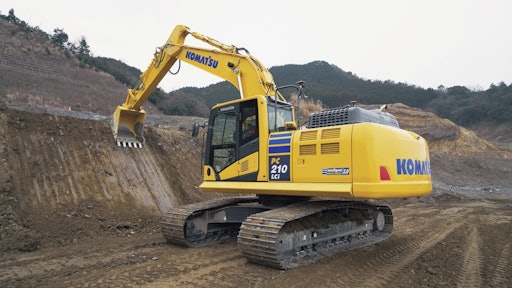 Komatsu America Corp.
Komatsu America Corp. has announced more of its machines are now available with the latest version of its intelligent Machine Control (iMC) system. iMC is part of the company's suite of Smart Construction products which use advanced machine control to help ease operation.
With iMC some machine functions are automated, helping to improve productivity and efficiency by enabling tasks to be completed according to a predetermined plan. This ensures work is completed accurately and on time.
On January 7, Komatsu announced its iMC 2.0 system was available on its D51i-24 and D61i-24 dozers to aid with dozing and steering control.
Now the company has announced the availability of they system on its PC210LCi-11 excavator. According to Komatsu, inclusion of the factory-integrated iMC system helps minimize over-excavation. It also makes it easier for operators to dig straight to grade quickly and accurately.
Improved machine control
Bucket angle hold control and auto tilt bucket control are two of the main features included on the PC210LCi-11 excavator. By automatically holding the machine's bucket angle to the design surface during arm operation, bucket angle hold control helps operators finish grade work quickly and accurately. All an operator has to do is use the arm input of the excavator. This reduces the amount of hand movements the operator makes, improving their comfort, while enabling them to keep the bucket in the correct position at all times.
Auto tilt bucket control helps operators align the bucket parallel with the slope to finish grading without aligning the excavator with the target surface. Enabling this prevents additional movements that might take up valuable time or cause work to not meet the desired plan.
Machine control systems like these benefit not only seasoned operators, but also new ones. The ease of operation can help seasoned operators further improve their productivity while new operators will find the easier machine operation helps minimize their learning curve, enabling them to become proficient at a faster rate.