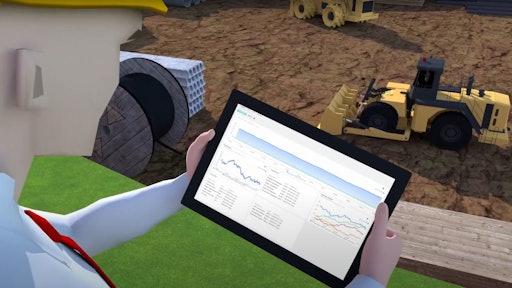 Elevat IoT
Construction equipment users and construction executives operating mixed fleets have struggled with original equipment manufacturer (OEM) proprietary telematics systems. Executives responsible for a rental fleet or contractor fleet have had to choose between disjointed systems or try to port limited amounts of data into a solution from companies like Tenna, Fleetio or multiple multi-function software applications that also offer equipment telematics features like Assignar or HCSS.
Yet the OEM telematics category is growing at a rate of about 15.6 percent annually. And the capabilities of both OEM and independent telematics systems have expanded to include not just location and maintenance codes, but productivity, safety, cost efficiency and compliance. This data is not used just to support the asset through a defined condition-based maintenance application, but must be usable by a broad spectrum of operational and analytics systems.
More open APIs
Stock telematics solutions coming to market in the coming months and years will be more open as OEM vendors recognize and yield to the needs of the market. Telematics solutions that don't work and play well with other technologies will put OEMs at a disadvantage as their customers want to see all their equipment across a mixed fleet on a single pane of glass.
According to Adam Livesay, co-founder and chief commercial officer of Seattle-based industrial internet of things (IoT) vendor Elevāt.IoT, equipment vendors are waking up, smelling the coffee and making their technology stacks more open to external systems.
"The biggest change I have seen in the last few years is companies being comfortable using software APIs," Livesay said, referring to the application programming interfaces that enable various software and hardware solutions to communicate with each other across all industries. "If an OEM designs a system that has a proprietary control software or algorithm, that sets up barriers. A tree trimming company using a piece of equipment may define utilization of a piece of equipment using that algorithm or telematics product differently than their competitor, or the same technology is used in a different application like street sweeping and productivity must then be captured in a different way."
It becomes easier according to Livesay, whose company goes to market through 20 fluid power system integrators that drive its technologies into new product development (NPD) value streams for about 300 OEMs, when this information can be exposed to external systems that can display it or use it in different ways.
"The Associated Equipment Manufacturers (AEM) standard for mixed fleets helps," he said. "Now it is very common for them to ask us if we have a set of APIs. Yes we do. They ask how to interface with our APIs and we give them our documentation."
This creates an open environment where the OEM can collect and use data as per their requirements, their customer's operator can use it to manage the equipment and the same data set can be exposed to other enterprise systems or point solutions used across the customer environment or even across a multi-company digital construction workflow.
Affecting OEM New Product Development
This shift though will primarily be felt in the NPD process and to a certain extent among equipment users as APIs become the plug-and play approach for systems integration, equipment end users to access data for their own purposes. Specific codes thrown by a piece of construction equipment may still, however, be proprietary and incomprehensible to third party telematics systems from companies like Tenna, Fleetio and others.
"We started seeing the shift about three years ago," Livesay said. "In the last 18 months, we started to have this type of collaboration. Now we are getting the next tranche of companies really starting to collaborate—ecosystem partners sharing information, sharing data, making it easier to get that proprietary data out. So in the next year to four or five years, connected machines getting access to other connected machines will become a lot easier and the data system a lot richer."
A more collaborative NPD process, cheaper sensors and controls, affordable IoT cell connectivity and cloud architectures that are likewise more easily integrated all contribute to a telematics sector that will generate a more robust data set usable in more different ways.
"We will see more machine data coming off hydraulics systems and the machine itself, including from safety sensors on seatbelts and other components," Livesay said. "We'll see more work information and productivity information being shared."
According to IoTco Managing Partner and Chief Evangelist Mohamed Abuali, interoperability is becoming the watchword across multiple equipment classes and technologies.
"I think there is more openness now for all types of devices and things to interoperate and speak with a common language to the free world," Abuali said. "You have these IoT platforms like PTC ThingWorx,
Hitachi Vantara, as well as Siemens Mindsphere. I know they have approaches that can use open source drivers and languages like OBC UA or MQTT which is a messaging broker. All these IoT platforms support these open standards and protocols. My strong recommendation for future vehicle OEMs is to incorporate these standards. Hitachi for instance created an approach for their vehicles to speak in a very common way using ZCORE, which is a data logger that performs AI on the edge as well as the ability to send data to an external IoT platform using open standards. That is a very strong move towards interoperability as well as connectivity and AI on the edge."
Balancing cloud and edge computing
The telematics secto, as it becomes more central to how heavy equipment is operated, is coming to market with a more robust approach to communicating with the cloud. Equipment operated outside of cell phone range either due to distance or obstructions still must be able to log data on the piece of equipment itself and communicate with an operator on site. Increasingly, telematics and IoT devices will include a dual-mode or even multi-mode communication features.
According Abuali, telematics equipment will increasingly complete substantial computing at the edge—local to the device rather than in a cloud-based application. Abuali and his company help OEMs embed IoT and predictive analytics software in their products and have worked on equipment product lines from Komatsu and Kion.
"The whole premise is these types of equipment are used in remote locations that are inaccessible—we find it is essential to have remote monitoring as a service," Abuali said. "When internet connection is not available, satellite communication is needed."
The satellite will not relay information in real time and packet loss means only so much data can make the trip, and that means the equipment must make choices about what data to send over the satellite uplink.
"We have a very special approach where data is collected on a data logger on the machine itself," Abuali said. "If you consider a piece of equipment like a big excavator tractor, there will be some AI happening on the edge on the data. When the internet connection opens once a day, the AI has made some decisions regarding the critical components, the health of these components, and can send this information to a spare parts system."
The edge system must prioritize and perform diagnostics so that it can then request specific actions to be taken within the cloud-based operations and maintenance system.
"The equipment informs that system whether any maintenance services are required, looking at the engine, brakes, tires, hydraulics and other components," Abuali said. "By then connecting to the service system, it can auto-generate a work order and request spare parts. The goal is to move from a reactive failure approach—AI on the edge on vehicle able to make diagnostic decisions that enable predictive and condition-based maintenance."
"We definitely see blended applications where satellite is used for certain data sets," Livesay said. "We can design into the system a protocol where for cellular, we want this type of information, generally a smaller subset of data for satellite and then all the way to wifi when we connect back to the bay at night. In situations like this, mission-critical data is communicated from the field, and deeper information after the fact. Maybe we want to collect and log data points until I connect to a local network, a service laptop, cell data or wifi."
At the edge, according to Livesay, an application on the machine will need to set priorities for what is related and under what circumstances how frequently.
"First priority is operator safety," Livesay said. "After that is critical maintenance. They may also want to communicate fuel level for machines that are out there in the tundra or deep forest so they can determine fuel transfer rate. Those are the big, critical alerts. After that is the ability to remotely update software on the machine—maybe by satellite if there is a mission critical update."
While Livesay says he currently sees blended connectivity applications for telematics including cell, satellite and wifi, he also sees potential for innovative Bluetooth applications similar to Amazon Sidewalk, which is a broad peer-to-peer network of connected devices. Zigbee, for instance has solid construction and mining use cases.
New construction business models
As telematics devices become more robust and more open, Abuali believes they will enable net new construction business models by virtue of the shared visibility they create for OEMs and equipment owners.
"In many cases, it is more effective to replace parts early than wait for them to fail," Abuali said. "When that happens, it impacts productivity and also makes it more expensive to stock and deliver spare parts which is a concern for the OEM if the vehicle is under warranty because they have to have a higher replenishment of parts and more cost to comply with responsiveness service level agreements (SLAs). For OEM, there can be that financial tradeoff between spare part management and warranties. Forward-looking OEMS are looking at having predictive analytics embedded in the telematics unit on a machine to optimize spare part usage and enable the responsiveness they promise in the warranties"
Ultimately, telematics will come to support paying for equipment by usage or duty cycle.
"I have seen this in Kaeser Compressor," Abuali said. "They went into an interesting business model of selling air instead of selling compressors."
Companies in this article