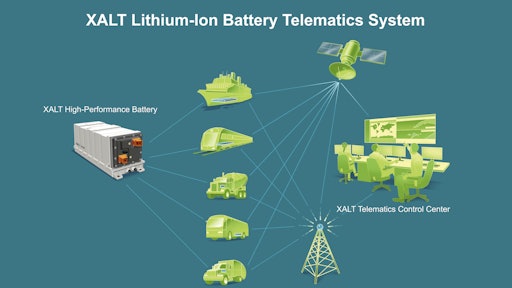 Telematics systems are the nucleus of connected cars and self-driving vehicles. In conjunction with the CES 2020 technology event in Las Vegas, where connected and self-driving cars are center stage, XALT Energy has introduced its XALT Battery Viewer (XBV), a streamlined, powerful telematics solution for tracking the performance of today's battery-electric powered fleet vehicles. XALT Energy, a part of Freudenberg Sealing Technologies, is a Midland, MI-based global developer and manufacturer of lithium-ion technology solutions.
As commercial vehicle manufacturers and fleet owners transition to battery electric powertrains, they must manage a new set of mobility variables, including the battery system's state-of-charge (SOC), overall health, driving range and charging times. XBV is a single-source solution that provides access to sophisticated system data in a simple-to-install-and-use telematics package. A user-friendly portal provides access to critical operational information down to the level of individual cell and string voltages.
XBV was developed in strategic partnership with HED, Inc., a Wisconsin-based leader in the development of intelligent vehicle controls and telematics systems. It features multiple connectivity options, is easily integrated into new and existing configuration designs and uses an adhesive mounting system to quickly and easily attach the telematics antenna. HED's CANect portfolio of hardware, software, cellular, and portal solutions provided the two companies with a high-tech path to support XBV development.
"The most complex component of an electric vehicle is the battery, and understanding energy requirements is no small task," says Casey Hourtienne, Telematics Manager, XALT Energy. "Through our partnership with HED, we can now offer customers trustworthy data that shows energy usage and energy requirements so they can design an optimum battery system for their application."
XBV uses a variety of telematics tools, including Wi-Fi, Ethernet, cellular and dedicated portals, to track data and diagnostic codes. XALT and HED have designed the XBV to allow municipalities and fleet owners to access dashboards that monitor the drive cycles, routes and charging times of individual vehicles on the road on a 24-7 global basis. This data can also be extrapolated by XALT technicians to determine the size of the battery system an individual vehicle actually needs to optimize performance.
"We have a data-driven means for focusing our engineering and development efforts and when we can optimize our battery designs based on actual data, it's a significant benefit to industry and to customers. They get more value out of every system they install," Hourtienne says.
Information collected by XBV units will also serve a crucial function in helping XALT technicians and engineers apply actual field data to address these requests. Detailed technical reports from XBV data are already helping XALT focus its product development efforts on specific areas of the battery. As the world pursues green commercial vehicle options, such a body of scientific knowledge will prove invaluable to industry and individual customers.
Companies in this article