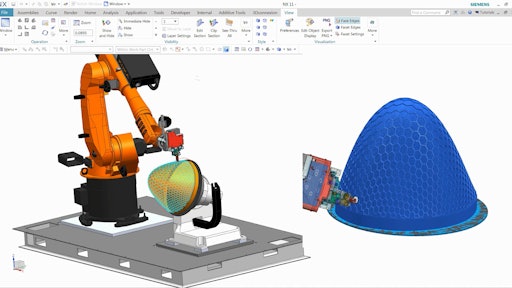 Siemens
Additive manufacturing (AM)—also referred to as 3D printing—continues to grow as a potential means of creating parts, whether that be for prototyping, manufacturing tooling, or increasingly for use within actual vehicles. Stephen Anderson, AM Business Development Manager – USA, Renishaw Inc., says that while 2-3 years ago the conversation regarding AM concentrated on what could be printed, it has now shifted to material qualification, quality control and how AM fits within a mainstream production process.
To help customers understand this and the value AM can offer, Renishaw established a U.S. Additive Manufacturing Solutions Center at its new North American headquarters earlier this year. Part of its global network of solutions centers, it provides potential customers the ability to access an AM machine, as well as a Renishaw engineer who knows how to use the machine and design a part for AM. Anderson says that as a manufacturer of 3D metal printers, Renishaw understands the investment that goes into not only purchasing the machine itself, but also the expertise in running it. "We recognized that to facilitate people's ability to make a purchasing decision confidently, we [needed] to create this concept of a solutions center," he says.
While the concept of metal 3D printing seems like a simple process to many—layers of powder repeatedly melted and built up within an enclosed chamber—Anderson says there are numerous considerations that must be accounted for which quickly make it much more complex. Material properties, orientation of the build within the build chamber, supporting the build, and how it will be removed are just some of the aspects needed to be kept in mind. "If you don't think about your design for additive up front in your part design, then pretty quickly you might find that even though you can build the part, when you take it off the build plate you've got a lot of downstream manufacturing operations [to complete]," he says, such as build support removal or machining mating surfaces onto the part.
By using a Renishaw solutions center, customers can come in with their initial design and receive guidance from the company on how to best optimize it for 3D printing. "We created the concept of solutions centers to help our potential customers qualify the [AM] technology so they could deploy a turnkey solution in their facility and know with confidence the technology works, and that it's wrapped up with all the downstream post-processing qualification and measurement technology to go from powder to part," says Anderson.
Bringing AM into the production process
When designing for AM, it's important to consider more than just whether or not the part is capable of being 3D printed. Anderson says AM pays off the most when used for parts that cannot be machined traditionally or are one-off, low volume parts that would be costly to try to fit into a production facility's already busy machine tool workflow. "If you're putting standard machining against metal AM, then frankly printing standard machine geometries on 3D metal printers isn't going to stack up financially, the machine tool will win hands down every time," he says.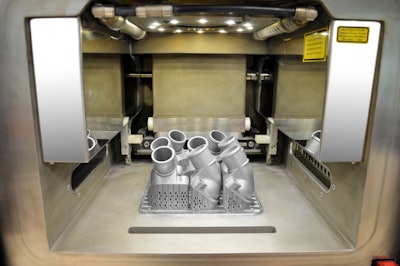 As an example of this, earlier this year Mercedes-Benz Trucks 3D printed a metal spare part. The company said it is especially beneficial when parts have complex structures, and that 3D printed metal parts in small numbers can be produced cost-effectively as infrequently requested replacement parts, special parts, and for small and classic model series.
Its parent company Daimler AG announced in June that the Daimler Bus and other brands would be using 3D printing to produce small batches and replacement parts, as well as for parts with special customer requirements. According to the company, 3D printing provides a means of responding swiftly, flexibly, economically and ecologically to individual customer requests and requirements for replacement parts. The printed parts meet the company's quality standards while avoiding the costs related to tool production, component storage and disposal of surplus materials.
As companies consider the use of 3D printing, Anderson says part optimization, such as lightweighting, is another way in which it can prove a cost-effective return on investment. When doing this, CAD software is used to thin down and remove material from where it's not needed, he explains. In addition, internal structures of a part geometry are no longer solid but lattice-based to help achieve the lighter weight. "That's where metal AM really comes into its own because you couldn't machine a part like that, but you can additively grow it," he says.
In January, Renault Trucks announced its powertrain engineering department had 3D metal printed a prototype DTI 5 4-cylinder Euro 6 step C engine. The company said it is investigating metal 3D printing as it sees it being beneficial for creating complex organic forms, as well as optimizing the sizing of parts and reducing the number of assembly operations, and therefore the number of components in an engine. Renault was able to make a total of 200 fewer parts.
"The aim of this project is to demonstrate the positive impact of metal additive manufacturing on the size and weight of an engine. This process has enabled us to reduce the weight of a 4-cylinder engine by 120 kg (264.6 lbs.) or 25%," explained Damien Lemasson, Project Manager at Renault Trucks, in the press release announcing the project. "The tests we have carried out prove the durability of engine components made using 3D printing. It's not just cosmetic."
Aaron Frankel, Senior Director of Marketing for Siemens PLM Software, says there are a number of barriers in the AM process which need to be overcome in order for it to keep growing, particularly in the process of going from product development to the shop floor. This is due in part to the fact that multiple disconnected software applications are used by engineers and designers, and the manufacturing planners. "Typically we see companies stitching together a number of disconnected software applications in order to design and make parts with additive manufacturing," Frankel explains. "This way of working requires numerous file conversions, and tends to result in an uncontrolled workflow since the data and process cannot be effectively managed across the different systems."
Siemens will often see 3D printers in a corner, or disconnected from the mainstream production environment. "To drive the economic justification, we need to be able to incorporate the printing technology directly into our mainstream production, automation environment," says Frankel.
Like Renishaw, Siemens wants to help companies take full advantage of the potential of AM. Over the past year, Siemens has announced a number of partnerships with additive manufacturing software vendors including Materialise, as well as 3D printer manufacturers such as Stratasys Ltd. to industrialize AM. "Our vision is to create an integrated end-to-end system for additive manufacturing where a company can fulfill the entire product development and manufacturing planning and execution process all in one system," says Frankel. "We eliminate the data conversion, manage the data between every step of the process, as well as the work flows and collaboration between everyone and the equipment needed to fulfill the process."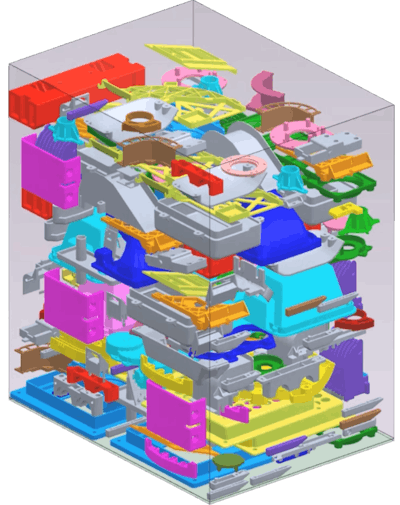 As an example of the end-to-end solutions Siemens is providing for 3D printing, in May of this year it announced it will be introducing a new online collaborative platform for on-demand product design and 3D printing production. The platform will provide an environment capable of connecting all members of the global manufacturing community to maximize resource utilization and access additive manufacturing expertise.
The company also recently announced the creation of a new HP Inc. certified AM software module. It allows customers to develop and manage parts in a single software environment for their HP 3D Printing projects to avoid needing to use third-party tools or spend time converting data.
Siemens is building an ecosystem of partners and bringing together expertise to enable not only end-to-end AM solutions, but also explore new opportunities for more advanced types of 3D printing to create more sophisticated parts in a reliable fashion, and do it repeatedly at greater scale.
"We believe that in order to achieve the industrialization of additive, it requires an ecosystem of partners working together, each bringing their unique technologies and strengths to the table, and figuring out how to combine them to achieve something bigger," says Frankel. "I think it would be very difficult to develop a solution in isolation. No one company at this point seems to have all the technologies together, and the foresight to be able to scale up and push the boundaries of what's possible with additive. I think there's still a lot of room for additive manufacturing technology to grow—in applications and in its maturity."
Where is 3D printing headed?
Consistency of printed products is an area Anderson agrees is of focus for the industry to help AM further expand. "How do you know when you print a part, and then the one hundredth and one thousandth version of the part that all the parts are the same?" To answer this, efforts are being made to understand and qualify powders, as well as lock down the production process to guarantee repeatability in the parts a manufacturer produces.
He says this is where Renishaw can bring significant experience. For almost 50 years it has been a measurement company working in industrial metrology, and thus has an extensive background in qualifying parts as they're produced. "One of our most successful business lines historically has been in machine tool calibration, tool and part setting, as well as on machine inspection probing, and effectively it has been about putting measurement inside the machine tool," says Anderson. "And I think increasingly what you will see in additive metals is measurement going inside the build chamber."
Placing the appropriate sensor technologies within the build chamber will allow better characterization of the part as its being built, and provide the quality reports manufacturers need when producing parts.
Frankel says the end goal for AM is to be able to print actual end-use parts, as long as it proves to be cost effective. Additionally, he says manufacturers will start looking beyond individual parts in an assembly to potentially combine separate parts into a single one that can be printed. "This is going to help drive cost justification versus conventional [manufacturing] processes," he says. "It really comes down to developing a business model that competes with conventional manufacturing processes."
Though often used for prototyping and low volume or one-off high-value parts, Anderson says Renishaw sees metal 3D printing becoming ever more a standard volume production technology. To achieve this, printers will need to increase their throughput, as today some machines can take days to build a part. The company recently introduced a new AM machine, the RenAM 500M, specifically geared to production volume environments. Unlike current machines which require metal powder to be refilled at the top of the machine, posing a potential safety hazard for a manufacturer's employees, the fill chamber has been placed at waist height. Powder can also be loaded, and condensate filters changed, as the machine runs to aid continuous production operation.
He concludes that the company foresees customers using AM machines as part of their standard production technologies, and says, "As we move towards smart manufacturing and factories of the future, Renishaw doesn't see metal AM replacing machine tools, but rather being used in conjunction with them, and becoming a mainstream production technology requiring similar levels of industrial automation process control and metrology as 'right first time' parts."
Companies in this article