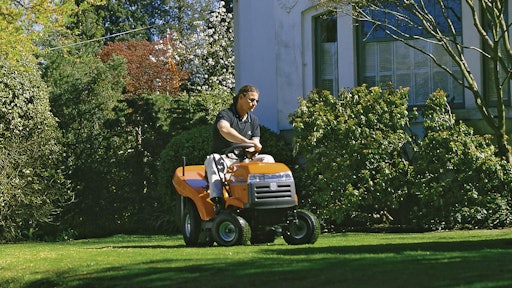 When one of the nation's largest lawn and garden tractor manufacturers was looking to partner with a different plastic injection molder, United Southern Industries (USI) got their attention and, ultimately, became their molder of choice. By moving to the Forest City , NC-based molder, the company quickly saw reductions in both internal and external product non-conformities and the daily production output increased by 20%.
When USI was called in, Electrolux Home Products (EHP), Orangeburg , SC , needed to move the entire molding program quickly. EHP is the parent company of Poulan- and Husqvarna-branded outdoor equipment and a supplier of Sears, Roebuck & Co.'s Craftsman line of lawn and garden equipment. Business is good. As urban sprawl cuts into the rural landscape, an increasing number of new homeowners have lawns to maintain. A tractor comes off the EHP line in South Carolina every 23 seconds.
"Becoming the major plastic component supplier for EHP was an enormous undertaking for us," says Todd Bennett, USI president. "The turnaround to implement the program was short and critical. To facilitate this change we maintained their previous part pricing for 90 days, regardless of any difficulties we encountered. It was a smooth transition, and we kept their lines running. We worked concurrently with Electrolux's purchasing, engineering and quality departments and dramatically reduced previous quality and delivery issues. USI worked to develop a partnership immediately. Communication was paramount."
Time for a change
Internally, Bennett was working to redevelop the culture of the company that his dad, USI CEO Joe Bennett, founded in 1970. Domestic plastic molders were hurting as they watched jobs go to Mexico , Puerto Rico and China ; USI saw jobs worth millions of dollars leave Forest City . "Every day we have to realize that our business could go away. Our company has replaced 80% of its core business in the last six years due to NAFTA and China . To compete with this, we have to change. We're transforming the markets we serve and the niches we capitalize on."
Bennett has and continues to increase the level of training USI provides its employees and it has implemented lean manufacturing techniques on its factory floors.
Within the last three years, USI measured a 25% increase in sales and a 20% reduction in labor costs by focusing on people, technology and innovation.
"We work to make USI the greatest value provider overall, but not necessarily on low price," says Bennett. "We have to show our customers that there is more to a component than the price. By keeping continuous improvement in the forefront of our activities, we can ship parts everyday on time with no quality issues and never shut assembly lines down. Improving communication, both internally and with its OEM customers, was essential. United Southern employees, including its line operators, toured EHP's facilities to gain a greater understanding of the assembly process.
"Communication can solve most issues," says Bennett. "Our customers have their own needs, desires and perceptions which often present us with a unique set of challenges. At some meetings we have laid out our cost sheets and explained the challenges with the program. It is rare for a supplier to do that, yet it is important for OEMs to trust that their vendor is committed to providing workable solutions.
This openness extends to USI's employees; USI opened the books for them, as well. "We want our employees to feel empowered, accountable and responsible." Bennett talked with them about tight profit margins, health care costs, and the price of raw materials.
Employee growth is another priority: USI's 200 employees have averaged over 100 hours of training a year for three years in a row. USI offers training and development, from college courses and technical certifications to GED work and English language courses. It's made a measurable difference: morale and productivity are up significantly, and employee turnover has been cut by 90% over the last five years.
One of Bennett's biggest focuses has been to continue to enhance its engineering services and depth. USI is an avid sponsor of continuous personal growth and development which increases this depth and value.
Knowing the right tool for the job
"We like to be proactive with our customers," says Bennett. "If you wait for the customer to ask for something it is too late. We also have a better opportunity of earning our growth with a customer when we can share ideas."
In plastic injection molding, quality is a direct result of the interaction of man, machine and the mold that produces the part. "With our customers we'll make fact-based recommendations on how we can improve the tools to make the process more automated for a consistent part, for example."
In recent years, USI has re-engineered existing molds and added automation to improve efficiencies, and purchased new equipment to manufacture highly aesthetic components. USI implemented a 5S quality program as well as cell manufacturing to continue to improve quality while taking material costs out of the parts. Freight solutions, ranging from returnable packaging to just-in-time trailer sequencing were also implemented.
Today, USI is EHP's main plastic supplier, providing more than 100 different plastic components for its lawn and garden tractors, and "we continue to grow with them," says Bennett. "I think that says everything.
"We are developing a unique culture that attracts good customers, says Bennett. "When we take them through our facility, they can sense that unique culture and they can see how it translates to their final product."