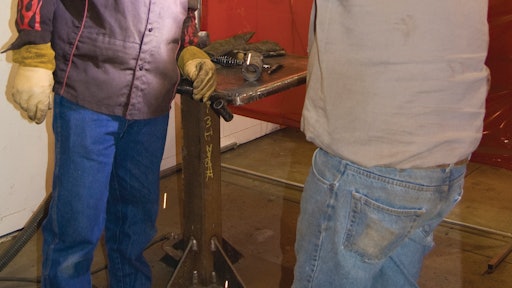 For years, manufucturing has been dealing with a shortage of qualified welders, and it's a problem that has been exacerbated by lay-offs and hiring freezes due to the recession. Three years ago, Superior Industries decided to put a stop to the shortage in-house. It developed a state-of-the-art welding training center that instructs current and new employees in the latest technologies.
Based in Morris, MN, Superior designs and fabricates a full line of portable and stationary conveying equipment. It employs around 500 at factories in Morris, Prescott Valley, AZ, and Norcross, GA. There is a lot of welding that goes into equipment such as Superior's TeleStacker, a radial stacking conveyer that can reach up to 190 ft. in length and weigh nearly 70,000 lbs.
Throughout Superior's operation, "one out of every five employees is a welder," says Dave Dybdal, a welding instructor for Superior and a member of the American Welding Society (AWS). "Their work is a critical element to the success of our company. My guess is that as demand drives welding in the near future, the cost to train and certify workers with no experience will increase dramatically. We're prepared for the upswing."
Dybal, a 20-year Superior employee, runs the school and certifies welders. Certifications can vary between AWS (American Welding Society) and ASME (American Society Mechanical Engineering). Superior's welding school is in a dedicated building on its Morris campus. The facility houses a classroom, library, and lab with eight welding and two grinding booths. Thirty percent of the training is in the classroom, while 70% is in the welding lab.
"Students can spend one to four weeks in the building, depending on their skill level," says Dybdal. "This year we are on pace to exceed 250 weld certifications [one welder could have three or four certifications in both codes]. Since 2007, we have given more than 1,100 weld tests company wide."
Culture of opportunity
The school gives Superior's employees a unique opportunity to raise skill and compensation levels through the study of welding techniques. There is no cost to the employee, and participation is voluntary.
"We have a culture of opportunity, so the door is always open for personal development," says Dybdal. "As a non-welding production employee, you can elect to become certified and work your way into a welding position within the company. Current welders use the school to stay certified with the welds they perform on the job."
Superior's welders are trained in shielded metal arc welding (SMAW), gas metal arc welding (GMAW) and flux-cored arc welding (FCAW). A number of Superior's projects require gas tungsten arc welding (GTAW), and there is training in that subject, as well.
When the program is complete, the students must pass an AWS D1.1 structural steel welding code test. This involves a written exam and a lab test that require students to weld flat, horizontal, vertical and overhead. The AWS certification is the industry's most respected stamp of approval. In addition, students learn numerous testing methods, such as guided bend, Charpy V-Notch impact, macro-etch, and radiographic and ultra sonic tests.
"Through a commitment to in-house training, our goal is raising the bar in weld capabilities by mastering new technologies. With it, we are meeting our need for well-trained and certified welders as expansion occurs; and providing the highest quality products via a skilled workforce," says Dybdal.
Companies in this article