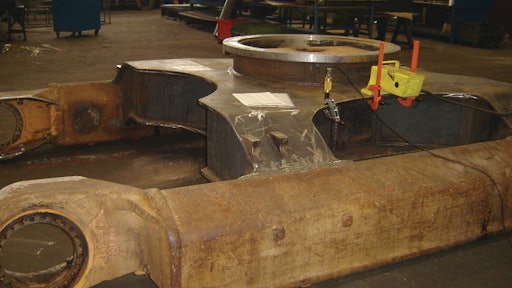 Lufer Industria Mecanica SAhas more than 30 years of experience in reconditioning large parts and manufacturing replacement parts for heavy material handling equipment. It has a product mix of more than 8,000 items, representing a number of well-known off-highway equipment manufacturers.
Located in Sao Jose dos Pinhais, Brazil, the company provides stress relief services for large parts with its own furnace, which was installed in 1975.
To be cost effective and use its time wisely, Lufer felt it needed a new direction for stress relief. Lufer's process had a number of shortcomings. The process was expensive and time consuming because the parts were put in a large industrial oven, heated to 530 C (1,000 F) using more than 100 kW of power per hour. The parts also needed to be put into the furnace using a crane, which required extra handling. After removing from the furnace, the work pieces needed a time to cool down to room temperature.
Lufer also lacked a way to measure results. With these and many other issues associated with their current thermal stress relief process, Lufer felt it was time to find a new way to help them overcome these hurdles in this manufacturing process.
A new method
Lufer received information about the Meta-Lax system from Bonal Technologies, Royal Oak, MI, and decided to try the Model 2720-CC computer controlled system equipped with a 2A force inducer. Bonal is a provider of sub-harmonic vibration technology for metal improvement.
After 30 years of using the same process to provide stress relief, the company was tentative. However, immediately after receiving and using the system, the company noticed substantial improvements in the reduction of processing time and the amount of power necessary to run the equipment. The Meta-Lax system also provided the opportunity to certify stress relief.
Saving time and money
With the original thermal method, stress relieving took 20 hours to complete, seven hours in the furnace with an additional 13-hour period to wait for the part to resume room temperature. Using the Meta-Lax system reduced this time significantly, to 30-60 minutes, a 97.5% reduction in time. Reducing time allows for a measurable savings in costs, along with the overall benefit of being able to ship parts to customers quickly.
Lufer used Meta-Lax to stress-relieve an excavator frame for a Hyundai R210-LC. The car body was made of ASTM-A36 steel and weighed 13,600 kgs. (30,000 lbs.). After stress relieving with Meta-Lax, which took less than an hour, the car body was ready to install in the machine.
"The reduction in cycle time has a direct impact in the cost, however, just as important is the reduction in the cost of power," says Marco Sampaio, chief engineer.
Noticeable results
With the Meta-Lax system the company can now certify the completion of the stress relief treatment and generate a report for each project.
Lufer also noticed a considerable reduction in the warpage of ASTM A36 and SAE 1524 side plates weighing 2,000 kg. (4,000 lbs.), which meant there was less distortion in the completed 980H frame that the side plates went in.
"The big benefit for us is the reduction in the distortion with this particular part," says Sampaio. "Also important to us is that we don't have to wait for the part to cool to go on to our next process."
In comparison with the company's prior thermal stress relief system, the Meta-Lax system allows for much more flexibility in the parts they treat and where they treat them. The equipment is much simpler to use and is portable allowing it to be taken to the job if necessary.
To date, Lufer has offered a Meta-Lax stress relief service to its customers wherever it is most convenient: at Lufer's shop, at the customer's facility, or in the field. In the near future, Lufer plans to acquire more equipment to use the Meta-Lax system during the welding process, as well.
Lufer had a return on the investment with the Meta-Lax system within one year.
How it works
The Meta-Lax process vibrates a workpiece at its sub-harmonic energy level, the optimum zone when using vibration for stress relief. All metal structures exhibit harmonic and non-harmonic behavior. A metal component that contains thermal stress displays its harmonic curve as being out of phase from its natural frequency location, much like a musical instrument being out of tune. By applying sub-harmonic vibrational energy, the pockets of high stress concentrations are redistributed, thereby reducing the effects of the residual thermal stress. Graphically, the harmonic curve shifts slightly but stabilizes into its natural frequency as the workpiece becomes relieved of thermal stress. In a sense, the Meta-Lax massages the metal to relieve the stress.
Meta-Lax weld conditioning applies the stress relief process during welding. Weld conditioning relieves thermal stress as it is being induced during weld solidification. Metallurgically, a finer, more uniform weld grain results. Ductility and impact values are significantly higher.
The Meta-Lax system can be used with all types of materials such as low and medium carbon steel, tool steel, aluminum, stainless steel, cast iron (gray, nodular and meehanite) and exotic metals like titanium, inconel, magnesium and gold.
Tom Hebel is vice president for Bonal Technologies.