Unsplash
The Coronavirus pandemic is having a profound impact on every facet of life and work across the globe. Citizens are forced to stay in their homes, gatherings are being canceled and medical facilities are plagued with equipment shortages. Thankfully, heavy equipment manufacturers are finding ways to protect their employees, continue production as usual and even shift their focus to make and distribute lifesaving personal protective equipment (PPE) products.
Association efforts
The Association of Equipment Manufacturers (AEM) are advocating on behalf of equipment manufacturers to support the industry as the pandemic impacts the industry and economy. Vice President Mike Pence joined a call with the AEM Board of Directors on Wednesday, March 25 to acknowledge manufacturers who have retooled their operations to help support the efforts and thanked the industry for embracing Centers for Disease Control and Prevention (CDC) guidelines to keep their employees safe.
AEM has launched a webinar series to help manufacturers navigate their questions about how Covid-19 is impacting the industry and how to keep employees safe. The first webinar, "Protecting Your Production Lines: 10 Steps Some Companies are Taking to Keep Running During the Covid-19 Crisis," is online now and is free and available to the public. Several more webinars are scheduled throughout the month of April. The next one scheduled is at 1 p.m. Central Time on Thursday, April 2, "Crisis Readying Against Covid-19."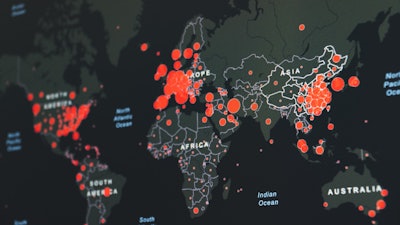 Manufacturers keep employees safe while meeting industry needs
Several manufacturers are either continuing operations to meet industry needs or temporarily shutting down some operations. The latter is a combination of wanting to keep employees safe and responding to decreased customer demand in some markets.
Komatsu recently announced its action plan for Covid-19:
"We continue to work with our global teams, distributors and supply chain partners, and as an essential business, our factories, service operations and parts distribution businesses remain open and committed to providing the equipment, technology and services our customers depend on, while prioritizing health and safety measures at our facilities and for our employees worldwide."
When it comes to protecting employees, Komatsu has enacted policies to reduce risk, including implementing remote work, segregating operations and restricting travel.
John Deere has created a Coronavirus Update Center on its website. The company is continuing to operate its factories to help keep the agriculture and food production industries going. To protect employees, the company is restricting travel, staggering shift schedules, enabling social distancing and encouraging those who can work remotely to do so. The company has also enhanced efforts to clean and sanitize its buildings.
Cummins is also taking steps to help employees. The company has activated its Global Crisis Support Team to ensure it is taking the correct steps to protect the health and safety of its employees and customers. Work at its Midrange Engine Plant in Walesboro, IN, has been suspended until at least the end of March, in response to the decision by its customer Fiat Chrysler Automobiles to shutdown pickup truck assembly until then. Unable to predict product demand for the remainder of 2020, Cummins has withdrawn its 2020 guidance, or economic outlook, which did not factor in the effects of the pandemic. The company will comment further on its 2020 outlook during its first quarter 2020 earnings call on April 28.
On March 27, Cummins announced a change to shift patterns and reduced hours for employees at three of its manufacturing facilities in Indiana due to the state's governor issuing a stay-at-home order. The order bans non-essential travel for through April 7 as a means of minimizing the spread of coronavirus. Impacted facilities include Cummins Fuel Systems Plant and Cummins Engine Plant in Columbus and the Cummins Seymour Engine Plant.
Titan International, manufacturer of Titan Tires, Titan Wheels and Goodyear Farm Tires, plans to operate as normal in support of the agriculture/food production industries. The company is taking precautions recommended by the CDC, World Health Organization (WHO) and local governments to protect employees.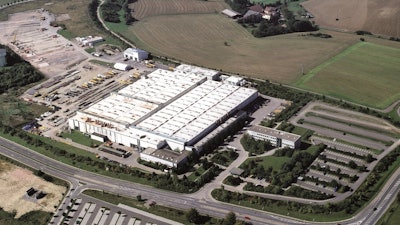 Lifting and material-handling manufacturer Terex continues to operate facilities and ship orders. To keep employees safe, those who can work remotely are doing so, while those on-site are following recommended protocols including staggering shifts, reducing team concentrations, and disinfecting surfaces. Production has been suspended in certain locations, with plans to reopen in compliance with local mandates. Initial plans indicate reopening those U.S. plants as soon as April 13, if appropriate.
Vanner, a designated Cybersecurity and Infrastructure Security Agency (CISA) and Defense Industrial Base Essential Critical Infrastructure Workforce supplier, is remaining operational. The company, which produces power conversion and power transformation equipment for commercial vehicles, is following recommended CDC practices for keeping employees safe.
Dana Inc. recently announced it is adjusting production to meet changing demand and is implementing employee safety measures, idling certain facilities and managing costs. It is also withdrawing its 2020 outlook and will not provide an update on market conditions during its first-quarter earnings call.
"We believe Dana has ample liquidity to manage significantly lower production volumes," says Jonathan Collins, Executive Vice President and Chief Financial Officer. "We are flexing our cost structure to match the lower level of demand and combined with our strong balance sheet, positions us to navigate the current environment."
Operations continue at Muncie Power Products in Indiana. Company leaders say facilities are running at full capacity and they are proactively taking steps recommended by local, state and federal public health agencies to protect employees. They have increased their sanitation and hygiene efforts; some employees are working from home and facility visits are restricted.
AVL, an Austrian-based automotive consulting firm, has employees working remotely due to Covid-19. In Germany, oil and additive maker Liqui Moly has employees working from home and gave them 1,000 Euro each as a bonus. Ricardo Inc., a global consulting firm in product innovation, engineering solutions and clean technology, has its nearly 2,900 employees working remotely.
Preco Electronics, in Idaho, has been designated as a critical supplier to its customers in the transportation, construction, energy and agriculture industries, and continues to operate. The company says its balancing between remote and on-site workers and is following CDC guidelines.
Some manufacturing returns in China
Volkswagen is doing a number of things in reaction to Covid-19. CFO Frank Witter recently said the global company has interrupted production at numerous plants and many employees are working remotely. The corporate headquarters is still operational, though. Company leaders are starting to see signs of optimism from China, where all but two plants are back online. The dealer and parts supply networks there have also reopened.
Sweden-based engineering company Sandvik Group on Thursday, March 26 announced that manufacturing operations continue despite the pandemic. Production was suspended for one week in China but have since resumed and production is on hold in Italy, India and partially in other regions due to government restrictions.
To save resources, the company is reducing work time and the use of temporary employees and consultants, as well as discretionary spending, for a savings of about 1.5 billion Swedish krona (SEK). Sandvik also plans to review its workforce needs for the long term.
"The coronavirus situation has escalated around the world and we have to adapt to this dramatic change in global business conditions. Divisions within all three business areas are taking prompt action in order to secure our long-term market leading positions and protect our company," says Stefan Widing, Sandvik's President and CEO.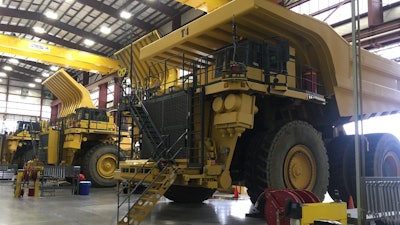 Temporary facility closures
Meritor announced on March 25 it is suspending production at most of its global commercial truck manufacturing facilities. The company is halting production throughout North and South America, India and Europe and a significant portion of its workforce has been laid off. Facilities will reopen based on guidance from local government and health authorities.
Meritor's trailer and industrial businesses remain open to help its customers produce vehicles for defense, bus and coach, terminal tractor, fire and rescue and off-highway end markets deemed critical in response to the healthcare crisis. Meritor's Aftermarket business is also operational to maintain supply of replacement parts to the truck and trailer transportation industry.
Drive systems manufacturer DEUTZ Corp. is ramping down production and retracting its guidance for 2020. The company is shutting down large parts of production in Europe and is taking precautionary measures to secure liquidity. Facilities in Cologne, Ulm, Herschbach and Zafra will be shut down from April 1-17. Many of its customers have already closed or plan to soon. The move will also help protect its employees, a company statement says. Because of these moves, DEUTZ is withdrawing its guidance for 2020.
"The coronavirus crisis is forcing us to take these measures. So far, we have not had a confirmed case of coronavirus at our DEUTZ AG sites, and naturally we want it to remain that way. The health of our employees is the focus of our efforts. In addition, the precautionary measures to ensure compliance with minimum distances between employees are making efficient production currently impossible in the assembly area, which is why we have taken the decision to temporarily close down large parts of our production," said Frank Hiller, chairman of the DEUTZ AG Board of Management, in a company statement.
Volvo Group Global announced March 25 it planned to postpone its annual general meeting due to the spread of Covid-19. Due to closing borders, business shutdowns and travel restrictions, most of Volvo Group's manufacturing plants are closed and employees are temporarily laid off. The company's board of directors has postponed its annual general meeting. Company officials say the meeting will take place by June 30, according to legislative requirements.
"The board is closely monitoring the development and how this very difficult situation that the world finds itself in will affect the Volvo Group and in particular the demand for its products and services," says Carl-Henric Svanberg, chairman of the board of AB Volvo. "We believe that, in the current situation, it is responsible to postpone the Annual General Meeting, to assess how the situation develops."
Several truck OEMs have halted production, including Volvo Group brands Volvo Trucks North America and Mack Trucks. PACCAR and its brands have also suspended truck and engine production at their factories worldwide through April 6, 2020. The company will review future actions on a regular basis. PACCAR says it will continue to provide aftermarket support to its customers who deliver essential infrastructure services to our communities.
Caterpillar Inc. announced on March 26 it was temporarily suspending operations at certain facilities. While it continues to run most operations in the U.S. and around the world where possible, uncertain economic conditions resulting in weaker demand, potential supply constraints and spread of the virus lead the company to suspend some operations.
CNH Industrial has announced it is suspending the majority of its manufacturing operations in North and South America for a two-week period, starting March 30.
In North America, the impacted sites manufacture construction and agricultural equipment but most component facilities will remain operational at low speed, in order to ensure the continuation of supply to the company's other manufacturing facilities in North America – specifically those that are deemed essential by the U.S. Government. North American parts depots and most dealer locations will also remain open to maintain uninterrupted service to customers. CNH Industrial is working closely with union leaders to implement the temporary shutdowns and the re-opening of the plants.
In South America, the impacted sites manufacture construction and agricultural equipment, commercial vehicles and powertrains. South American parts depots and the majority of dealerships will continue to provide uninterrupted service to their customers. CNH Industrial is working closely with governments and union leaders to implement these actions.
Lean, 'clean' manufacturing practices
Indow, a startup clean-tech manufacturing business in Oregon, has adapted principles designed to improve manufacturing efficiency to prevent the spread of COVID-19 among its employees. The company calls the system "Clean," named after Lean manufacturing processes, including eliminating waste and other inefficiencies. In early March, as COVID-19 was hitting that region of the country hard, the company implemented its Clean processes, aimed at zero COVID-19 transmissions.
The company divided the 20,000-sq.-ft. facility into zones and placed brightly colored stickers at high-hand traffic 'touchpoints,' like light switches and doorknobs. Zone captains created a cleaning schedule with every person in the organization covering one shift in each zone. The system cleans high touch areas on a regular basis, with responsibility for work distributed across the staff.
Among many changes, Indow removed doorknobs and added hooks to allow doors to be opened with forearms rather than fingers, eliminating high-touch potential illness transmission points. Some employees are working remotely.
Most industry associations and related groups are offering resources for manufacturers and contractors on their websites. Some of those include:
Additionally, Federal Signal Corp. recently announced the launch of the website dedicated to cleaning and sanitizing efforts in response to the virus. Sanitizing tips, protocol recommendations, additional equipment demonstrations and relevant industry news, will be added to the website on an ongoing basis. The company is also reminding customers, dealers and end users that the installed base of products manufactured by its Environmental Solutions Group can be used in efforts to clean and sanitize outdoor public areas, such as recreational spaces, parks and museums. In addition, these products can be used to sanitize other vehicles, like buses or railcars, as well as cleaning bridges, train stations and any other outdoor areas.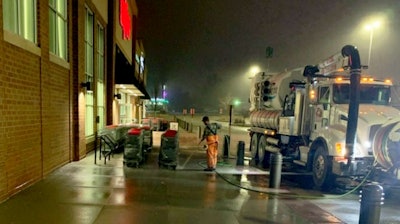 The impact of COVID-19 is changing daily. Keep up to date through reliable news sources, trusted industry groups and watch for related news on how the industry is handling the impact of this global health crisis.