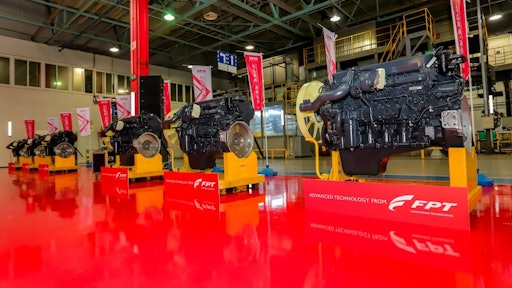 The COVID-19 pandemic continues to affect societies and operations around the globe. FPT Industrial, the global powertrain brand of CNH Industrial, has endeavored to mitigate these effects throughout its manufacturing and commercial network by abiding by the health and safety regulations set forth in the different international markets in which it operates. Currently the demand for industrial powertrains remains strong as the providing of essential equipment is something the world depends on to keep moving.
FPT Industrial's joint venture in China, SFH (SAIC Fiat Hongyan Powertrain Co Ltd), is celebrating a new record for the number of engines produced during a single month at its manufacturing facility in Chongqing. In April, the facility announced a new monthly production record for Cursor engines had been achieved; it marked a 6% increase compared to the previous record achieved in 2018 when the heavy truck industry in China was at an unprecedented volume peak.
Now, FPT announces the facility increased production a further 6% in May.
The overall increase in production and sales in April and May not only reflects the plant's strategic deployment and response to the pandemic, but the globally-recognized performance of SFH engines.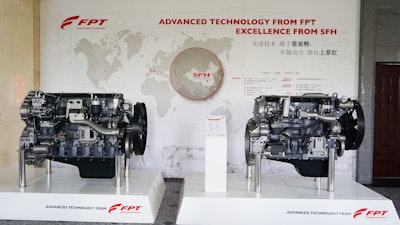 The rise in production output at the Chongqing factory is in direct response to sales growth. Sales in the heavy truck market over the first four months of 2020 demonstrated a V-shaped trend curve, with record sales in January. However, as the effects of COVID-19 began to subside in April, the market returned to an upward trend, developing momentum in both production and sales.
Following several weeks of shutdown due to the outbreak of the COVID-19 virus in late January, the plant resumed production in early February with extensive measures in place to ensure the health and safety of all employees. Following a carefully designed plan, it restarted at reduced capacity, gradually returning to full operation.
"Upon the resumption of manufacturing, it was therefore possible to implement specially-devised production strategies in response to rising orders within the framework of the plant's WCM (World Class Manufacturing) management system," says Federico Gaiazzi, SFH General Manager. "The work of the full team was fundamental to achieving this result."
As a leading engine supplier for commercial vehicle manufacturers, SFH counts four-cylinder and head production lines and two assembly production lines. Among them, the cylinder and head production lines are equipped with 40 large-scale processors. The plant is operating 24 hours with extra shifts so as to guarantee supply for its customers, including SIH, parent company CNH Industrial's joint venture for heavy trucks in Chongqing, to meet the surging demand of the market which had been impacted due to the lockdown in force.
*Editor's note: This article was originally published May 8 and republished June 26 with updated information.