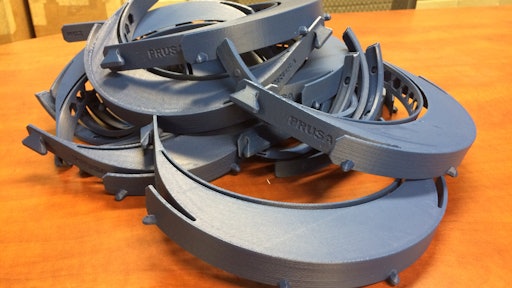 Vermeer
*Editor's Note: This article was originally published April 21 and updated on May 29 with new information; content will continue to be updated with the latest news and announcements, so be sure to check back often to read more about manufacturers' efforts to help during the coronavirus outbreak.
Despite the challenges COVID-19 has brought about, many manufacturers in the global heavy equipment and related industries are doing their part to provide much needed supplies to help combat the virus. This includes manufacturing personal protection equipment (PPE) as well as making monetary and other types of donations to various organizations working to help people during this difficult time.
Even as many manufacturers are beginning to ramp up production once again or reopen temporarily shut down facilities, they are continuing their efforts to provide needed supplies.
READ MORE - Strength of Industries: Manufacturers Get Back to Work and a New Normal
AGCO sites producing PPE
AGCO's various production facilities around the world are helping produce needed PPE for healthcare workers in their local communities. The company says its facilities in Beauvais, France; Asbach-Baumenheim, Germany; and Santa Rosa and Mogi, Brazil are using commercial-grade 3D printing to produce approximately 8,000 face shields.
In addition, other facilities have produced:
1,300 ear protectors at Beauvais, France; Omaha, NE; and Paris, IL, facilities.
40 mobile hospital beds in Santa Rosa, Brazil, with the capacity to produce 25 per week.
25 reusable masks in the Omaha, NE, and Paris, IL, facilities; they are in the process of increasing output.
1,000 individual door openers to minimize the risk of infection; these are being used within

AGCO's

facilities.
HED Inc. devotes resources to aid in COVID-19 PPE shortage
Matt Starr, an HED, Inc. Software Engineer, returned home from the CONEXPO trade show in Las Vegas in early March only to discover he would be quarantined at home until further notice. As the news about the COVID-19 pandemic became more unsettling, Starr realized he could easily make a contribution to support the challenges faced by the medical industry of limited PPE supplies.
He began by pitching his idea to the CEO of HED, Paul Ludwig, suggesting that the company's 3D printers could be used to create PPE protective masks for local Wisconsin medical facilities who are in desperate need of donations. Ludwig felt this was a great way for HED to contribute during this crisis. Starr immediately enlisted Jon Lobert, HED Mechanical Engineer, who is working from the HED office in Hartford, WI. Both began the project by learning what the National Institute of Health (NIH) requirements are for designing homemade protective facial masks.
To their relief, the design requirements were pretty simple and it takes about an hour for one 3D machine to print two masks. Lobert works with two filament style 3D printers and has pretty much been creating masks non-stop since he and Starr began the project the first week in April.
To create the mask front shields, Lobert found clear folder covers commonly used in spiral bound presentations. "We happened to have a sizable stack here at HED so I'm pulling from that to build the masks," he says. "For now, I am making the face shields, but will be looking into also printing the clips that hold the conventional masks like the N95 type masks from rubbing against the wearer's ears." While he continues with production of the masks from HED, Starr is printing PPE components on his personal printer at his home.
"These face shields are meant to provide protection from aerosols landing on the face of the medical personnel. These aerosols can be droplets from coughs, sneezes, or worse and most likely would have the virus in them. This is part of the reason why it's so bad to touch your face," Lobert explains.
In addition to the local hospitals, donations are being made to MatterHackers, an organization who is coordinating a nationwide effort where companies like HED can ship face visors that are distributed to hotspots in need.
"A few HED employees are also reaching out to contacts like nurses and doctors that they know to see if they are in need and who we need to contact," says Starr.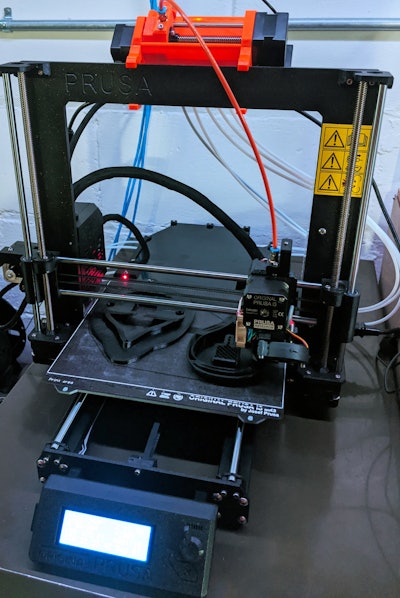 Komatsu becomes national partner of Feeding America
Komatsu's North American business units are partnering with Feeding America, the nation's largest domestic hunger-relief organization, to donate up to $250,000 to support the organization's work.
"The hunger crisis is growing quickly in the face of COVID-19," says Rod Schrader, chairman and CEO of Komatsu's North American operations. "We are honored to partner with Feeding America to support their work to rapidly scale to meet the rising needs of our communities."
The situation is changing rapidly, but Feeding America predicts its network of local food banks will need an additional $1.4 billion over the next 6 months to provide food assistance to people facing hunger—a 30% incremental increase to the nonprofit organization's operating costs. The network of 200 food banks partner with more than 60,000 soup kitchens, food pantries, churches and other community organizations to deliver food, even in the midst of a global pandemic.
"Feeding America is grateful to Komatsu and its employees for their generous support of our neighbors who face hunger during these uncertain times," says Lauren Biedron, Vice President of Corporate Partnerships at Feeding America. "Their donation will help food banks serve communities hit the hardest by the COVID-19 pandemic."
Komatsu America Corp., Komatsu Mining Corp., Modular Mining and Hensley Industries – all North American subsidiaries of Tokyo-based Komatsu Ltd. – are joining together in the effort to support Feeding America's COVID-19 Response Fund. The business units are donating $150,000 and will provide a 2-for-1 match of employee donations up to $50,000.
The companies are dedicating an additional $100,000 to local organizations in the communities in which they operate throughout North America, to support specific charitable efforts and needs in the areas of medical supplies and support, food insecurity and community funds.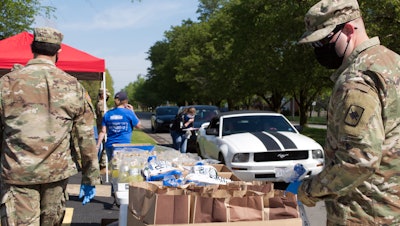 Mack Trucks donates supplies, helps deliver vital goods
Mack Trucks and the American Trucking Associations (ATA) are partnering with the American Logistics Aid Network (ALAN) to deliver vital supplies, such as food and personal-care items, to nonprofit organizations who distribute these goods locally.
"In good times and bad, the trucking industry moves nearly three-quarters of our nation's freight, helping ensure crucial supplies are delivered where they are needed," says Martin Weissburg, President, Mack Trucks. "Working in partnership with ATA and ALAN enables us to more effectively marshal resources and deliver supplies to organizations addressing the needs of local communities across the country."
Two model year 2019 Mack Anthem models, which Mack provided to the ATA as part of its sponsorship of the Share the Road and Workforce Heroes programs, are now delivering shipments of supplies between nonprofit organizations, including Feed the Children and Joshua's Heart Foundation, among others. Professional truck drivers from ATA member companies have volunteered their time to make the deliveries.
Since the ATA's Share the Road and Workforce Heroes live safety and career education efforts have been postponed or cancelled due to shelter-in-place requirements and other safety precautions, Mack and ATA released both Anthem models to make deliveries coordinated through ALAN.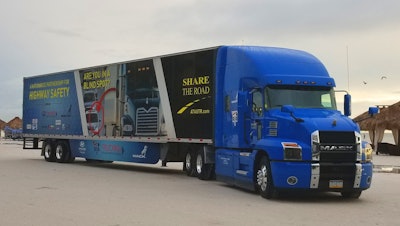 "Given all of the supply chain chaos surrounding COVID-19, it would have been easy for these organizations to press the pause button on their charitable program until the crisis was past," says Kathy Fulton, ALAN's Executive Director. "But we're so thankful they didn't, because trucking is always one of our non-profit partners' biggest needs. And these vehicles are allowing us to support many relief efforts in a really big way."
ALAN was contacted in April by Feed the Children, a leading hunger relief organization fighting to end childhood hunger by distributing food and other essentials for daily living through its network of community partners across the country. As the response to the coronavirus pandemic began impacting traditional distribution efforts, Feed the Children began looking for solutions to ensure its tens of thousands of pounds of food and beverages, personal care items and laundry detergent located in its LaVergne, TN, warehouse made its way swiftly to non-profit partners around the country. It was critical to them to make sure the ever-growing needs of those affected by the pandemic could be met.
Mack and ATA will continue to coordinate transport solutions with ALAN until demand subsides.
Mack Trucks also recently donated about 500 pieces of PPE that it manufactured at its Lehigh Valley Operations (LVO) plant in Macungie, PA.
"The Mack team is committed to doing what we can to help the communities in which we live and work, and I'm very proud of our LVO employees for stepping up to produce PPE during the coronavirus pandemic," says Rickard Lundberg, Vice President and General Manager at LVO. "For nearly 120 years, Mack has risen to the challenge of fulfilling vital needs, most recently through the production of PPE."
Mack engineers and leadership reviewed several different design possibilities before deciding upon the production of face shield headbands utilizing its 3D printer, as well as hand-crafted assembly at LVO, where all Mack Class 8 vehicles for North America and export are built. Mack first produced PPE for employees and has since donated about 500 pieces to various organizations, including Lehigh Valley Health Network, Lehigh Center, Kirkland Village, Westminister Village and The Easton Home. Mack will donate more as the PPE pieces are produced, based on demand in the community.
Mack also recently began producing 3D-printed ear guards to offer additional comfort to employees wearing face masks.
Earlier this spring, Mack donated other PPE, including masks, gloves and safety goggles, to St. Luke's University Health Network, South Mountain Memory Care, Success Rehabilitation and Maxim Healthcare Services. It also donated $10,000 to the Second Harvest Food Bank of the Lehigh Valley and Northeast Pennsylvania to help those with food insecurity.
"Mack recognizes the importance of doing what we can to support the community we have been a part of for more than a century," said Jonathan Randall, Mack Trucks Senior Vice President of North American Sales and Marketing in a recent press release. "Food insecurity, as well as the critical need for medical supplies, were identified to be two of the most pressing areas in which we could make a positive impact, so we took action to donate."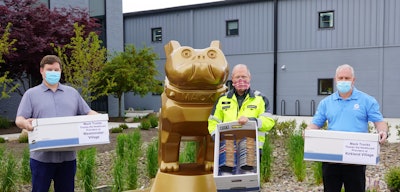 Gates donates more than $535,000 to COVID-19 response
Gates is making charitable donations of more than $535,000 in support of organizations responding to the COVID-19 pandemic. Directed by the company's global headquarters in Denver, the Gates Industrial Corporation Foundation (Foundation) is working with nearly 100 Gates facilities around the world to identify and help fund local nonprofits that are making a difference. The Foundation is also offering double matching for U.S. employee donations to COVID-19-related organizations in this time of greatest need.
"At Gates, we take our responsibility as a global corporate citizen very seriously," says Roger Gaston, Executive Vice President of Human Resources for Gates. "While we are an employer and an economic engine in nearly a hundred communities around the world, we are also neighbors who want to help out in the places we call home. For that reason, we're empowering our local facility leaders and all of our employees to help us place resources where they will do the most good."
Gates initiated the charitable initiative with a substantial donation to the Hubei Charity Federation to support the medical needs in the area where the virus is believed to have originated. The aid campaign now spans other parts of South and North America, Europe, Middle East and Africa; Greater China; and East Asia and India, including 17 locations across the United States. Among the recipient organizations are chapters of large NGOs, such as the United Way and the American Red Cross, as well as local hospitals, food banks and other humanitarian organizations.
Donations, totaling more than $535,000, are being provided on an unrestricted basis to allow recipient charities maximum flexibility to address the most urgent needs in their area. Among those are PPE for frontline medical professionals and health care services and food and housing for the most vulnerable populations impacted by the pandemic.
International Truck helps provide $75,000 of PPE to truck drivers
International Truck, Triumph Business Capital and TriumphPay, a carrier payments platform for freight brokers and shippers, have collaborated to purchase and distribute more than $75,000 of PPE to truck drivers in need.
"While large fleets have a solid distribution network to provide protection to their drivers, many drivers for smaller fleets and independent drivers, like myself, are on our own," says Ingrid Brown, principal, Rollin' B LLC and company driver, Fleenor Brothers Enterprises, LTD. "Hand sanitizer, disinfectant wipes and masks are hard to come by these days. International Truck, Triumph Business Capital and TriumphPay doing this provides a great comfort. I can protect myself, assist in slowing the spread of this virus and still do my job."
"Truck drivers are on the front lines of the COVID-19 pandemic regularly coming into contact with people as they deliver critical supplies across the country," says Jordan Graft, President of TriumphPay. "We were compelled to take action after reading about Ingrid's troubles sourcing PPE and purchased $25,000 worth of supplies. Thanks to International Truck, we are not only able to get these goods into the hands of drivers who need it most but are also able to add to the total amount of PPE supplied."
International Truck, Triumph Business Capital and TriumphPay have each purchased $25,000 of critical PPE supplies to be distributed through select International Truck dealerships in the U.S. and Canada. Utilizing Navistar's extensive North American commercial parts distribution network to ship the PPE, these select dealerships are collectively equipped with more than 6,500 masks and 6,000 eight oz. bottles of hand sanitizer to share with drivers as they come in for service. PPE will be distributed at these select International Truck dealerships while supplies last, complete with personalized thank you cards from International Truck employees and their families.
"Masks and disinfectants are still sparse at stores, making it difficult for drivers to protect themselves," says Michael Cancelliere, President, Truck, Navistar. "On the heels of our joint initiative with our dealer network to supply more than 10,000 meals for truckers, we're fortunate to partner with Triumph Business Capital and TriumphPay to make it easier for drivers to obtain necessary PPE in a location that's safe for them, their vehicle and load. This is just another way we are able to show our customers and the industry that International Cares and we're with you for the long haul."
Volvo companies donate medical supplies
Volvo's engine brand Volvo Penta is producing and distributing Personal Protective Equipment (PPE) for local healthcare workers at two of its North American facilities. The efforts are part of an ongoing initiative from Volvo Group North America which plans to supply thousands of PPE units to healthcare operations across the country.
The Volvo Penta engineering team at the company's U.S. headquarters office in Chesapeake, VA, has led development of medical face shields. Utilizing a Selective Laser Sintering (SLS) 3D printing system and leveraging mask components manufactured by other Volvo Group business areas, the company delivered face shields to Chesapeake Regional Healthcare and has plans to continue production for further distribution.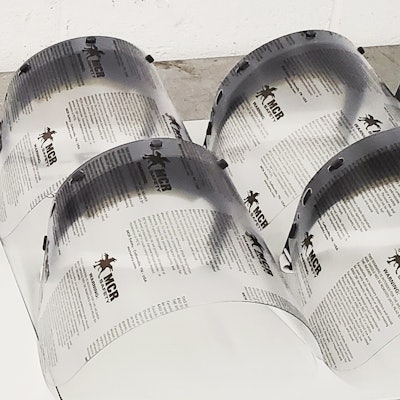 At Volvo Penta's engineering office in Germantown, WI, the staff has focused on development of ear guards which help to alleviate pain often experienced by healthcare workers wearing face masks. To date, more than 1,000 units of this protective equipment have been shipped to hospitals, rehabilitation centers, nursing homes and pharmacies in seven states including: Colorado, Illinois, Iowa, Florida, Michigan, Nevada and Wisconsin.
"Together with our colleagues from Volvo Group North America, we are honored to support relief efforts and help protect those serving on the front lines of this pandemic," said Martin Bjuve, president of Volvo Penta of the Americas in the company's press release.
In addition to the PPE production efforts, Volvo Penta also made a charitable donation to the Foodbank of Southeastern Virginia and Eastern Shore to support those in the Hampton Roads community where the organization is based.
Across Volvo Group North America, financial aid, medical supplies, purchasing expertise and other in-kind donations to nonprofits have been provided in multiple locations.
Volvo Construction Equipment used internal crowdsourcing at its Shippensburg, PA, facility to have employees determine the best designs, materials and assembly techniques for PPE that could be produced and donated to healthcare workers.
Putting speed to need, in less than one month a cross-functional task force led by the technology team has prototyped and delivered more than 1,600 face shields and ear guards for local healthcare providers and first responders in Shippensburg, Chambersburg, Carlisle and the surrounding region, with plans to double that amount in the coming weeks.
"At Volvo CE, we have a ton of talent, resources and capability that we can deploy to help in the fight against the virus. It is who we are; our people care for the community. They are problem solvers. And they are talented, engaged and determined to make a difference," said Brian Rudge, scrum leader and chief project manager for large soil compaction at Volvo CE.
The face shield is now one of the most in-demand pieces of equipment. It is used as a second barrier to cover and protect the N95 respirator mask and extend the mask's life. The shield lenses are sourced from an internal supply of replacement lenses, normally stocked for fabrication grinding, and attached to 3D-printed visor brackets to make a functional equivalent to the medical-grade face shields used in hospitals. Foam rolls, sourced from the cab assembly line, are cut and used to pad the shield visors, as well as shipped to fellow Volvo Group sites to support their face shield production activities.
Employees use social distancing and proper sanitizing measures to assemble the devices from home. Items are collected once a week for deliveries.
Additional Volvo CE employees are getting involved by writing personal notes of encouragement that are added to the delivery boxes. The site is also collecting bleach and disinfectants for local EMS departments, which are consuming supplies at a rapid rate, due to rigorous cleaning requirements.
Pulling in the purchasing power of the Volvo Group, the Shippensburg task force has connected WellSpan Chambersburg Hospital with potential vendors to supply it with 100,000 surgical masks, another standard device now in short supply.
"It is no longer 'business as usual' for Volvo CE or for our healthcare community. This grass-roots effort shows how our industry is able to make an impact in unprecedented ways and demonstrates the character of our employees," said Tony Zambito, road director, Volvo CE.
Tens of thousands of PPE units are being donated from Volvo Group North America sites in Pennsylvania, Maryland, North Carolina and Virginia, in the U.S., and Quebec, in Canada.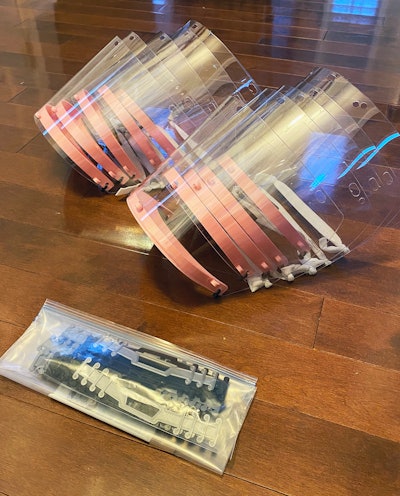 Toro donates to local communities
The Toro Company announces that it is giving $500,000 to assist families and communities worldwide that have been impacted by the COVID-19 pandemic. Grant funding from the Toro Foundation will span all regions where The Toro Company operates, and will focus on providing food, health and humanitarian assistance to helping people adversely impacted.
"Supporting our customers and communities is an important part of our culture and core to who we are as a company," says Rick Olson, Chairman and Chief Executive Officer of The Toro Company. "Now more than ever, it is critical that we come together to respond to the unprecedented challenges posed by COVID-19 and to support those most vulnerable in our communities."
The contributions include commitments to several global nonprofits that are assisting in the relief efforts. This includes the American Red Cross and the International Committee of the Red Cross, Feeding America, the World Food Program, the United Way Worldwide, and United Way organizations in communities where The Toro Company's employees live and work.
Cummins partnering with 3M to provide respirator filters
Cummins has announced it will manufacture high efficiency particulate filters for use in 3M's Powered Air Purifying Respirators (PAPRs).
The company says these devices are an important piece of equipment for front-line healthcare workers responding to the COVID-19 pandemic. PAPRs use a battery-powered blower that sends filtered air into a hood or head top that covers the wearer's head or face; and can provide increased levels of respiratory protection, especially for critical healthcare situations such as aerosol generating procedures. PAPRs may also be more comfortable to wear for those who need respiratory protection for long periods of time.
The partnership has the potential to more than double the current production of filters for 3M's PAPRs. The additional filters are needed as 3M has ramped up production of PAPRs to meet a surge in demand for personal protective equipment due to the COVID-19 outbreak.
"Cummins has been striving to find ways to help during the COVID-19 crisis," said Tom Linebarger, Chairman and Chief Executive Officer of Cummins in the company's press release about the partnership. "Working with 3M, we discovered our technologies and manufacturing expertise could be relevant as we partner in new ways to help protect healthcare professionals."
Cummins will use existing manpower and equipment at its Neillsville, WI, facility to pleat the media, assemble it into cartridge housings and do final testing before shipping the filters to Valley, NE, where 3M's PAPRs are manufactured. Production of the filters at Cummins' Neillsville location is expected to begin by the end of April.
Cummins is also working with DuPont to provide filters for use in N95 respirator masks worn by healthcare professionals. The company's NanoNet and NanoForce Media technology uses DuPont's Hybrid Membrane Technology (HMT); the companies have developed prototype masks which are being evaluated for their effectiveness in protecting healthcare workers.
Read more: Manufacturers Shifting Gears to Aid Global Health Crisis
Trelleborg supplying Boeing with component for 3D-printed face shields
Trelleborg Sealing Solutions is supplying a face shield component to Boeing as it joins the urgent effort to assist medical workers on the front lines of the COVID-19 coronavirus pandemic.
Boeing approached Trelleborg at the end of March 2020 to manufacture and supply an elastomer strap needed for the adjustable headband of 3D printed face shields. The Trelleborg Sealing Solutions dedicated aerospace facility in Northborough, MA, supported a 48-hour turnaround of prototypes using methodologies including 3D printing. The following week, the site was able to ramp up production to 5,000 straps per week.
Quinn Collett, Air Frame Manager, Trelleborg Sealing Solutions Aerospace, said, "In these unprecedented times, it's imperative everyone plays a role that might not be in line with the one they are used to. We were fortunate to receive the call from Boeing to support this effort and leverage Trelleborg's expertise to quickly address the need."
Boeing plans to produce face shields using its additive manufacturing machines at various sites across the US. Boeing is working with the Federal Emergency Management Agency (FEMA) on this effort. FEMA will determine where the face shields are most needed.
The elastomer straps provided are manufactured from aerospace grade silicone. After a few fit trials, Boeing and Trelleborg were able to lock in the final released design.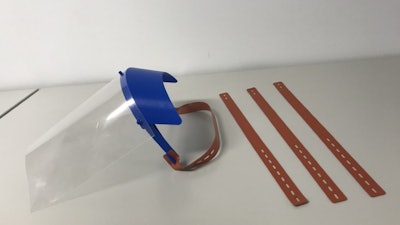 Genie producing protective gear for Seattle-area hospital
In recent weeks, team members from Genie – a Terex brand – headquartered in Redmond, WA, have been working on a concept that will allow them to produce medical equipment for a local hospital.
The effort began with a face shield design developed by Jim Donaldson, Genie Engineering Design Manager, Terex AWP. Donaldson explains: "After watching a video about the types of medical equipment our hospitals needed, I thought we would be able to make the face shields that go over the N95 masks. I went to the store and bought a sponge, bungee cord and a poster that came packaged in a plastic tube. I cut up the tube to make the shield, and then I attached the sponges and bungee cord."
Donaldson shared his idea with Matt Fearon Genie President, Terex AWP, who agreed it was a concept worth exploring. Working with team members from project management, engineering and sourcing, the initial design was refined, and long-time supplier, Allegis Corporation, stepped in to source the materials necessary, even developing a custom tool to stamp out the shield shape.
"Our supplier really helped with moving this project forward — and moving it forward so quickly," Donaldson said.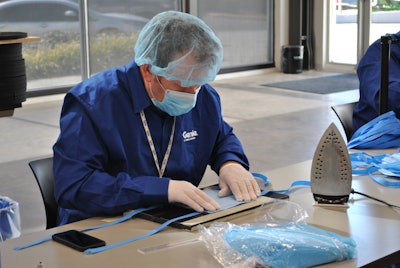 With the design updated, Fearon, Donaldson and a small team of engineers and project managers then met with representatives from Overlake Medical Center, located in Bellevue, WA, to gain a better understanding of the hospital's needs, feedback on the face shield design, as well as to determine if there were any other ways the Genie team could help.
As a result of that meeting — and with the knowledge that the need for PPE is indeed great and immediate — the Genie team expected to begin production of the face shields in Redmond, WA, on April 14. The material the team has on hand should be enough to produce an initial 4,000 to 5,000 face shields for Overlake Medical Center. Whether the Genie team will produce more than the initial donation of face shields will depend on availability of the material, as well as the need.
However, the team has found other ways to help. In addition to the face shields, the Genie team developed a process for manufacturing face coverings using material provided by the hospital and a heat-sealing process to create seams and pleats. "Finding the material to create the bands that go over the ears was actually a real challenge due to the high demand," explains Roger Bowie, Terex Business Systems (TBS) Manager. "But the team thought through that problem until they had a solution, identifying a way to use material that was readily available to make fabric strips that could be used for ties." Bowie adds that when production begins on April 14, the team expects to produce one face covering every minute.
Additionally, Genie engineers have used the company's 3D printing capabilities to make some custom parts, which allowed critical hospital PPE to be put back into service quickly.
"Our Genie team was anxious to help, the Overlake team pointed us in the direction of the highest need and together, we made great things happen," said Fearon. "I am proud of, but not surprised by, the initiative and innovation of our team members. They heard about a critical need, and they didn't hesitate to step up to the challenge — they focused on finding solutions, and they acted quickly because they knew the need was urgent. Our team in China jumped in by air shipping 1,000 N95 masks at a time when there was a severe shortage of masks in the U.S. These are unprecedented times and overcoming the challenges we face locally, and globally, will require everyone to do what they can to help. I am excited that we have found such meaningful ways to help our local community and could not be prouder to lead this team in good times and in challenging times."
Vermeer helping produce face shields
Vermeer is working together with RP America to make face shields for healthcare workers fighting COVID-19 on the front lines at Pella Regional Health Center in Iowa. Employing cutting-edge 3D printing technology, Vermeer successfully worked with hospital officials to determine the best design of a visor piece for use on the face shield. The company then worked alongside local 3D printer owners in an effort to spur even more production of personal protective equipment (PPE).
According to the company, making a positive difference in the face of a public health crisis has also provided a much-needed boost to organizational morale. Though some amount of fear and uncertainty is still being felt by Vermeer team members, company leaders are working diligently to address concerns by engaging in clear and frequent communication with employees.
Vermeer's communication efforts have been made much easier thanks to increased adoption of a recently launched company app. Prior to the COVID-19 outbreak, the app was being used by 600 Vermeer employees. Now, just a few weeks later, 2,700 company team members have signed up and are active users. Initially made available just a month and a half ago, the app now serves as the primary means of circulating important information among company employees.
Read more about Vermeer's work on this project in full article from the Association of Equipment Manufacturers.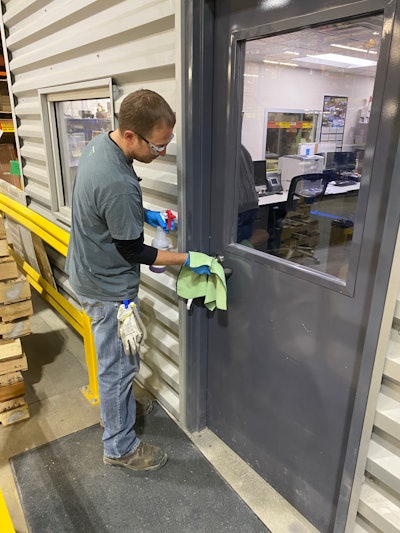 CNH Industrial donates to local communities
CNH Industrial recently announced it is donating $2 million to the CNH Industrial Foundation and to other charitable projects throughout the world, with a focus on supporting individuals and communities impacted by the virus.
This pledge is in addition to the company's ongoing donations of medical equipment supplies, including ventilators, personal protective equipment, electrical generators and ambulances, to healthcare providers in the regions in which the company operates.
The company's U.S. sites have donated a total of 2,500 KN95 masks to local healthcare facilities. "We normally purchase KN95 respirator face masks to act as Personal Protective Equipment for certain tasks at our manufacturing sites," explained Bill Baasch, CNH Industrial Vice President of Manufacturing, North America, in a recent press release. "On March 24, 2020, the FDA issued an Emergency Use Authorization (EUA) for expanding the availability of general use KN95 respirators for healthcare professionals during this pandemic. Thus, we decided to reach out to our local healthcare facilities to inquire if they could use them. When they indicated that they could, we delivered them right away."
Each CNH Industrial site in New Holland, PA; Grand Island, NE; Racine, WI; Wichita, KS; and Lebanon, IN; was able to donate 500 KN95 respirator face masks to their local medical communities hoping that this donation will make a difference for the healthcare professionals working on the front lines.
MANN+HUMMEL supports Ford with medical equipment production
MANN+HUMMEL will supply the HEPA filter in the Ford-produced respirator, which will be worn by healthcare workers when treating COVID-19 patients. To date, MANN+HUMMEL produces, tests and ships 3,500 HEPA filter elements per day for this application, from its manufacturing sites in the USA and Germany. According to Ford, the automotive manufacturer is able to produce 100,000 respirators over the next 2 months.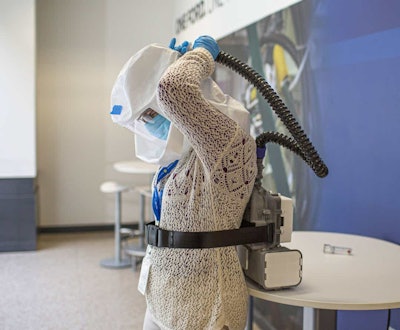 The respirators are equipped with class H13 HEPA filters according to EN 1822 or the international norm ISO 29463. These filter classes are also used in operating rooms and in the pharmaceutical industry to reliably remove germs, viruses and microbiological contamination from the supply air. The European standard EN 1822 classifies HEPA filters, and evaluates them according to their performance at the MPPS (Most Penetrating Particle Size). The micro-glass fiber media used in pharmaceutical/healthcare applications typically has an MPPS close to 0.2 μm. Respectively, filter class H13 has an efficiency of at least 99.95%.
"These critical times call for extraordinary actions and cooperation. Using our state-of-the-art HEPA filter production, in-house cleanroom test labs, and valued relationships with partners around the globe, we can blend our talents and expertise to help people in need. Our global teams have been working tireless to adapt to meet critical needs, with rapid development and time to market. I couldn't be more proud of our team's efforts to make a difference," says Kurk Wilks, President & Chief Executive Officer of the MANN+HUMMEL Group.
Production and Supply of Face Masks
MANN+HUMMEL's facility in Fayetteville, NC, has converted two production lines to produce daily protective grade (non-certified) face masks with a time to market of 15 days. Initially, the product will be supplied to MANN+HUMMEL employees to protect those keeping the company moving forward. As production ramps up, the masks will also be sold to customers. Globally, MANN+HUMMEL began 2020 with zero face mask production, and now anticipates that by May 1, over 5 million face masks will be produced per month.
MANN+HUMMEL is also working on a design to provide highly engineered filtration media inserts that can be used in homemade mask designs. The concept will greatly increase the effectiveness of homemade masks, featuring a thin, breathable media. The company anticipates having the media inserts available within 2 weeks, available through various e-commerce channels.
HEPA Filtration and Negative Pressure Machine
The company's TRI-KLEEN product gives public health officials and hospital staff the ability to turn a COVID-19 patient's room into a negative pressure environment, providing a tool to help field hospitals, temporary care units, nursing homes or ad-hoc locations to maintain safety for patients and frontline staff. While initially sold by Tri-Dim, the technology has been rapidly scaled through MANN+HUMMEL's global network to prepare for mass production, which was accomplished in less than 30 days.
Membranes Keep our Communities Running Worldwide
MICRODYN-NADIR, a membrane and module specialist within MANN+HUMMEL, is continuing production at all plants as membrane technology helps keep our communities running worldwide. Membranes are a behind-the-scenes player in our global world, but they are vital to many industries. For instance, membranes ensure our wastewater plants are functioning, work to purify water, and are essential to the purification and concentration of some of the food we eat and beverages we drink.
Companies in this article