Siemens
As COVID-19—aka the novel coronavirus—continues to alter our daily lives, it has brought about many new challenges to those in the heavy equipment industries. Several companies have had to alter operations or even temporarily shut down.
However, it has also demonstrated the resiliency of our society and the efforts to which people and companies will go to help one another during such a difficult time. Several manufacturers have turned their attention to producing much needed supplies for the healthcare industry such as ventilators and personal protective equipment (PPE). For instance, automotive manufacturers such as Ford and GM have shifted their operations to manufacturing face shields and other necessary supplies for medical professionals.
Read more: Automotive Companies Help Put the Brakes on COVID-19 Medical-Supply Shortages
Manufacturers in the heavy equipment industries are lending a hand, as well, whether that be through monetary donations or shifting production capabilities to create medical supplies.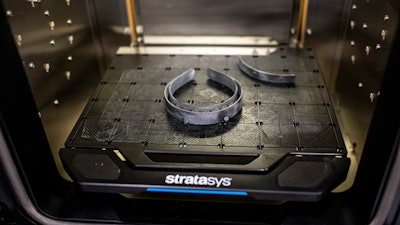 Providing necessary resources
Caterpillar Inc.'s philanthropic arm, the Caterpillar Foundation, recently announced it would be committing $8.5 million to support global communities, including underserved populations, who are affected by the virus. According to a company release on the topic, the foundation's investment will support nonprofit organizations who are working to help prevent, detect and respond to the pandemic; providing resources to hospitals, medical staff and patients; addressing food insecurity; and enabling online STEM and coding education for youth impacted by school closures.
"These investments are an important expression of our company's values," said Jim Umpleby, Caterpillar Chairman and Chief Executive Officer. "As we all work together to fight the pandemic, the foundation's resources will provide essential support in communities around the world."
Aerial equipment manufacturer Sinoboom says it is reaching out to customers, suppliers, associations and medical institutions to offer face masks and other PPE during the current crisis. "We know that face masks cannot offer any guarantees of protection, but if people need them, we have them and will happily dispatch them," said Susan Xu, President of Hunan Sinoboom Intelligent Equipment Co. Ltd. in Changsha, China.
Anybody who needs this PPE should write to overseas.aid@sinoboom.com with their name, company name, address and their requirements. Sinoboom will do its utmost to assist.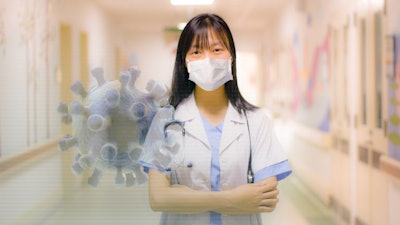 Volkswagen AG announced on March 27 it was releasing employees with medical qualifications for up to 15 working days with full pay if they volunteer for work in the public health service. The target group includes medical practitioners and paramedics of various categories as well as nursing and surgery personnel working at the German facilities of Volkswagen AG. In addition to people working in these areas for Volkswagen, employees with appropriate qualifications who work as paramedics on a voluntary basis, for example, will also be released if the need arises.
Volkswagen HR Board Member Gunnar Kilian said in the company's announcement, "Employees in hospitals, surgeries and the emergency services are performing an outstanding service to society as a whole in the fight against corona. They urgently need our full support and solidarity. This also includes personnel support. For this reason, the Board of Management has decided to release our employees with medical qualifications for supporting missions in the public health service in an unbureaucratic way without any loss of income for them."
The company also made a major donation of about €40 million worth of medical supplies – including face masks, gloves, disinfectants, clinical thermometers, protective goggles and protective clothing – which will be made available to medical personnel providing emergency treatment and care in Germany.
Volkswagen says it has received a growing number of requests for help from hospitals, doctors and social facilities. As Volkswagen itself does not have available the total volume of supplies requested, the goods themselves will be ordered by the health services and Group Procurement, while Group Logistics will coordinate and organize transport. The top priority is to deliver the equipment to doctors and hospitals as quickly as possible. Distribution will be organized by public bodies.
John Deere also recently donated several PPE items to hospitals in Iowa and Illinois near some of its production facilities in those states. "As time goes on and supplies become more critical, it may become difficult to decide can we take some and donate them," said Wallas Wiggins, Director, Deere Worldwide Indirect Material & Services. "We always accept the request and are very objective about our ability to help, and if we can't fulfill a need, if there is some way we can partially fulfill a need, we will do that as well, to the extent that our inventory allows it."
Though many of the Volvo Group's production facilities are temporarily shut down, that hasn't stopped some of its employees from helping out. Mack Trucks' Macungie, PA, production site recently donated PPE to local medical facilities. The company has also set up an online resource for trucking companies and dealers offering useful information from government agencies, trucking industry experts and Mack to assist them in navigating through the COVID-19 situation.
It also offers resources such as links to the Centers for Disease Control and Prevention (CDC), World Health Organization (WHO), American Trucking Associations (ATA) and the U.S. Department of Transportation, all of which offer the most up-to-date information available.
The page also features Mack-specific information, including details about ongoing 24/7 customer support, parts availability, production updates and a link to dealer locations.
Altered manufacturing priorities
In addition to donating supplies, some manufacturers are using their production capabilities to create PPE and other necessary medical equipment to help with the dwindling global supply. Sencorp Thermoforming, a manufacturer of thermoforming equipment, has for instance modified its thermoforming machines to form face masks for medical professionals.
"We received a call from a large PPE manufacturer of face masks to see if we could respond quickly to the unprecedented global demand," said Brian Golden, Vice President for Sencorp, in a press release from the company. "We converted two 2500 style machines typically used for consumer products in the plastic industry to run the material used in the production of the N95 masks. Our talented staff of machine builders stepped up to the challenge. With necessary modifications two machines were prepped for shipment in less than a week. Each machine is capable of producing about 3 million masks per week."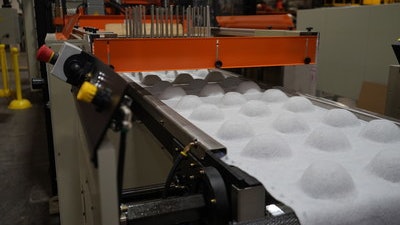 Ultimaker is making its global network of 3D printing hubs, experts, and designers directly available to hospitals in need of tools and applications that are short in supply and can be quickly produced with 3D printing. Through Ultimaker.com, hospitals can now learn the location of available 3D printing hubs nearby. And direct contact is offered with Ultimaker and local 3D printing experts and designers to advise and support on creating and obtaining the parts they need most.
Husco has joined a taskforce in Milwaukee, WI, whose goal is to design and manufacture PPE for healthcare professionals treating patients with COVID-19. Dubbed Milwaukee MaskForce, the taskforce consists of over 25 organizations from the health care, education, first responder, and manufacturing industries. Their goal is to create a reusable, medical-grade N95-style respirator mask.
"It all started when legislation passed approving the use of Industrial N95-style respirators as a way to combat the shortage of PPE," said Pat Masterson, Vice President of Corporate Manufacturing for Husco, in a company press release. "This caused concern about supplier capacity, as well as the quality of masks that would be available to meet the needs of frontline health care professionals in the short and longer terms."
The current Industrial N95 respirators, typically found at hardware and home improvement stores, are made from a lightweight construction and disposed of after limited use. The Milwaukee MaskForce is challenging itself to come up with a reusable design made from plastic or hard rubber that can be manufactured at scale, from hundreds at a time to hundreds of thousands. Currently there are three mask designs being worked on by the taskforce which consists of local health and safety organizations, area universities including Milwaukee School of Engineering (MSOE), and Milwaukee-based manufacturers such as Husco and Briggs & Stratton.
Alliance Rubber Company fast-tracked the production of rubber strips to replace elastic in face masks and other PPE when there was an obvious shortage of equipment in the U.S. Its teams worked through weekends to provide these strips to other manufacturers who are also pivoting their capabilities to manufacture PPE. The company says efforts from just that one weekend resulted in 134,000 face masks to first responders across the nation.
Siemens has announced it is making its Additive Manufacturing (AM) Network along with its 3D printers available to the global medical community to speed design and production of medical components. The AM Network connects users, designers and 3D-print service providers to enable faster and less complicated production of spare parts for machines like ventilators. The Siemens AM network is available globally and covers the entire value chain – from upload and simulation to checking the design up to the printing process and associated services.
Hospitals and organizations in need of medical devices as well as designers and service providers with medically certified printing capacities can register for free access to the Siemens AM Network. "Having worked on Additive Manufacturing for years, we offer AM solutions along the entire value chain and can print 3D parts quickly according to acute demands. To help fight COVID-19, we have opened our AM Network for hospitals and other health institutions needing spare medical parts to efficiently manage their design and printing requests," said Klaus Helmrich, Member of the Managing Board of Siemens AG and CEO Siemens Digital Industries, in the company's announcement.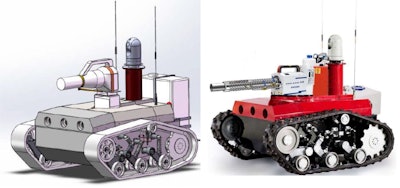 Siemens has also partnered with Aucma to quickly develop a prototype disinfection robot. The electric robot can disinfect up to 36,000 sq. m (387,500.8 sq. ft.) in 1 hour and features a robust chassis that can overcome obstacles and navigate slopes. Since the coronavirus outbreak, there has been an urgent need in many hospitals for disinfection robots that can free people from having to disinfect high-risk areas, leading the companies to collaborate on this machine. It can be adapted for use at various sites; Siemens says as soon as it is launched, the new robot will be put to use not only in hospitals but also in schools, offices, manufacturing sites and other public places to support the resumption of work and production.
Heavy equipment manufacturer JCB is shifting its U.K. operations to produce ventilators, which are in high demand from hospitals treating coronavirus patients. After being shut down for 2 weeks due to the virus, JCB's Cab Systems factory in Uttoxeter, Staffordshire, is restarting production. But instead of equipment cabs the facility will make special steel housings for a brand-new design of ventilator from Dyson. A minimum of 10,000 of the JCB housings are earmarked for manufacture once Dyson receives regulatory approval for its design.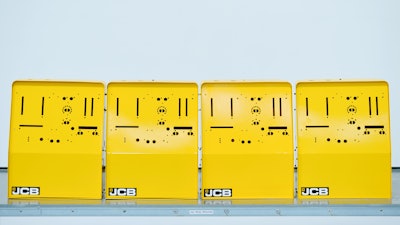 Dana Inc. is using 3D printers at its Advanced Manufacturing Center in Maumee, OH, to make parts for face shields. The company is also procuring other necessary components of the shield, assembling them at its facility and donating the face shields to local hospitals. Working together with other facilities in town which have 3D printers has enabled Dana and its partners to make around 500 face shields a week. The company is looking at ways it can try to ramp up production of this necessary item, as well as make plastic enclosures for ICU patients with coronavirus.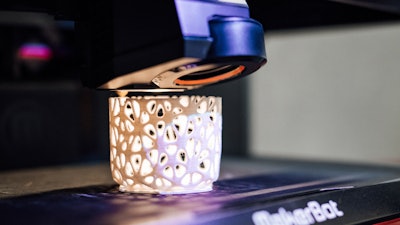 Mercedes-Benz is also utilizing 3D printers to support production of medical equipment. The company says its printers can help make the individual components urgently needed for medical technology being utilized during this current health crisis. "Our expertise and specialist knowledge is available for production; now it is up to the medical technology sector to contact us. Our 3D printers are definitely available," said Jörg Burzer, Member of the Board of Management of Mercedes-Benz AG, Production and Supply Chain, in a company announcement.
Electronics component manufacturer Visual Communications Company (VCC) has established a Crisis ColLAB Initiative through which it is looking to partner with medical manufacturers to help combat COVID-19. The company is offering expertise in engineering design, 3D printing capabilities and more to help manufacturers quickly create needed supplies and equipment. OEMs and medical equipment providers can complete a form found here: vcclite.com/crisis-collab. The VCC team will quickly review the application and formulate an action plan.
Precision Associates Inc. (PAI) recently announced it is ramping up production of several essential rubber components for ventilator manufacturer Ventec Life Systems. Ventec has announced plans to partner with GM to increase the output of these crucial units in response to the COVID-19 pandemic. Brad Kadue, President of Precision Associates stated in a company announcement that it "has dedicated engineering, production and tool-making resources to meet the accelerated production timeline." Precision Associates also molds parts for other ventilators and diagnostic equipment used in laboratories for COVID-19 testing.
Sears Seating has begun producing critical PPE for Quad Cities area Genesis Health Systems and UnityPoint Hospitals, which are located near its facilities in Davenport, IA. Employees began manufacturing mask covers to help prolong the life of N95 masks and isolation gowns to protect staff working with patients in isolation on March 26, hitting stride with full production Monday, March 30. With enough materials to produce 3,000 gowns and 5,000 masks, team members are refining processes to make up to 200 gowns or 500 masks per day.
"There is no business model required for doing the right thing," said James Sears, CEO of Sears Seating, in a recent company press release. "Through the collaboration of Sears Seating's engineers, expert sewers and hospital staff, we are able to answer our community's call for help. I could not be more proud of the team."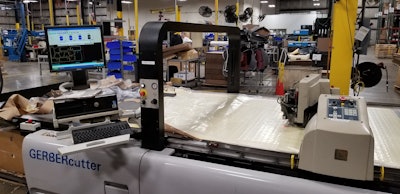 Cummins Inc. is partnering with DuPont to help address the nation's shortage of N95 respirator masks. Cummins' NanoNet and NanoForce Media technology, which uses DuPont's Hybrid Membrane Technology (HMT), can typically be found in air, fuel and lube filtration products used in heavy-duty diesel engines to prevent long-term engine wear, but also can be used in the N95 respirator masks worn by healthcare professionals to filter harmful airborne particles that can spread COVID-19.
DuPont's HMT is made using a proprietary spinning process; the hybrid technology materials are comprised of continuous sub-micron fibers. The end result is a "membrane-like" sheet structure that balances breathability and high filtration efficiency of particulates.
"Cummins is re-evaluating our supply base and manufacturing capabilities to identify how we can support our healthcare professionals who rely on critical personal protective equipment to do their jobs," said Amy Davis, Vice President of Cummins Filtration in a company press release. "Our NanoNet Media can fill a key supply void and help address the mask shortage facing the United States and other countries around the world."
The first mask prototypes using Cummins' donated media were assembled by University of Minnesota teams in March as part of an initiative to provide masks to M Health Fairview and other Minneapolis-based healthcare systems. As the COVID-19 outbreak escalated, the university realized their supply could run out quickly. To address this challenge, a team of designers, engineers, chemists, surgeons, anesthesiologist and apparel and clothing experts from the University of Minnesota's Institute for Engineering in Medicine; Medical School; College of Design; College of Science and Engineering; and Center for Filtration Research Consortium (CFR) came together to address this projected shortage of critical personal protective equipment.
"Since the arrival of the filtration media, we have been able to make rapid progress, and we now believe we have several viable mask options, including both a disposable and re-usable option. These designs show real promise in keeping our healthcare workers safe should standard medical supplies of N95 masks no longer be available," said Jakub Tolar, Campus Health Officer and Medical School Dean at the University of Minnesota.
The project also aims to provide open source instructions that other healthcare systems and groups can use to create their own respirator masks.
With companies like these and many others pitching in to help however they can during this trying time, there is a sense of hope and community which will continue to offer a light of positivity now and into the future.