DEUTZ AG
The global outbreak of COVID-19 has brought about many changes to our everyday lives. While many manufacturers, particularly in the U.S., have remained open and operating as best they can because the industries they serve such as agriculture and trucking are considered essential, many others have had to temporarily shut down. And even those still operating have had to quickly shift how they conduct business and in many cases reduce the amount of people and shifts at their facilities.
Much of this is due to safety measures put in place by governments, the companies themselves, as well as a change in economic activity—namely a reduction in demand for equipment and components.
After several weeks, many of the manufacturers which temporarily shut down are now starting the reopening process which includes putting into place safety measures to prevent further spread of the novel coronavirus.
On April 20, SDLG announced its factory in Linyi, China, had reopened with various safety measures in place including:
strict monitoring of employees' temperature
personal protection equipment (like masks, gloves and sanitizers) for all workers,
regular disinfecting of the factory's assembly line, dormitories, cafeteria
and a ban on all elevator use.
"At SDLG, the wellbeing of our employees is a top priority before our assembly lines start production again," says Wang Zhizhong, CEO and chairman of SDLG.
The company has also released several recommendations for its customers who are returning to job sites such as maintaining a 2 m (6.6 ft.) distance from other people at all times and avoiding in-person communication where necessary. For those operating the company's equipment, SDLG recommends high levels of ventilation be utilized to ensure the safest possible work environment. Equipment operators are encouraged to leave windows open and switch on air conditioning to ensure good air flow.
"Proper planning and prevention are the best ways to protect the wellbeing of our people and partners during this global crisis," Wang says. "We all need to do our part to help stop the spread of COVID-19."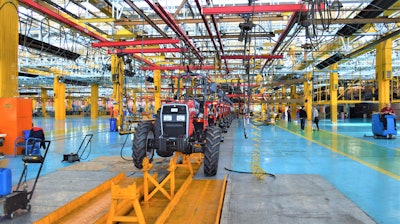 Companies continue operations with adjustments
Phillips Industries reopened its California facility after a 72-hour shutdown, the company announced on April 13. However, the company also spent two weeks reconfiguring its manufacturing operations so it could incorporate the Centers for Disease Control and Prevention (CDC) guidelines. Doing so ensures the company is protecting the health of its employees while maintaining a supply line of critical commercial vehicle components.
The company says that while many vehicle OEMs have ceased building new vehicles during this time, Phillips' dealers throughout North America must still have the availability of products to meet the service and replacement needs of their commercial fleet customers.
Some of the changes Phillips Industries has made include:
Thorough sanitation of the facility, which takes place throughout the day to ensure a virus-free environment for all employees.
A reconfigured production floor so employees can maintain a safe distance from one another.
Adjustments to daily production lines throughout with less personnel density.
Necessary safety equipment, such as gloves and facemasks, are provided.
The production staff is an assembling of volunteers; only those employees willing and able to work.
The administrative staff will continue to work from home. All necessary communication technology has been made available to them so that they may support Phillips' customer base.
"Our teams at all facilities, USA, Mexico, Canada, Poland, and China, worked around the clock to make these workspaces safe for all employees. We are happy to be safely up and running again and supporting the industry we love," says Rob Phillips, President and COO.
Despite mandatory temporary plant shutdowns in Italy and India due to government restrictions, Hallite says there have been no sealing product delivery disruptions for its customers. Collaboration between Hallite manufacturing teams in the U.S., UK, and China, where production lines are running, have helped to mitigate interruptions.
The company says teams are using innovative digital technologies to stay connected and productive. And several procedures have been put in place to ensure the health and safety of employees including increased disinfection and use of state-of-the-art tools provided by the Michelin Group to perform daily health screening of staff working on- and off-site.
Read more: Hallite Continues to Serve Customers While Keeping Employees Safe
Tire manufacturer Titan International monitored the spread and governmental policies put in place at its international manufacturing facilities and used those as a guide to implement safety procedures at its U.S. facilities. Since the company was deemed an essential service by the U.S. Government, it was able to continue operations but company leaders knew they need to make some changes to protect the health of employees.
According to a recent article from the Association of Equipment Manufacturers (AEM), Titan established a COVID-19 response team to help keep employees informed and create procedures to ensure safety. The company has implemented many safety measures including implementation of social distancing and telecommute policies. Hand sanitizers were installed throughout the facilities and personal protection equipment (PPE) was handed out.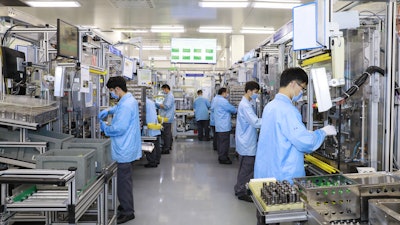 Companies begin the reopening process
On May 5, CNH Industrial announced over two-thirds of the company's 67 plants were operational to varying degrees. CNH says in its press announcement more than 75% of production sites in Europe and 60% in North America, South America and the Rest of the World are already operational.
Priority was given to agricultural and powertrain manufacturing, which are considered essential industries by many governments, and in response to local market demands. These were followed by commercial and specialty vehicle manufacturing, given the importance of the transportation and civil protection sectors at this time, and thereafter construction equipment production.
The company says it plans to return to full operation at most sites by the end of the month. Modifications may be necessary if local or regional situations deteriorate or in response to specific critical issues, such as end market conditions and supply chains.
CNH says many of its employees who are able to work from home are continuing to do so. To ensure the safety of those who have returned to the manufacturing facilities, the company has partnered with local and national health authorities to implement all necessary procedures.
Read more: DEUTZ Begins Reopening of Production Facilities
BKT announced on April 29 its tire production has partially restarted in all its Indian factories, following dialogue with and approval by the local governments of the states where the plants are located. It has also restarted supply and delivery to OEM and aftermarket channels.
Like other manufacturers, BKT has put in place several new procedures to keep employees safe and mitigate the spread of COVID-19 such as:
distancing between workers, also using some devices and structures to separate work units and workspaces;
the reorganization of shifts, to enable distancing;
the construction of accommodation for workers, who can thus avoid using transport;
the installation of body temperature sensors;
the establishment of medical checks for all workers at the start of their shift with a doctor always present at every facility.
The company says the same methods have also been adopted for BKT Europe and its services covering logistics, technical assistance, marketing, customer service and sales support. The facility in Seregno (Northern Italy) has not suffered any slowdown and is constant contact with European OEM customers, handling each situation with the promptest service possible.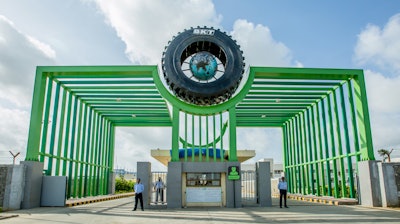 Westport Fuel Systems Inc. announced at the end of April that production and manufacturing would fully resume at its facilities in Italy on May 4 upon notice from the Italian Government it was safe to do so. The company's Italian operations have significantly expanded measures to protect its workforce in accordance with government protocols for health and safety including social distancing requirements, use of PPE, cleaning protocols, and other measures to help mitigate the spread of COVID-19.
"The safe and organized restart of our Italian operations is an important signal for our employees, customers, suppliers, shareholders, and the local economy," says David M. Johnson, Chief Executive Officer of Westport Fuel Systems. "Our team in Italy is working to implement a detailed, tactical plan to restart and resume full operations. I am proud of how our employees have responded to this unprecedented challenge with resilience, determination, and care for each other."
Bosch said during its annual press conference on April 29 it was starting a gradual ramp up of its production facilities. "We want to ensure reliable supplies to meet our customers' demand as it gradually returns, with a view to helping the world economy recover as quickly as possible," said Dr. Volkmar Denner, chairman of the board of management of Robert Bosch GmbH, during the annual press conference.
The company says it is taking a coordinated, joint approach with customers, suppliers, authorities, and employee representatives to achieve its goal of ramping up production while keeping employees safe. In addition, the company is working to keep others safe from the spread of COVID-19 by producing face masks and a new rapid COVID-19 test and Vivalytic analysis device. The rapid test is already being delivered to European customers with a "research use only" label, and can be used following validation. Bosch expects to have a CE mark for the product by the end of May, and will ramp up production when possible.
Bosch said during its press conference that while the current global health situation is difficult, the company is continuing to focus on its many development goals including the acceleration of hydrogen technologies and improved exhaust systems for diesel engines. Both tie into the company's continued sustainability efforts. "Climate action remains crucial for humanity's survival. It costs money, but doing nothing will cost even more," Denner said.
Read the full press release to learn more about Bosch's technology focus and economic outlook for the coming year.
Tips for safer manufacturing operations
COVID-19 will likely bring about many changes to the way we work not only in the near-term but also well into the future. As manufacturers have begun looking at how they can get back to some semblance of normalcy, many industry associations such as AEM and the National Fluid Power Association (NFPA) are providing resources and information on best practices and organizations that can be contacted for further assistance.
COVID-19 Resources for NFPA Members
COVID-19 Information and Resources from AEM
In a recent article written by Ogletree Deakins' Manufacturing Industry Group for AEM, the results of a Manufacturers' Roundtable Discussion were compiled to provide companies with an outline of some best practices to follow as they continue or reopen their operations. Key points include monitoring employee health, re-evaluating sick pay and time-off procedures, and mitigating physical interactions between employees as much as possible.
Purdue University recently released a working paper which is designed to provide a roadmap for manufacturers as the world starts to slowly recover from the COVID-19 pandemic. According to those who wrote the paper, the manufacturing industry post-coronavirus will look much different.
"But we're really bullish on the future of manufacturing," says Ananth Iyer, Senior Associate Dean in the Krannert School of Management and Director of the Dauch Center for the Management of Manufacturing Enterprises (DCMME) in the press release announcing the working paper. "We want manufacturers everywhere to come out swinging because that's the only way the supply chain will ramp back up. And we actually think that, however bad the pandemic gets, there is a bright future."
Rigorous infection control, social distancing enforcement and technology expansion is already and will continue to be the new normal at manufacturing facilities. How these will be achieved, particularly the social distancing, will present challenges for many manufacturers—in terms of determining an appropriate plan as well as possible costs.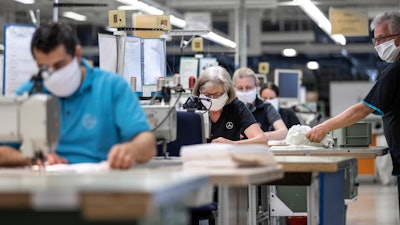 Many manufacturers will likely have to reconfigure the layout of their operations to keep a distance of 6 ft. between workers. Fiat Chrysler Automobiles (FCA) recently announced its plans for reopening its facilities. To adhere to social distancing guidelines the company has
analyzed and evaluated over 17,000 workstations to determine proper spacing;
redesigned or installed protective barriers for over 4,700 job areas and workstations;
installed plexiglass partitions and created visual management guides;
staggered start, break and lunch times to minimize large gatherings;
suspended meeting of more than eight employees at a time and transitioned to virtual meetings when possible; and
implemented new approval protocols for visitors.
Throughout the coronavirus pandemic, supply of PPE and sanitizing products has been strained. This will likely continue to be an issue as many companies begin reopening or ramping up their production and are adding to the need for these supplies. Over the last several weeks many manufacturers shifted their operations to make PPE and some, like Mercedes-Benz, are also producing protective equipment for its own company needs.
AEM recently announced it was partnering with The Marek Group to create a hub through which companies can order necessary COVID-19 supplies including PPE, sanitizing products and display graphics to remind employees of the new safety procedures being put in place.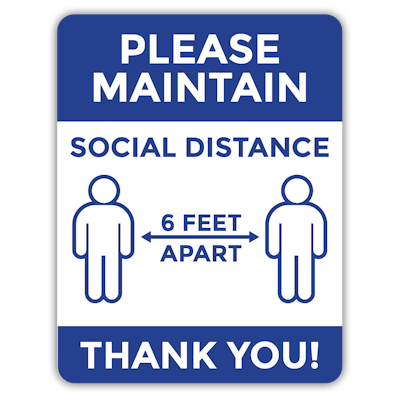 While operating during and after the COVID-19 pandemic has its challenges, many are also seeing the opportunities. The president and COO of Phillips Industries says the company has looked at the need to re-evaluate its operations to implement new safety and other procedures as an opportunity to enhance its best practices. "The challenge for us, which we like to call 'opportunities for improvement,' is how this will impact future production when this pandemic slows. We don't want to go back to business as usual. We're spending this time to innovate our manufacturing processes and make permanent safety improvements to our facilities. We want to be ready for all future challenges."
In a recent interview with Rachel Mize, President of Stark Manufacturing, she said the company is investing just as heavily, if not more so in itself which includes a three-phase technology plan. This plan encompasses upgrades to measurement and prototyping equipment and new 3D printing systems as well as relaying out a portion of the company's production area, all of which will benefit the company's ability to safely operate in a post-coronavirus world. She said it's important for companies to focus not only on the here and now but also what they want to accomplish in the future.
Growth of advanced manufacturing technologies such as automation and robotics is a likely outcome of the current situation, as well. Data and analytics company GlobalData recently released a report which found those companies which have invested in robotics and automation technologies have faired better during the crisis as they are not as reliant on manual labor. David Bicknell, principal analyst, Thematic Research at GlobalData, comments, "By the time it expires, COVID-19 may have served to at last accelerate an investment in factory automation when the global economy eventually rebounds. But that will take a while."
Read more: AEM Urging Manufacturers Sign Petition for Government to Support U.S. Manufacturing
The NFPA also notes greater use of automation in many industries as a potential long-term impact of COVID-19 as companies seek to be less dependent on a human workforce for production. That would suggest potential growth opportunities for fluid power as an automaton technology, as well, says the organization.
In general, the global COVID-19 pandemic will bring about many changes to the manufacturing industry as it looks to evolve itself while improving the safety of its employees.
Companies in this article