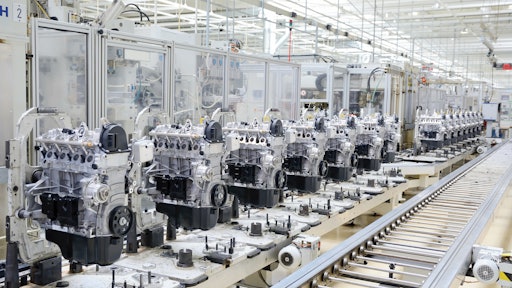 ©Hamik – stock.adobe.com
To improve the energy productivity of American manufacturing, the U.S. Department of Energy's (DOE) Office of Energy Efficiency and Renewable Energy (EERE) announced approximately $123.6 million will be funded for 46 projects. With the goal of improving energy efficiency, projects that receive funding will aid the transition to innovative energy technologies in domestic production in three areas.
In its press release announcing the funding, the DOE states the three areas of focus for the funding will be:
1. Efficiency Improvements in Advanced Manufacturing Processes
$69.4 million will be funded for 27 projects focused on next-generation manufacturing processes that improve energy efficiency in energy-intensive and energy-dependent industries. That includes steel manufacturing, drying, machine learning, additive manufacturing, and ceramic matrix composites production.
2. Efficiency Improvements in Chemical Manufacturing
$25 million for eight projects focused on modular, hybrid, or catalytic processes to reduce energy use in chemical manufacturing. Selected projects will explore innovative technologies, tools, methodologies, and data analytics, including those that enable modularized and distributed systems driven by a variety of energy sources.
3. Connected, Flexible, and Efficient Manufacturing Facilities, Products, and Energy Systems
$29.1 million for 11 projects that support manufacturing's role in national energy initiatives. That including the potential for integrating carbon capture from dilute sources into industrial processes as well as the active role that district energy systems can play in stabilizing the electricity grid by connecting with flexible combined heat and power systems and renewable generation capabilities.