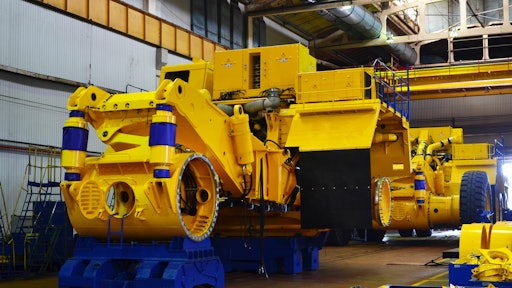 ©MaxSafaniuk – stock.adobe.com
After a year of global pandemic and economic slowdown, it's no surprise the economy would rebound in a big way once lockdowns lifted and businesses started to reopen. That's what happened in March, when Institute for Supply Management (ISM) reported its monthly Manufacturing Economic Index, which was at its highest level since 1983. It's also no surprise that April's economic numbers did not surpass March's index.
The Manufacturing PMI, or the Purchasing Managers' Index is a set of economic indicators based off surveys of private-sector companies.
April's numbers were high, though, notching an 11th month of continual economic growth, registering at 60.7%. That's a 4% decrease from March's historic high, according to Timothy R Fiore, chair of the ISM manufacturing Business Survey Committee.
Most indicators were down in April compared to March, which is normal after numbers were so high in March. New orders, production, employment, supplier deliveries, inventories and imports all came in a few percentage points lower than March. Among the indicators that improved were the Backlog of Orders Index, which came in at 68.2%, compared to March's reading of 67.5%. The Prices Index registered 89.6%, up 4 percentage points. New Export Orders came in at 54.9%, a 0.4% increase over March.
In April, the six biggest manufacturing industries expanded, in the following order: fabricated metal products, chemical products, food, beverage and tobacco products, computer and electronic products, transportation equipment and petroleum and coal products.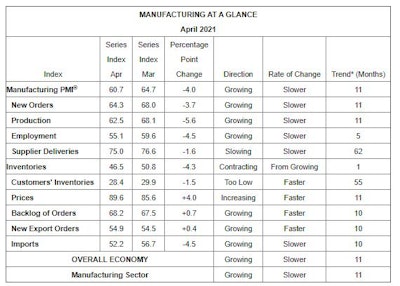 Raw Materials Shortages
Raw materials shortages were one of the top issues in April, Fiore says.
"The manufacturing economy continued expansion in April," Fiore says. "Survey committee members reported that their companies and suppliers continue to struggle to meet increasing rates of demand due to coronavirus (COVID-19) impacts, limiting availability of parts and materials. Recent record-long lead times, wide-scale shortages of critical basic materials, rising commodities prices and difficulties in transporting products are continuing to affect all segments of the manufacturing economy."
According to one survey respondent:
"Steel prices are crazy high. The normal checks on the domestic steel mills are not functioning — imported steel is distorted by the Section 232 tariffs (on China)."
READ MORE: Equipment Manufacturers Support New Effort to Reform Section 232 Tariffs
Employment
Workforce shortages also continue to limit growth, Fiore says. The Employment Index expanded for the fifth straight month, but survey respondents continue to note significant difficulties in attracting and retaining labor at their companies' and suppliers' facilities.
"Worker absenteeism, short-term shutdowns due to part shortages, and difficulties in filling open positions continue to be issues that limit manufacturing-growth potential," he says. "Continued strong new-order levels, low customer inventories and expanding backlogs indicate potential employment strength for the balance of the quarter. For the eighth straight month, survey panelists' comments indicate that significantly more companies are hiring or attempting to hire than those looking to reduce head counts."
The U.S. Bureau of Labor Statistics will release its employment report for April on May 7.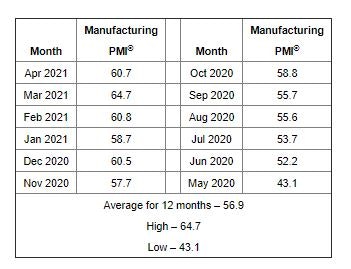 Of the 18 manufacturing industries, the 16 that reported growth in new orders in April, in the following order, are: electrical equipment, appliances and components; textile mills; fabricated metal products; primary metals; paper products; machinery; nonmetallic mineral products; chemical products; furniture and related products; miscellaneous manufacturing; food, beverage and tobacco products; transportation equipment; wood products; plastics and rubber products; computer and electronic products and petroleum and coal products. The only industry reporting a decline in new orders in April is printing and related support activities.