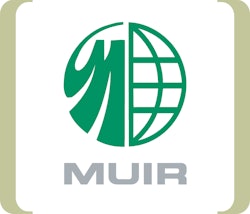 Muir Omni Graphics, a manufacturer of industrial graphics and markings, has been awarded Supplier Quality Excellence Process (SQEP) certification, by Caterpillar Inc., for the fourth year in a row.
Caterpillar's SQEP certification recognizes their supplier's dedication to providing superior quality and is only awarded to those who demonstrate such world-class performance on an ongoing basis. Each year, suppliers are evaluated with increasingly strict criteria for distinguishing outstanding supplier quality performance, exceptional service, capacity planning, and delivery performance.
This process, detailed in Caterpillar MQ11005 Manufacturing Standard, combines industry-proven quality system and process management requirements from ISO/TS16949:2002 with demonstrated results to ensure expected supplier capability and performance.
"The Caterpillar Silver Certification is a testament to all of our dedicated employees who work every day to meet the quality and service expectations of our clients," says Andrew Muir, president of Muir Omni Graphics. "We are honored and will continue to strive for excellence in the future."
Caterpillar presented Muir Omni Graphics with the certificate, for Silver level status, at a private ceremony on Thursday, August 18, 2011.