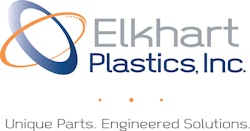 Elkhart Plastics Inc. (EPI) is proud to announce they have been awarded the DEF systems business for a major construction/agriculture machinery manufacturer. This project will add eight to 10 new jobs by 2014 at its Portland Plastics facility, located in Ridgefield, WA.
"This is a really great project for Elkhart Plastics as it helps us to expand our reach in the DEF systems market as well as contributing to the local economy by adding jobs in Ridgefield, WA," says Jack Welter, CEO of Elkhart Plastics Inc.
Diesel engines larger than three liters made after January 1, 2010 are required by the EPA to be equipped with pure urea or DEF (Diesel Exhaust Fluid) systems. In addition to helping clean up the exhaust fumes of these diesel engines, manufacturers are also able to improve fuel efficiency by reducing fuel consumption.
Portland Plastics serves the northwest region of the U.S., and focuses on serving the heavy truck and construction equipment industries by producing rotomolded plastic fuel tanks, DEF tanks and a variety of other custom applications.