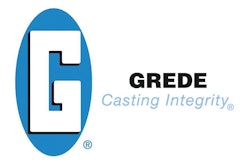 Grede Holdings LLC, a leading producer of safety critical cast iron components for the transportation and industrial markets, announces that it has won a contract with a major Japanese OEM to produce front knuckles and other chassis components.
These components were developed by Grede to optimize mass savings while meeting durability and load requirements. The contract is valued at $57 million over the life of the program.
"We are very excited to have received these awards. By being included in the early phases of the program, we were able to maximize both mass and cost savings for our customer," says Tony Lovell, global vice president of Sales and Marketing, Grede. "Our on-going commitment to exceeding customer expectations is validated by this award. The entire Grede team deserves credit for their efforts and we look forward to building on our strong relationship with this customer."
Grede will produce these components at its facility in Reedsburg, WI.