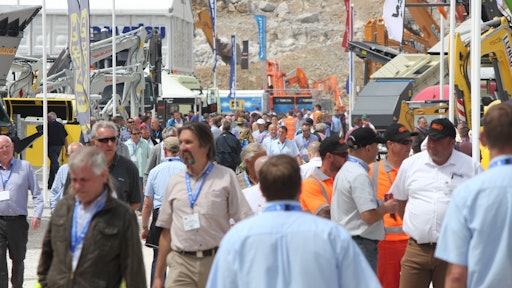 With an impressive total of 17,559 trade visitors in attendance, this year's Hillhead show, held from June 24 to 26 at Lafarge Tarmac's Hillhead Quarry, near Buxton, Derbyshire, once again underlined its status as the world's premier event for the mineral products, construction and recycling industries.
Around 450 of the world's leading equipment manufacturers, contractors and suppliers took part in the biennial trade extravaganza to promote their latest plant, equipment, materials and services. And with economic recovery gathering momentum and confidence returning to the market, particularly in the UK, a growing sense of optimism was noticeable among exhibitors and visitors alike.
Regular attendees will also have noticed the new layout inside the expanded Registration Pavilion with more indoor stands than before. And with a further extension to the showground providing more space for outdoor plots and a brand new working demonstration area at the top of the ramp, near the entrance, Hillhead 2014 was the biggest show ever mounted at the Derbyshire quarry site.
As always, the first full day of the exhibition saw thousands of visitors flocking to the newly expanded showground and pavilions to view the wide range of exhibits, many of them eager to purchase new plant, equipment and services off the stands, having held back on major capital expenditure during the protracted financial crisis.
Andrew Yeo, Powerscreen Territory Manager – Asia, said, "Hillhead 2014 has been one of our busiest ever shows – the visitor response to our mobile range has been tremendous with a lot of enquiries about the new products. A number of orders for new machines were taken at the show and we expect to close a few more deals in the coming months, so all in all this has been a very good show for Powerscreen."
In a similar vein, Kevin Prince, General Manager for Atlas Copco Construction and Mining, commented, "Hillhead has been a great show for us as it suits Atlas Copco's product offering for the construction and mining industries. We've done some key deals at the show, including two flagship SD2500WS pavers, several asphalt rollers and a large order for compressors of various sizes. We also displayed the new QLT H50 lighting tower and PAS 6 diesel-driven pump, which were both well received."
Neil Williams, Country Manager, Machine Control, for Leica Geosystems, said, "Hillhead has been an excellent show for the business, allowing us to target potential customers from a number of sectors. We've been overwhelmed by the interest in our products and services, having seen a lot of good-quality people from the UK and overseas. We've also received several orders for our surveying/mapping equipment at the show."
Likewise, Northern Ireland-based Bruce Engineering, who used the show to launch its new WashPod, said they had had their most successful Hillhead ever. Marketing and Dealer Support Manager Caroline Slane said, "We had a lot of interest in the WashPod and received a number of good leads and enquiries from high-quality visitors."
Liebherr GB was equally positive about the benefits of exhibiting at this year's event as Lee Palmer, Divisional Manager Earthmoving, said, "We couldn't have asked for a better show. It's been absolutely fantastic with lots of enquiries. Several machines were sold off the stand during the event and there'll be more sales to come after the show as we have good leads to follow up."
Hillhead is widely regarded as an important platform for companies to get their products and services into worldwide markets, thanks to the scale and diversity of visitors to the show. For first-time exhibitors ARJA Group, Spanish manufacturers of impact crushers for hard and abrasive stone, the show offered an ideal opportunity to break into the UK and worldwide markets, as Pan Marco, International Business Development Manager, explained, "We recently changed our business model to be more internationally driven and this strategy means we are creating further opportunities and reaching new markets abroad. As a first-time exhibitor, we were very pleased to be at Hillhead because we want to make inroads into the British and overseas markets. The show itself was a great success for us with lots of footfall on the stand and the feedback on all our products has been extremely positive."
Echoing these sentiments, Nillo Biason, Export Sales Manager for Italian pump manufacturers Varisco, said he was impressed by the strength of the global audience at the event. "I visited the last Hillhead show in 2012 when it quickly dawned on me this exhibition would provide the perfect opportunity for us to promote our brand and products to the wider UK and international markets," he commented. "So, as a first-time exhibitor, it's been a very good experience and the visitor type attending the show was exactly what we were looking for."
Summing up this year's show, Event Director Jack Berridge said Hillhead 2014 had been a great success, as all the stand space on the enlarged site layout had been sold out, visitor attendance was up by around 700 on the last show, and even the Buxton weather had obliged by being dry and fine on the show days without being too hot. "It doesn't get much better than that!" he concluded.
Dates for Hillhead 2016 will be announced shortly.