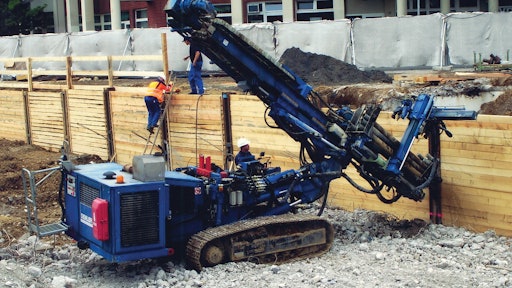 Atlas Copco is now the exclusive source in the U.S. for Hütte Bohrtechnik high performance crawler drills and tooling for micropiling, exploration, directional and geothermal drilling.
All Hütte drills from the ultra-compact Hütte 203 to the 255 hp Hütte 609 incorporate the latest technological advances in hydraulic power transmission, mast kinematics and operator controls.
Scot Simon, Atlas Copco foundation drill specialist, says, "This makes Atlas Copco the single source for a complete package of best-in-class products."
Simon says the entire package of geotechnical products through Atlas Copco now includes Hütte drills and tooling, Atlas Copco hammers, Atlas Copco air compressors, Atlas Copco Unigrout grout plants and Atlas Copco Symmetrix overburden drilling systems —which are all backed by Atlas Copco sales, service and support through 19 full-service locations nationwide.
The Hütte drill range includes rigs up to 30 tons, all with a reliable and robust design.