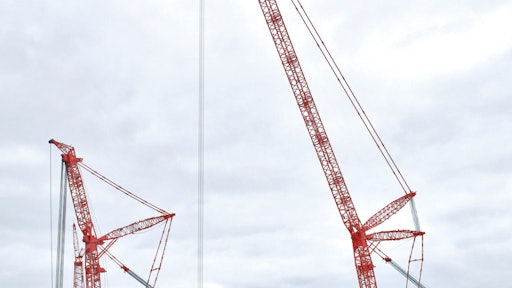 The 2,300 t (2,535 USt) capacity Model 31000, Manitowoc's massive new crawler crane, is nearing the end of its testing phase and is scheduled to be delivered in early 2012.
In addition to its considerable capacity and unique Variable Position Counterweight, the boom and jib combinations of this highly innovative crane are the longest ever designed for Manitowoc crawler cranes.
Mike Wood, senior product manager with Manitowoc Cranes, says that with a crane the size of the 31000, maximizing flexibility and versatility were major design priorities.
"We have designed the 31000 to be as adaptable as possible," he says. "The crane is available with multiple boom and jib configurations, as well as five counterweight configurations."
The 31000 comes standard with a 55 m (180 ft) heavy-lift main boom, but using optional 5 m (16 ft) and 10 m (33 ft) inserts, the main boom can be extended to a total length of 110 m (361 ft). Optional boom configurations can also dramatically increase the crane's reach and lift height.
The first attachment is a fixed jib with a basic rating of 1,400 t (1,543 USt) and a basic configuration of 24 m (79 ft). Using optional inserts, users can extend the fixed jib to 42 m (138 ft).
A luffing jib is also available for the 31000. The standard luffing jib is 36 m (118 ft), but by using optional inserts, the luffing jib can be extended to 114 m (472 ft). Maximum capacity of the luffing jib is 1,100 t (1,212 USt).
The 31000 also has a combination boom, which combines parts of the main boom and the luffing jib. With various inserts, the combination boom has a total maximum length of 138 m (453 ft).
Wood says that there is always an emphasis on asset management when designing the various boom and jib combinations.
"We are utilizing much of the luffing jib for the fixed jib, and many of the boom sections and boom top of the luffing jib are used in the combination boom, thereby ensuring maximum utilization."