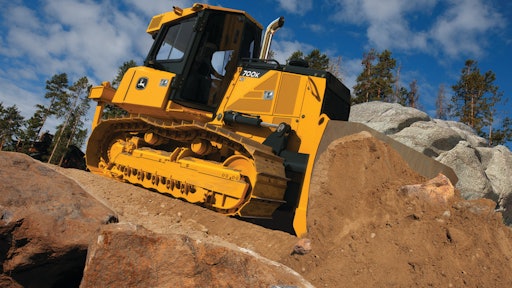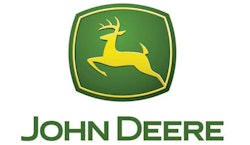 John Deere is adding four models to the K-Series crawler dozer line, providing contractors an emissions-certified machine that affords higher productivity, increased uptime and lower daily operating costs in earth moving and grading applications. The 550K, 650K, 700K and 750K crawler dozers build off the popular and successful 850K that launched in 2011.
"We're excited to add four efficient and productive crawler dozer models to the John Deere line-up," says Jon Gilbeck, global product marketing manager for crawler dozers, John Deere Construction & Forestry. "Our customers wanted an IT4 engine, a quieter and more comfortable cab and the unsurpassed operating ease and maneuverability they have come to expect from John Deere. With the success of the 850K, we only thought it was logical to expand the K-Series' offerings."
A John Deere PowerTech 6.8-L (700K, 750K) or 4.5L (550K, 650K) IT4 (Interim Tier 4) diesel engine provides an increase in horsepower from the previous J-Series, along with increases in overall tractor weight, resulting in more productive machines. The horsepower ranges include: 85 hp (550K), 101 hp (650K), 125 hp (700K), and 155-165 hp (750K) at 1,800 RPM.
The K-Series uses cooled EGR technology with exhaust filters, Deere's simple, fuel efficient, field proven and fully integrated solution to meet 2012 EPA emissions regulations. The engine's diesel particulate filters are cleaned automatically during routine operation, eliminating the need to idle down for maintenance and increasing overall machine productivity. In addition, filter access is easy, should it need servicing.
The John Deere IT4 engine also offers operation on slopes up to 45 degrees while maintaining adequate oil flow to machine systems. A hydraulically driven cool-on-demand fan operates only as needed, decreases cab and bystander noise levels, and cuts fuel consumption. A reversing feature is standard for the 750K and optional for the 550K, 650K, and 700K to blow out debris.
Both the 700K and 750K come equipped with John Deere's exclusive V-Cool package. This system isolates coolers from dust and engine heat for increased efficiency and durability. In addition, the V-Cool is positioned behind the heavy-duty grille and fan, making the coolers less vulnerable to the rigors of the worksite.
The four new crawler models come equipped with hydrostatic transmissions, a feature John Deere pioneered in crawler dozers in North America in 1976. These transmissions provide customers infinite speed control, power management, live power turns, counter rotation while staying in gear, and dynamic braking. In addition, Total Machine Control allows customized machine response that can be tailored to meet the needs of individual operators.
Inside the cab, operators will find increased comfort thanks to quieter operation, larger access doors, and a standard air suspension seat. Sound dampening in the cab reduces noise levels up to a 50% on the 550K and 650K. Best-in-class visibility to the blade and jobsite is provided via ample glass and well-positioned in-cab components. The models also feature a sealed switch model (SSM) with keyless start and a coded-security start feature, a 12V electrical accessory outlet and an integrated grade control monitor.
Onboard diagnostics include a standard display monitor that provides real time values for every temperature, pressure and speed sensor on the machine. The crawler dozers constantly monitor transmission temperature to avoid damage to the hydrostat system. If the transmission temperature is too cold or too hot, the associated light on the monitor will illuminate.
For those fleet managers, owners or operators looking to get the most out of their equipment, the JDLink Ultimate system continuously collects and transmits machine data for machine management via mobile phone technology. The system enables the preventive maintenance and remote diagnostics of crawler dozers, as well as the tracking of machines working on multiple jobsites. John Deere provides customers with the tools to optimize their dozer's performance.