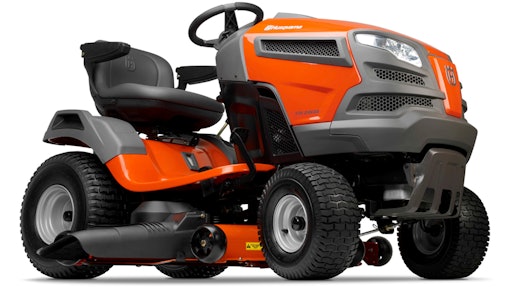 Husqvarna, the world's largest producer of outdoor power products, has teamed up with the NASCAR Hall of Fame, Lowes and five-time NASCAR Sprint Cup Champion, Jimmie Johnson, to launch a new riding mower – the Husqvarna Fast Tractor -- that speeds through yard work, leaving consumers with more time to spend doing the things they love. It's the fastest tractor in its class, reaching speeds of 7 to 8 mph.
"The Fast Tractor is designed to fit the needs of consumers who demand all-around high performance and high quality," says John Marchionda, vice president of marketing for Husqvarna. "Consumers want the peace of mind that comes with knowing they are making a good investment. We've created a quality product that allows you to mow through yard work with precision and comfort – and the Fast Tractor reduces time spent mowing, which frees up valuable time to spend doing other things you really enjoy."
The Fast Tractor is so fast it now has a role in a popular racing-themed video game. Working with Autumn Games and their hit racing franchise, Jimmie Johnson's Anything With An Engine, Husqvarna developed "Husky Hank," a downloadable character who can be raced in the game against other in-game personalities.
Husqvarna officially launched the Fast Tractor during a special event at the NASCAR Hall of Fame viewing party for the Texas Sprint Cup Series race; there, attendees were able to play Anything with an Engine and see the Fast Tractor first hand.
With its ergonomic design features and heavy-duty functionality, the Husqvarna Fast Tractor combines power and performance to create a more enjoyable mowing experience. The Fast Tractor comes standard with a 24 hp Kohler engine, 20 in. rear tires, F7 hydrostatic transmission, 48 in. reinforced cutting deck, and has comfort features such as a high-back seat with armrests, push/pull button blade engagement and an ergonomically-designed user interface. A safety switch under the seat automatically stops the engine and cutting deck when the driver leaves the seat and the Reverse Operating System allows users to mow while the mower is in reverse with the turn of a key.