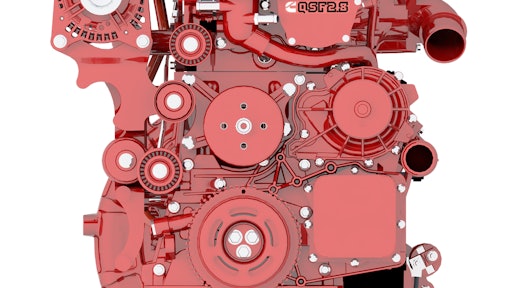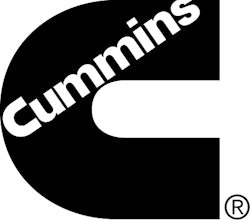 Cummins Inc. has revealed the new QSF2.8 engine with 49 to 74 horsepower (37 to 55 kW) output at the INTERMAT show in Paris. The four-cylinder, 2.8-liter engine was displayed with a fully passive Cummins Compact Catalyst aftertreatment system, designed to meet U.S. EPA Tier 4 Final and EU Stage IIIB low-emissions regulations taking effect in 2013.
The QSF2.8 is the smallest engine to be introduced by Cummins for the off-highway industry with full-authority electronic controls driving a High Pressure Common Rail (HPCR) fuel system. This capability brings the premium-performance characteristics associated with larger Cummins engines to compact equipment below 75 hp (56 kW) for the first time.
Cummins electronics drive the HPCR system to enable multiple fuel injection events with over 1,600 bar (23,000 psi) pressure capability, achieving cleaner combustion with improved fuel efficiency. All key engine parameters are constantly monitored and engine performance is optimized according to equipment operating conditions.
The Cummins Compact Catalyst aftertreatment has been specifically developed by Cummins for Tier 4 applications as a maintenance-free, "fit and forget" system ideally suited for use in rental equipment. Without the catalyst, the same QSF2.8 base engine meets all other emissions requirements, including Tier 3 and Stage IIIA, to provide a single, global platform for all applications.
The QSF2.8 offers an installation envelope comparable in size and weight with engines smaller than 2.8-liter displacement but combines this with the durability expected from an engine with a larger displacement. The QSF2.8 is built with exceptional strength at the heart of the engine, capable of the same peak cylinder pressure as Cummins proven QSB4.5.
"With the advantage of a clean sheet design and utilizing premium technology derived from larger Cummins engines, the QSF2.8 provides a new power capability across the important 49 to 74 horsepower band for compact construction and material handling equipment," says Hugh Foden, Executive Director - Cummins Off-Highway Business.
"Equipment manufacturers will benefit from the ability of the QSF2.8 to provide a single engine installation for all their worldwide equipment platforms, as it meets Tier 4 Final regulations by simply adding a fully passive, service-free catalyst aftertreatment system.
"While the QSF2.8 provides a small installation envelope, it is also designed to be an exceptionally strong engine. This means higher in- service reliability and more durability than operators or rental companies will have experienced before from an engine of this size, helping to increase the residual value of QSF2.8-powered equipment," adds Foden.
Although the architecture of the QSF2.8 has many aspects in common with that of a higher displacement engine, the weight of the 2.8-liter is remarkably low at just 507 lbs. (230 kg) due to the sculpted design of the high-strength cast-iron block and innovative use of composite material for features such as the valve cover. The QSF2.8 also takes a design lead from the Cummins QSB4.5 engine by incorporating a rear gear train, providing superior mounting stiffness and lower gear noise.
Application Advantage
With a 49 hp (37 kW) output at 2,500 rpm, the naturally aspirated QSF2.8 engine provides a sufficiently low-weight and space-efficient envelope to replace engine installations down to 2.2-liters in size while bringing a much higher level of inherent durability. The engine delivers a peak torque of 118 lb-ft (160 N•m), with over 80% of this available at just 900 rpm for applications requiring a very fast response from low speed.
The QSF2.8 with 74 hp (55 kW) rated output at 2,400 rpm features the latest generation of Cummins wastegate turbocharger specifically sized for the engine to ensure rapid engine response to load demands at all engine speeds. Compared to installations of engines up to 3.4-liters in size, the turbocharged 2.8-liter offers a smaller, lighter and more fuel-efficient solution with the ability to deliver up to 221 lb-ft (300 N•m) of torque at 1,600 rpm.
For constant speed generator applications, the QSF2.8 is available with a prime power output of 40 kVA at 50 Hz and 36 kWe at 60 Hz. The compact configuration of the QSF2.8 makes the engine an ideal choice for towable and portable units.
A Simpler Solution For Tier 4 Final
The Cummins Compact Catalyst aftertreatment enables a smaller, easier and more flexible equipment installation than Diesel Particulate Filters (DPF) typically used by many other engines below 75 hp (56 kW) looking to meet the Tier 4 Final/Stage IIIB requirement for near-zero Particulate Matter (PM) emissions. The catalyst is a flow-through device requiring no ash- cleaning service, no sensors and no operational lamps in the equipment cab.
Efficient, fully passive PM reduction is achieved with catalytic coating, substrate and sizing that are uniquely tailored for the QSF2.8 engine. The catalyst can be close-coupled to the engine or mounted off-engine for a highly flexible installation solution.
"We listened to our customers before developing our Tier 4 Final approach for the QSF2.8 and the clear message they gave us was to introduce the simplest aftertreatment with more installation flexibility for their space- constrained equipment," says Stephen Saxby, Chief Engineer - Cummins F Series Engine.
"The prime technology path for the Tier 4 Final QSF2.8 is, therefore, focused on simple, passive catalyst aftertreatment and clean in-cylinder combustion. We have greater control over the combustion process with centered fuel injectors producing a very efficient spray pattern, together with a new piston bowl geometry enabling a better swirl pattern. It means the QSF2.8 meets emissions targets without compromising power or fuel efficiency," adds Saxby.
The QSF2.8 is the result of design collaboration between Cummins technical teams located in Europe, China and the United States focused on introducing a fully global engine platform. This architecture approach enables the QSF2.8 to meet Tier 4 Final emissions regulations, retaining the same envelope, the same ratings and service requirements as the QSF2.8 meeting the Tier 3 emissions regulations.
The new QSF2.8 off-highway engine shares a parent design with the preceding ISF2.8 engine used for tough on-highway truck applications worldwide. Around 50,000 hours of test cell and field test work has provided the performance validation for the 2.8-liter F Series product. Cummins F Series engines are manufactured at a new, world-class facility located in Beijing, set-up through an investment of RMB2.7 billion ($428 million). By the end of 2012, approximately 160,000 Cummins ISF Series on-highway engines are anticipated to be in operation.
Low Maintenance. High Reliability
During the engine design process, every aspect of the new QSF2.8 was closely examined with the purpose of looking for every opportunity to reduce maintenance requirements and enhance reliability. The result is an engine ready to offer outstanding levels of uptime availability for operators.
Cummins Electronic Control Module (ECM) is remote mounted for easy access to provide rapid plug-in diagnostics and operational data downloads, including fuel efficiency. The QSF2.8 uses smart electronic tools such as the QuickCheck 5200 handheld rugged device, with a common operating system for all other Cummins engines.
The oil pump is directly driven by the engine crankshaft with no belt changes or service requirements. The high volume water pump is driven from the crankshaft and features a highly reliable, rust-resistant impeller. Leak-free sealing techniques are used for all critical interfaces on the engine.
The HPCR fuel system and the Cummins turbocharger require no scheduled service intervention, while the robust camshaft chain drive is self- tensioning and maintenance-free.
Lube oil, lube filter and fuel filter are set-up for rapid service, with up to 500-hour change intervals. The QSF2.8 is equipped with the latest Cummins Fleetguard filtration products to provide the highest level of engine protection. The fuel filter is remote mounted for easy access, while the new user-friendly oil filter offers fast, spill-free removal and has an outer shell made from advanced composite material, stronger than traditional metal and easier to dispose.
Cummins Direct Flow air filter system provides the opportunity to extend filter change intervals, takes less installation space and ensures better engine protection. The innovative flat profile enables a more efficient "direct flow" of air through the filter compared to conventional radial filters. The Direct Flow air filter features an integral temperature and pressure sensor to fully optimize air flow with engine performance.
The QSF2.8 is available with either an open or closed crankcase ventilation breather option mounted to the valve cover, reducing emissions and ensuring a cleaner engine by removing oil mist and drips. The breather system is service-free, requiring no filter element changes.