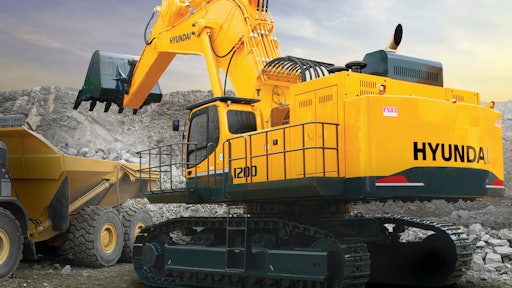 Hyundai Heavy Industries Europe (HHIE) presented an extensive range of equipment for the construction, mining and quarrying industries at INTERMAT 2012 in Paris. This included the release of the first models of a new range of -9A Series Excavators and Wheel Loaders, alongside a broad selection of other established models in the ever-expanding Hyundai range of excavators, wheel loaders, mini-excavators and lift trucks.
There was also the global public launch of the giant new flagship model, the 120t R1200-9 Excavator, and a preview of the first Hyundai Hybrid model, a 22t tracked excavator, offering exceptional productivity at optimum fuel economy.
Hyundai showed different excavators (mini, tracked, wheeled and zero tailswing models) and wheel loaders, including some of both the -9 and the new -9A Series models, together with two of the latest -7E diesel-powered forklift trucks.
New -9A Series - Excavators and Wheel Loaders
The existing -9 Series excavators and wheel loaders are firmly established in all major markets with a strong reputation for reliability and value for money. Building on this position of strength, Hyundai has begun an update program which will see the introduction of a new –9A Series. The most significant change in this program is the introduction of EU Stage IIIB compliant diesel engines, with reduced exhaust emissions and improved fuel economy, and other operating and control system refinements.
New 120t flagship excavator - R1200-9
Underlining its intention of competing on a broad front in all sectors of the construction and mining equipment business, Hyundai's introduction of a new top end excavator in the 100t-plus sector endorses the company's commitment to largescale investment in developing new products and new market opportunities.
Building on Hyundai's experience with the successful 50t and 80t high capacity models, the all-new 120t R1200-9 has been conceived with an eye on the expanding worldwide mining and quarrying sector, where the demand for efficient, large-scale mass excavation in minerals extraction and overburden removal has fuelled an increase in sales of large mining trucks and the equipment to load them.
The R1200-9 is powered by the high-performance 23 liter, 6-cylinder Cummins QSK23-C rated at 760 hp (567 kW). Particular attention has been paid to the insulation to achieve low internal and external noise levels.
This first version of the new 120t machine is equipped with a heavy-duty 7.55 m back-acter boom, 3.4 m dipper-arm, and 6.7 m³ bucket - a combination which gives a maximum digging depth of nearly 8 m, an outreach of 13.76 m, and a load-over height of 7.8 m. Maximum breakout force at the bucket is a massive 64.9 ton – and with three selectable power modes (Power, Speed & Economy), this is clearly a machine designed for extra-heavy digging duties and loading of large capacity dumptrucks.
Hybrid technology
Another example of Hyundai's foresight and technology-driven product strategy is the devotion of resources to ground breaking developments in new power systems and drive-trains. The result of some three years of research and development at its high-tech R&D facility at Ulsanin Korea was on display at INTERMAT with a preview of the first Hyundai Hybrid excavator, the R220LC Hybrid.
The combination of power from the 133 hp (100 kW) diesel engine with onboard generated electric power, including the stored, regenerated power from the independent swing braking system - all monitored and controlled through a central Hybrid control unit, enables optimum use of the power available. The result is a saving of as much as 25% in fuel consumption, with even an increase in performance compared to the equivalent conventional excavator
This new technology is close to release for production, and anticipated introduction to the market is within the coming years.
Mini/Midi excavators
Hyundai's popular 9-Series range of Mini and Midiexcavators embraces seven basic models from 1.6t up to 8t operating weight, and includes zero tail-swing models, of 2.8t and 3.6t.
Forklift Trucks
An important element of the product range offered by Hyundai in the materials handling sector is a comprehensive range of forklift trucks, including diesel, LPG and electric powered counterbalance models, as well as reach-trucks, stackers, pallet trucks, and tow-tractors.
On display at INTERMAT was the 1,750 and 2,500 kg capacity 180D-7E and 250D-7E, two new diesel lift trucks which were globally launched at Cemat in 2011.
These new models are equipped with Cummins engines, ZF transmissions and Kessler axles, and benefit from the valuable experience which Hyundai has gained in the design of wheel loaders for arduous, repeat-cycle loading duties, with tough, proven 'mechatronics' (integrated mechanical/electronic design and control systems) and the use of load-sensing hydraulics. Additionally, diesel particulate filters are available on the EU Stage IIIA engines.
Forward looking
Commenting on the importance of INTERMAT, new HHIE Marketing Manager Milan Wamsteker says: "Market conditions continue to be tough for everyone, especially in Europe, but Hyundai believes that it is important to demonstrate not just its latest products and innovations but also its continued commitment and support to all customers and dealers throughout the region. And one of the best ways we can do this is by highlighting at INTERMAT the results of Hyundai's on-going investment towards global leadership."