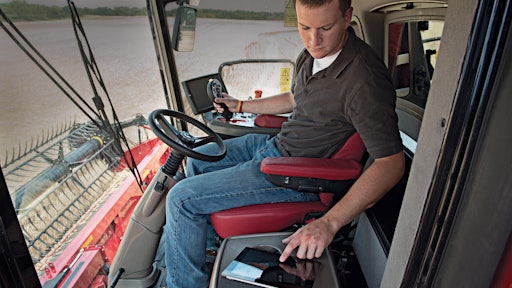 Four Case IH products have been selected to receive the prestigious 2013 AE50 awards. Sponsored by the American Society of Agricultural and Biological Engineers (ASABE), the AE50 awards annually recognizes the top 50 most innovative new agriculture products introduced this year. This year's Case IH award recipients include the 2013 Axial-Flow combine cab, the pivoting grain spout on the Axial-Flow combine, the Nutri-Placer 920 and the Precision Disk 500 air disk drill.
The award-winning products were announced on the ASABE website. They will be recognized at the ASABE Agricultural Equipment Technology Conference on January 28, 2013, in Kansas City, MO.
"Using the Case IH customer-driven product development process, our company develops products that help farmers 'Be Ready' to tackle the challenges and opportunities of today's evolving agriculture industry," says Kyle Russell, Senior Director of Marketing for Case IH. "We're honored that ASABE has recognized multiple Case IH products with this distinction for 2013."
For two decades, the AE50 awards have recognized the best products introduced in the agricultural, food and biological systems industries. An expert panel selects the winners based on commercial impact, contributions to agriculture and engineering, and advancements in engineering and technological significance. To qualify for the distinctive awards, each development must have been produced, advertised and made available for sale in the 2012 calendar year.
2013 Axial-Flow Combine Cab
The newly redesigned cab on Case IH Axial-Flow combines has advanced even further to set the industry standard in convenience, comfort and operator ergonomics. The new cab will be part of all Axial-Flow combine models.
Features of the new cab include a slim Multifunction Propulsion Handle, redesigned with controls within a finger's reach. It contains an upgraded right-hand console with simple ergonomic controls and slide rail that allows for adjustment of the display, placement of a cup-holder and office tools. Multiple convenient storage locations have been added featuring brushed-chrome styling. Operators can stay tuned in and connected on the go with a Bluetooth radio, and a training seat opens to a convenient, portable electric refrigerator to keep food and drinks cool and handy. Leg and foot room has been added due to increased seat travel space. A red leather luxury cab seat option is available for comfort during long harvest days and nights. In addition, all models use the AFS Pro 700 display for yield monitoring and machine and guidance control in the cab. Operators will now have better lighting when harvest requires working around the clock, as the new combine cab boasts eight lights, two more than previous models.
Axial-Flow Combine Pivoting Grain Spout
Operators can now control a pivoting grain spout with the Multifunction Propulsion Handle, adjusting the flow of grain up to 3 ft. without changing the speed of the grain cart or combine. In combination with the independent cross-auger control launched last year, producers will have more flexibility during the challenging grain cart fill process.
Nutri-Placer 920
The Nutri-Placer 920 is designed for productivity and uptime while placing nutrients in the root zone to maximize return on investment.
The Nutri-Placer 920 features a front-mounted coulter bar with five-section flex and active hydraulic down pressure to maintain uniform depth and accurate fertilizer placement over a wide range of field conditions. Utilizing double tubes with fore and aft bracing provides the frame strength that allows for longer implement life and greater stress relief.
The Nutri-Placer 920 offers a choice of either a 1,650-gallon or 2,050-gallon tank. The all-new tank chassis centers the tank over the axle for consistent positive tongue weight. Additionally, a low center of gravity is created, offering more stability.
The Nutri-Placer 920 also offers overall improved transportability with an innovative X-Wing frame design that folds for narrow transportation width and low transportation height.
Precision Disk 500 Air Disk Drill
Case IH now offers a single-disk air drill with an integral mounted seed tank. An agronomic design, productivity and versatility describe the Case IH Precision Disk 500T, and the new Precision Disk 500 version that pairs with the Case IH Precision Air 2280 - 3430 air systems. At the heart of these all-new drills is a completely new parallel link row unit designed for improved residue handling, seed depth placement and closing to improve emergence and stand establishment. The 500T also offers optional GPS-controlled, four-section overlap control. Whether seeding no-till soybeans into corn stalks or milo residue, or hybrid rice into stale seedbeds or conventionally-tilled fields, the new Precision Disk 500T and 500 are ready to meet seeding needs.