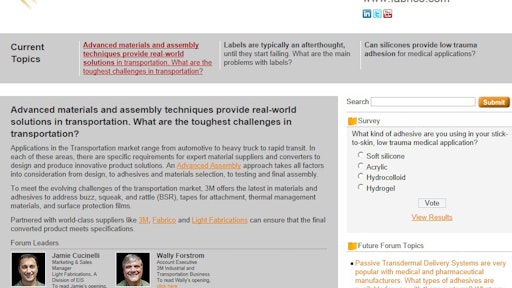 Fabrico, the leader in design and manufacturing services for flexible materials and advanced assembly solutions, is hosting a discussion on new materials and adhesives for transportation applications on its www.fabricoforum.com site.
Applications in the Transportation market range from automotive to heavy truck to rapid transit, where material and converting challenges require innovative product design and assembly solutions. World-class suppliers like 3M offer the latest in materials and adhesives to address buzz, squeak and rattle (BSR), tapes for attachment, thermal management materials, and surface protection films, while experienced converters like Fabrico and Light Fabrications design, test, and manufacture product components to meet customer specifications in the Transportation market.
A discussion on advanced materials and assembly techniques that provide real-world solutions in transportation can be found on www.fabricoforum.com. See what Wally Forstrom from 3M's Industrial and Transportation Business and Light Fabrications's Jamie Cucinelli have to say.
The FabricoForum is an open dialog where design engineers and others interested in materials technology and product assembly can read opinions and weigh-in on current topics. Other subjects on the Forum include flame barrier materials for LED lighting design and structural adhesives as a replacement for mechanical fasteners.