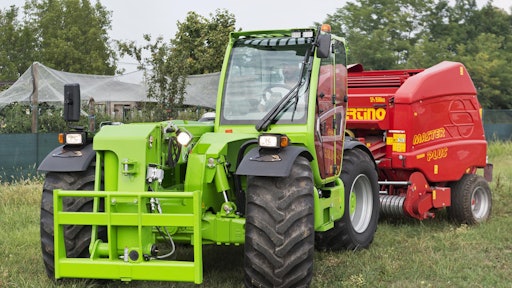 Merlo offers the most complete range of telehandlers for agriculture in the world, covering farmers' every possible need with more than 50 products, each one engineered for a specific customer requirement.
Starting from the two product families – Turbofarmer and Multifarmer - the products on show at Agritechnica 2013 will renew and further widen the company's product range, strengthening Merlo's position as one of the world's leading telehandler manufacturers.
The Turbofarmer family is Merlo's best-selling range in the agricultural sector, widely appreciated for its versatility and performance. This very popular range will be completed by the heavy-duty version, Turbofarmer 50.8, on show at the Merlo stand.
The Turbofarmer TF50.8T is equipped with a Stage IIIB engine with 155 hp, a mechanical PTO with 135 hp output, a 20-ton trailer hitch, an external hydraulic system and a swinging drawbar. Its main purpose is to meet agricultural, dairy farming and cattle operations thanks to its versatility, performance and maneuverability.
The 8-meter telescopic boom and 5-ton lift capacity are ideal for material handling. New innovative features have been developed for haulage and for trailed implement activities such as disc harrowing, PTO operations with trailed implements such as cutter-mixer wagon, pneumatic seeder, mowers, sprayers, round balers etc.
The Turbofarmer 50.8 is also ideal for biogas activities as it has sturdy, fast and user-friendly telehandlers. The heavy-duty family will be completed with a further two models – the TF45.8T and the TF45.11T. They are all identified with a "T" to indicate that the Tilting version will be standard.